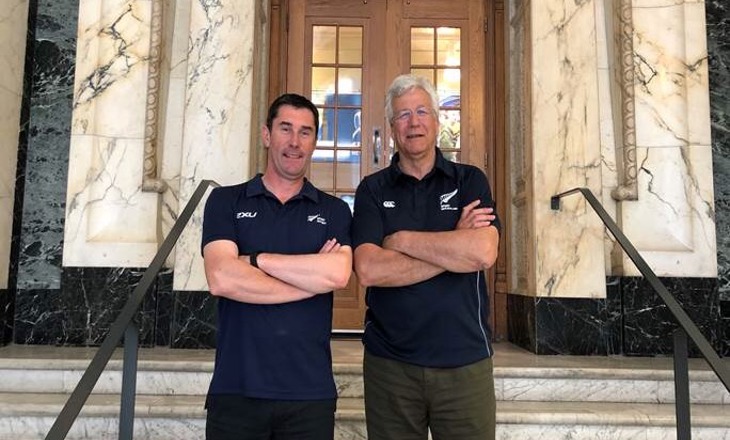 Spaces and Places Consultant Julian Todd (left) and Spaces and Places Lead Jamie Delich.
When 18-year-old Jamie Delich spent his first day at his first job – as a lifeguard at Upper Hutt's Maidstone Pool – little did he imagine that some decades later he would look back on the design and build of a large regional aquatic facility as a career highlight.
Nor that he would later offer his expertise to help others make better decisions when planning and designing sport and recreation facilities so they meet both current and future needs.     
Jamie's 44-year career has seen a lot of learning about what works, which means he has a lot to offer. Service is important to him, and sport and active recreation a positive place to give it.
It all comes together in his current role leading Sport New Zealand's Spaces and Places team, facilitating regional sport facility strategies, offering project peer review services, and helping to align and optimise investment in spaces and places for New Zealanders to play, recreate and compete. Of the 14 regions, six currently have a strategy in place, and the aim is to see all regions with a strategy guiding investment decisions by 2020. It's one of the strategic priorities in the agency's Community Sport Strategy.  
Currently he's also giving time and advice to a number of projects across the country including earthquake recovery projects for community sport facilities in Christchurch and Kaikoura, and school/community partnerships and future indoor court needs in Auckland.
These and other projects epitomise the four elements of what he and his colleague – Spaces and Places Consultant Julian Todd – who completes their team of two, do.
Facilitating better planning and decision-making through New Zealand's Regional Sport Trust (RST) network – the aim is to ensure all 14 regions have strategies in place for future facility needs by 2020.
Working with National Sport Organisations (NSOs) to align facilities to the needs of their particular code
Building capability in the sport and recreation sector by developing tools and resources and sharing best practice
Offering advice to national and regional funding agencies on the strength and strategic alignment of various facility proposals.
Jamie cites the Waikato as a great example of a successful regional planning approach. Ten local councils, the regional council, sports codes and funders came together to develop a Sports Facility Strategy for the entire region and agree on the priority projects given the limit of funding available. Top of the list was more indoor courts for netball, basketball, volleyball, and the many other court sports. Jamie supported Sport Waikato to develop a partnership with the Ministry of Education, developing a new school in the growing north-east of the city. A partnership between Hamilton City and Rototuna School's Board of Trustees resulted in a four court centre – The Peak – now completed, with the school and community sharing use.
For Jamie, this is a dream job – and his CV shows why.
The first 11 years took him from lifeguard to pool manager to parks and facilities operations manager for Upper Hutt City Council. Then it was on to helping establish opportunities in Wellington's regional parks network, before he was asked to lead work on Wellington's Regional Aquatic Centre, still regarded as the country's premier aquatic facility. Post-completion he managed it for five years, before a stint in Melbourne project managing the establishment and opening of a new regional multi-use events centre. From 2003 to 2014 when he joined Sports NZ, Jamie's sphere of operation continued to broaden within various roles with Wellington City Council. The final big project was Wellington's indoor 12-court ASB Community Sports Centre.
He says the hardest part in any new project is getting to the start line - "taking the concept or idea through to acceptance. That's identifying the need, gathering the evidence to support and demonstrate it, arriving at the best solution for location, size and the components that are required, and putting a business model in place that ensures the project is sustainable.   
"That's where we come in – we help our partners make better decisions, guided by our National Sporting Facilities Framework and Community Sport Strategy."