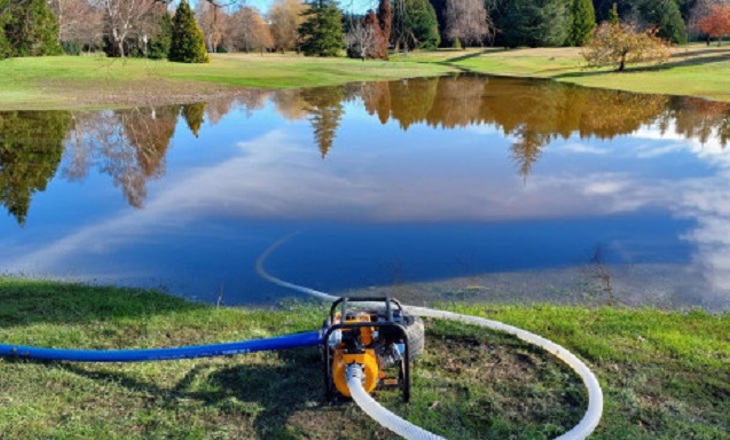 The new BoostedSport crowdfunding platform couldn't have come along at a better time for central Canterbury's Hororata Golf Club.
The recent Canterbury floods saw the picturesque 18-hole course in the small rural town of Glentunnel sustain substantial damage after being overwhelmed by the swollen Selwyn River.
It's a huge blow for golfers and the rural area, with tens of thousands of dollars and months of work needed to bring the club, due to celebrate its 100th anniversary next year, back to its former glory.
But there has been a silver lining – while volunteers are busy cleaning up, the Hororata club itself has made the most of BoostedSport to raise funds to help repair the course.
The crowdsourcing platform, publicly launched earlier this week, has been developed by Sport NZ on behalf of the New Zealand Sports Foundation Charitable Trust and in partnership with the Arts Foundation Te Tumu Toi, building on the success of its crowdsourcing platform, Boosted, which will now become known as BoostedArts.
Hororata Golf Club is one of ten organisations that has piloted BoostedSport ahead of its public launch and it has proved a huge success.
With help from the Hororata Community Trust and the BoostedSport team, the club created and launched its fundraising project and within 48 hours more than $5000 in donations had rolled in.
Within a week the project hit its $10,000 target and, on top of that, BoostedSport and media coverage has led to other fundraising opportunities for the club.
While club members were overwhelmed with the damage and clean-up in front of them, they were equally as overwhelmed with the support from so many people all over New Zealand, says Hororata Community Trust executive officer Cindy Driscoll.
"Seeing the donations rolling in has been really encouraging for those working on the course."
"We live in a very active community that has a history of pulling together when disaster strikes - the fundraising response to BoostedSport has been exceptional and it has really helped motivate the volunteers to give their time to repair the course," says Cindy.
"We estimate the total bill for repairs to be in more than $20,000, and the money raised so far will go some way towards repairing the fences, bridges, greens, native plantings, and other infrastructure."
Hororata Golf Club hopes to get the course re-opened as soon as possible because, as Cindy says, the tight-knit community knows how important getting out on the greens is for their wellbeing.
"Golf gets people outside being active, it brings them together for a common purpose, and especially after a disaster like the floods, having these sorts of recreational activities in our rural community is important."
The club's success to date means BoostedSport is already achieving what it set out to do - help grassroots sport and recreation organisation fundraise for the things they need.
For the Hororata club and community trust, Cindy says BoostedSport was easy to use in a number of ways.
"It was easy for donors to donate, it was easy to keep them updated, easy to set up and support from the BoostedSport team also made a big difference," she says.
"It has brought money in from outside our community and club, and has given us the initial capital to get the repairs started – for that we are both humbled and grateful."