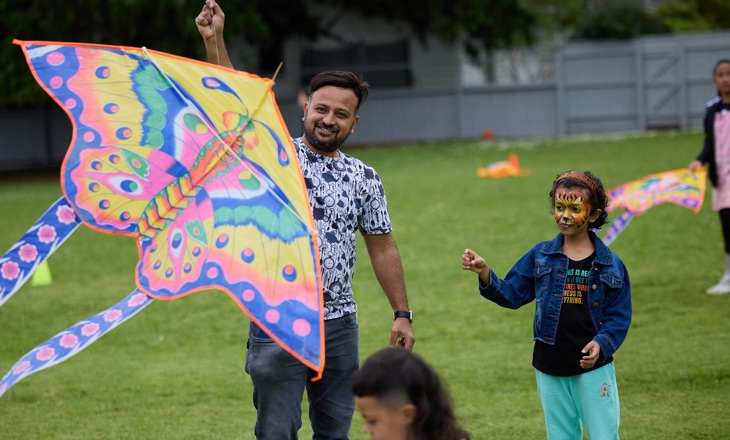 Regional Sports Trusts, councils and schools have organised events and activities for their communities to come together and play.
Check your Regional Sports Trust and find out what's on in your area.
Here are some of the play events happening in your town or city. Head along and join the fun! We'll be adding more events during the lead-up to Play Week.
Auckland - North

Girls Skate NZ Skateboarding Clinic

Girls Skate NZ aims to empower girls through skateboarding, an activity that boosts confidence, mental toughness and physical health. Students are taught how to skate in a warm and friendly environment where they can feel safe and progress at a level that is comfortable for them. While learning the basics of skateboarding, students will also be taught the correct safety measures and skatepark etiquette to prevent injury. Each class has an average of 20-25 girls attend. With 3-5+ coaches there to lend a hand. As the students arrive we split them into several separate groups with a coach. The groups they get put in are based on their skill level and age, or with the coach we think will be the most beneficial! Proudly supported by Upper Harbour Local Board.

Where: Greenhithe War Memorial Park, 10 Roland Road, Greenhithe, Auckland
Date and time: Saturday, 11 November, 2.00pm-4.00pm
Who can go: Classes are open girls of all ages and abilities. Bookings are essential!

Visit the event page on Facebook to learn more and book online here.

Circus in the Square

Are you ready for Circus in the SQUARE? To celebrate the opening of Waiwharariki ANZAC Square, we're bringing Circus in the Parks to the Square! Join the amazing Circability team to play and learn circus skills like juggling, hula hoop, acrobatics, ribbons, and spinning plates. There will be something for everybody, all ages, all abilities! Proudly supported by Devonport-Takapuna Local Board.

Where: Waiwharariki ANZAC Square, Takapuna, Auckland
Date and time: Sunday, 12 November, 3.00pm-5.00pm
Who can go: Open for everybody

Visit the event page on Facebook to learn more.

 

Junk Play – Pop-up Adventure Playground

Conscious Kids and Devonport-Takapuna Local Board are excited to bring you the JUNK PLAY 'Pop up Adventure Playground' - made entirely of rescued materials. Join us for a unique and creative play experience! Utilizing a wide range of 'large loose parts' otherwise destined for landfill, we will design and construct our own play spaces, limited only by our imaginations! Proudly supported by Devonport-Takapuna Local Board.

Where: Waiwharariki ANZAC Square, Takapuna, Auckland
Date and time: Tuesday, 7 November, 3.00pm-7.00pm
Who can go: Best suited to children aged 3-12, the number of participants is limited, first come first served. Adult supervision required/no drop-offs.

Visit the event page on Facebook to learn more.

 

Junk Play – Pop-up Adventure Playground

Conscious Kids and Devonport-Takapuna Local Board are excited to bring you the JUNK PLAY 'Pop up Adventure Playground' - made entirely of rescued materials. Join us for a unique and creative play experience! Utilizing a wide range of 'large loose parts' otherwise destined for landfill, we will design and construct our own play spaces, limited only by our imaginations! Proudly supported by Devonport-Takapuna Local Board.

Where: Waiwharariki ANZAC Square, Takapuna, Auckland
Date and time: Thursday, 9 November, 3.00pm-7.00pm
Who can go: Best suited to children aged 3-12, the number of participants is limited, first come first served. Adult supervision required/no drop-offs.

Visit the event page on Facebook to learn more.

 

Lego Club at Devonport Library

Pop along after school for an hour of lego creations!

Where: Devonport Library, 2 Victoria Road, Devonport, Auckland
Date and time: Thursday, 9 November, 3.30pm-4.30pm
Who can go: Best for primary school-aged tamariki

Visit the Devonport Library events page to learn more.

Auckland - East

Flying Fun in the Park

Enjoy an after-school kite-flying session, proudly supported by Howick Local Board and delivered by the great team at CLM.

Where: Tiraumea Drive Reserve, 118 Tiraumea Drive, Pakuranga, Auckland
Date and time: Thursday, 9 November 3.30pm-5.30pm
Who can go: Open to everybody

Visit the Out and About Auckland Facebook page for more information.

Auckland - South

Tamariki play

Come and enjoy an after-school play event, proudly supported by Māngere-Ōtāhuhu Local Board and delivered by the great team at CLM.

Where: Fairburn Reserve, 28 – 34 Mason Avenue, Ōtāhuhu, Auckland
Date and time: Tuesday, 7 November 3.00pm-5.00pm
Who can go: Open to everybody

Visit the Out and About Auckland Facebook page for more information.

 

Wild Families Nature Play

Come and join Craftlab NZ for a Wild Families Nature Play session! Wild Families is all about getting outdoors, exploring and adventuring in our local parks and reserves. We will do all sorts of things – sometimes we set up a hammock village, other times, we make cabbage tree dolls from fallen leaves. It's time to go a bit wild in nature! Proudly supported by Howick Local Board.

Where: Murphys Bush Reserve, 160R Murphys Road, Flat Bush, Auckland
Date and time: Tuesday, 7 November 3.00pm-5.00pm
Who can go: Aimed at tamariki aged 4 – 14 years old, but open for everybody to join

Visit the Out and About Auckland Facebook page for more information.

 

David Lange Playground Opening

Come and celebrate with the rest of the community as the amazing new David Lange Playground is offically opened! Enjoy the amazing play equipment and join in with play activations on the day. Proudly brought to you by Māngere-Ōtāhuhu Local Board.

Where: David Lange Park, 98R Bader Drive, Māngere, Auckland
Date and time: Saturday, 11 November 10.00am-1.00pm
Who can go: Open to everybody

Visit the event page on Facebook to learn more

 

Boys' and Girls' Skate Session

Come and join a free boys' and girls' skateboarding class with Young Guns Skate School! Suitable for beginner and intermediate skaters – all levels are welcome, and spare skateboards and helmets are available. Cool Tech Deck prizes to be won at all classes. Proudly supported by Howick Local Board.

Where: Barry Curtis Park, 163 Chapel Road, Flat Bush, Auckland
Date and time: Saturday, 11 November, 10.00am-12.00pm
Who can go: For tamariki aged six years old and up. Bookings are essential!

Visit the Out and About Auckland Facebook page for more information and book online here.

Auckland - West

Adventurous Nature Play

Hey parents – remember how much you loved going outside to play in nature when you were growing up? Our adventurous nature play sessions are intended to bring that play back for today's tamariki! We can't wait to explore with whānau and find ways to play using the bush, trees, and grassy spaces at our local parks and reserves. This session is designed for adventurous families who want to have fun that they can create and control. Proudly supported by Henderson-Massey Local Board and brought to you by CraftLab NZ and Barefooted NZ.

Where: Henderson Park, 41A Wilsher Crescent, Henderson, Auckland
Date and time: Sunday, 12 November, 9.00am-1.00pm
Who can go: Open to everybody – adults must attend with tamariki

Visit the Out and About Auckland Facebook page for more information, and check out the CraftLab NZ Facebook page and the Barefooted NZ Facebook page to see videos of past Adventurous Nature Play events.

 

Circus in the Park

Join the amazing Circus In The Parks team to play and learn circus skills like juggling, hula hoop, acrobatics, ribbons, and spinning plates. There will be something for everybody, all ages, all abilities! Proudly supported by Upper Harbour Local Board.

Where: Hobsonville Point Park, 95A Buckley Avenue, Hobsonville, Auckland
Date and time: Sunday, 12 November, 11.00am-1.00pm
Who can go: Open to everybody

Visit the Out and About Auckland Facebook page for more information.

 

Girls Skate NZ Skateboarding Clinic

Girls Skate NZ aims to empower girls through skateboarding, an activity that boosts confidence, mental toughness and physical health. Students are taught how to skate in a warm and friendly environment where they can feel safe and progress at a level that is comfortable for them. While learning the basics of skateboarding, students will also be taught the correct safety measures and skatepark etiquette to prevent injury. Each class has an average of 20-25 girls attend. With 3-5+ coaches there to lend a hand. As the students arrive we split them into several separate groups with a coach. The groups they get put in are based on their skill level and age, or with the coach we think will be the most beneficial! Proudly supported by Upper Harbour Local Board.

Where: Greenhithe War Memorial Park, 10 Roland Road, Greenhithe, Auckland
Date and time: Saturday, 11 November, 2.00pm-4.00pm
Who can go: Classes are open girls of all ages and abilities. Bookings are essential!

Visit the event page on Facebook to learn more and book online here

 

Girls Skate NZ Skateboarding Clinic

Girls Skate NZ aims to empower girls through skateboarding, an activity that boosts confidence, mental toughness and physical health. Students are taught how to skate in a warm and friendly environment where they can feel safe and progress at a level that is comfortable for them. While learning the basics of skateboarding, students will also be taught the correct safety measures and skatepark etiquette to prevent injury. Each class has an average of 20-25 girls attend. With 3-5+ coaches there to lend a hand. As the students arrive we split them into several separate groups with a coach. The groups they get put in are based on their skill level and age, or with the coach we think will be the most beneficial! Proudly supported by Henderson-Massey Local Board.

Where: Te Pai Skatepark, 31 – 35 Te Pai Place, Henderson, Auckland
Date and time: Sunday, 12 November, 10.00am-12.00pm
Who can go: Classes are open girls of all ages and abilities. Bookings are essential!

Visit the event page on Facebook to learn more and book online here.

 

Lego Build Session at New Lynn Library

Get creative with Lego. Come along to design, build, and create.

Where: New Lynn War Memorial Library, 3 Memorial Drive, New Lynn, Auckland
Date and time: Tuesday, 7 November, 3.30pm-5.00pm
Who can go: Great for kids aged 5 – 12 years

Visit the New Lynn Library events page to learn more.

 

Lego Club at Titirangi Library

Calling all brick builders! Bring along your construction skills and join us for LEGO building fun.

Where: Titirangi Library, 500 South Titirangi Road, Titirangi, Auckland
Date and time: Wednesday, 8 November, 3.30pm-4.30.pm
Who can go: Suitable for tamariki aged five years and older

Visit the Titirangi Library Facebook page to learn more

Auckland libraries

Wriggle and Rhyme at Auckland Libraries

Wriggle and Rhyme is a fun 30-minute session for babies, toddlers, and their parents and caregivers, with lots of laughter and movement.

Where: Sessions run every week during term time at every of Auckland Council's 56 library branches
Date and time: Days and times vary – see 'find out more' for more information
Who can go: Suitable for ages 0-2 years olds

Visit the Auckland Libraries Wriggle and Rhyme events page to find the details of your closest Wriggle and Rhyme session.

 

Rhymetime at Auckland Libraries

Our 30-minute Rhymetime sessions give toddlers and preschoolers lots of fun with songs, movement and finger rhymes.

Where: Sessions run every week during term time at 35 of Auckland Council's library branches, right across the region
Date and time: Days and times vary – see 'find out more' for more information
Who can go: Suitable for ages 18 months-3 years old, but older preschoolers are also welcome

Visit the Auckland Libraries Rhymetime events page to find the details of your closest Wriggle and Rhyme session.

 

Storytime at Auckland Libraries

At our popular 30-minute storytimes, librarians – and sometimes authors or other special guests – read captivating stories. Some sessions are in languages other than English – check out 'find out more' for further details.

Where: Sessions run every week during term time at 34 of Auckland Council's library branches, right across the region
Date and time: Days and times vary – see 'find out more' for more information.
Who can go: Perfect for children aged three – five years old

Visit the Auckland Libraries Storytime events page to find the details of your closest Wriggle and Rhyme session.

Balclutha

Sport Clutha Rainbow Run and Play Festival 

Come along to this big celebration of play with lots of different play opportunities for everyone to get involved!

Where: Centennial Park, Balclutha
Date and time: Saturday, 11 November 10.00am-1.00pm
Who can go: Open to everybody

Bay of Plenty

Play Passport

Download your free copy and complete play activities while exploring your local awa, taiao, maunga, ngahere, moana, playground or own backyard.

Where: Bay of Plenty – play is everywhere
Date and time: Play Week November 6-12, and beyond
Who can go:  For tamariki to enjoy with whānau and friends

Central Otago

Check out these fun activities across the region during Play Week!

Monday, 6 November: Play with your family

Build a fort! You can use sticks, boxes and bedsheets or whatever you can find around the house. Get creative!

 

Tuesday, 7 November – Hawea Flat

9.00am-3.00pm: Play Trailer, games, paper plane competition at Hawaea Flat School

 

Wednesday, 8 November – Frankton and Hanley's Farm

9.00am-12.00pm: Play Trailer at Kingsview School

1.30-3.00pm: Play Trailer at Te Kura Whakatipu o Kawarau

 

Thursday, 9 November - Ranfurly

9.00am-3.00pm: Play Trailer and games at Maniototo Area School

3.30-5.00pm: Play Trailer, Playdoh and crafts for all under 5s at Ranfurly Play Centre

 

Friday, 10 November – Wanaka

9.30-11.30am: Play Trailer, nature walk and games for under 5s at Wanaka Station Park

12.30-5.30pm: Play Trailer and games for all ages at Wanaka Rec Centre

 

Saturday, 11 November – Queenstown

10.30am-5.30pm: Play Trailer and games for all ages at Queenstown Gardens under the Monkey Puzzle tree

 

Sunday, 12 November – Alexandra

11.00am-5.00pm: Play Trailer and games for all ages at Pioneer Park (near the playground)

Christchurch

Christchurch City Council is supporting Play Week 2023 – check out what's happening and head along to a fun play event!

 

 

Learn to play Pickleball

Come and along and learn to play Pickleball at these free sessions, provided by Eastern Community Sport and Recreation.

Where: Eastern Canopy, Rawhiti Domain, 136 Shaw Avenue, New Brighton
When: Tuesday, 7 and Thursday, 9 November 3.30-4.30pm
Who can go: Free – Year 5 and up

Dunedin

Play is everywhere in Dunedin! 

Every day during Play Week, we've planned a play activity for tamariki to head along to after school from 3.00 to 4:30pm! All the activities are free and open to the whole community – no need to book.  Check out the list below.

Additional activities

We'll also have our Play Trailer, other play activities and activations, and chalk drawings happening around the city.

Play spots

And you can find fun all week at Dunedin's Public Libraries, the Art Gallery, and Otago Museum. #SOPlayIsEverywhere 

 

Wheels Play at Marlow Park

Bring your scooter, skateboard, bike or whatever wheels you have down to Marlow Park bike zone and show us your skills! Scout, the Safe and Active travel mascot, will be there along with some extra scooters. 

Where: Marlow Park bike zone
Date and time: Monday, 6 November 3.00-4:30pm
Who can go: FREE. Open to the community 

 

Disc Golf and Nature Play at Chingford Park

Come check out how to play disc/frisbee golf with the Dunedin Disc Golf Club in Chingford Park! Lizzie Potter from Nature School will also be there to encourage tamariki to get their hands dirty and connect with nature. 

Where: Dunedin Disc Golf Club, Chingford Park
Date and time: Tuesday, 7 November 3.00-4:30pm
Who can go: FREE. Open to the community 

 

Play Trail at Dunedin Botanic Gardens

Come on down and feed the ducks and follow the play trail throughout the Botanic Gardens. Explore what the Gardens has to offer. 

Where: Dunedin Botanic Gardens
Date and time: Wednesday, 8 November 3.00-4:30pm
Who can go: FREE. Open to the community> 

 

Sand Play, Sandcastle building competition and beach volleyball at St Clair

Bring a spade and a bucket and let's get digging! Show us your coolest and tallest sandcastle. Volleyball Otago will be there with their brand-new beach volleyball kit as well so everyone can give it a go!  

Where: St Clair
Date and time: Thursday, 9 November 3.00-4:30pm
Who can go: FREE. Open to the community 

 

Play Festival at North East Valley Normal School

Come and join in this community event. Sport Otago is launching the Neighbourhood Play System report it recently completed with the school.  

Where: North East Valley Normal School, 248 North Road, Dunedin 9010
Date and time: Friday, 10 November 3.00-4:30pm
Who can go: FREE. Open to the community

Gisborne Tairāwhiti

Fun Nature Play

Come and play at Fun Nature – dress up as a pixie, fairy or elf!

Where: Gray's Bush (runs alongside the Back Ormond Road, about 10 km northeast of Gisborne. The car park and entrance is located on Back Ormond Road, at the turn-off to Harper Road.)
Date and time: Monday, 6 November 3.30-4.30pm
Who can go: All ages welcome

 

Play Week 2023 Fun at HB Williams Memorial Library

There's something for everyone! Join the fun for Play Week 2023!

Where: HB Williams Memorial Library, 34 Bright Street, Gisborne
Who can go: All welcome

Tuesday, 7 November 10.30am: He Kākano Animal dress up
Wednesday, 8 November 3.30pm: Storytime and bubbles
Thursday, 9 November 10.30am-3.30pm: Teddy Bears Picnic
Friday, 10 November 3.30pm: Mini Ball competition

Hawke's Bay

Play Passport

This is your mission , if you choose to accept it! Play is Everywhere. Summer is a great time to explore and find it. Get outside and visit your awa, maunga, playground, and neighbourhood. For each space we've suggested different ways to play. During the month of November take a photo of your whānau playing everywhere and upload them to the Sport Hawke's Bay Facebook page using the hashtag #PlayWeekHB  #SportHB.

To go into the draw for a family pass to Splash Planet  use the #PLAYPASSPORT+YOURTOWN  #PlayPassportHastings #PlayPassportCHB #PlayPassportNapier #PlayPassportWairoa

Where: Everywhere!
Date and time: All of November 2023
Who can go: Available for everyone!

 

Hands-On 4, interactive display

Learn how people shopped, communicated, completed household chores, see what they wore, and the art of handwriting.

Where: Central Hawke's Bay Museum, 23 High Street, Waipawa, Hawke's Bay
Date and time: 10.00am-4.00pm, everyday during Play Week 2023
Who can go: Open to everybody – Free entry

 

Art for Tots

Join us for this month's playful Art for Tots session at Te Whare Toi o Heretaunga. We're running it as a drop-in session between 10.30am-12.30pm, where you can pop in whenever it suits your whānau. We'll provide everything you need to play and get creative in our education space. We will be finger-painting and printing. Things might get a little messy so please wear appropriate clothing.

Where: Hastings City Art Gallery, 201 Eastbourne Street East, Hastings (beside the Hastings Library in Civic Square)
Date and time: Monday, 6 November 10.30am-12.30pm
Who can go: Suitable for tamariki under 6 years of age, parents and sibling. No booking required. Free entry

 

Tumbling Tots

For children 12 months (or crawling) to 5 years. Tumbling Tots is a fun and interactive programme for parents and their children to work one-on-one covering the fundamental movement skills that are important to the motor development of a child's physical, cognitive, and social growth. With structured sessions and children learning at their own pace, our Tumbling Tots instructors support parents and caregivers by sharing various techniques for them to use here at our programme, as well as in their own home, to help build their child's confidence.

Where: Hastings Sports centre, 503 Railway Road, Hastings
Date and time: Wednesday, 8 November 9.30am-10.15am – Skills Based Programme
Wednesday, 8 November 10:30am – 11.30am – Self-Supervision Play Session
Who can go: For children 12 months (or crawling) to 5 years. $5 per child per session.

Please register your attendance through our website.

 

Play is Everywhere ... at the park!

Come along and play with the Sport Hawke's Bay team at the park – a lovely big open space for whānau to get together, unwind and play everywhere. We'll be setting up from 2.00pm so bring your tamariki after school and if the sun is shining take a picnic dinner. Have your Play Passport handy and show us where you have been playing. If you don't have one, collect a Passport from us and start playing everywhere in the Hawke's Bay!

Where: Anderson Park, Taradale
Date and time: Friday, 10 November from 2.00pm
Who can go: Open to everybody – bring a picnic dinner!

 

Central Hawke's Bay Libraries – Spring into Reading Finale

Over 1000 local primary school children are taking part in the Spring into Reading programme, themed around farm animals this year. As a reward for reading and reviewing eight books, Central Hawke's Bay Libraries are hosting a special finale to celebrate success. Join in the fun with a Play Trailer on location and a magician's show at 11.30am. There will be book rewards for children too.

Where: A&P Showgrounds, Mitchell Street, Waipukurau, Hawke's Bay
Date and time: 11 November, 10.00am-2.00pm
Who can go: Open to everybody. Free for tamariki under 15 years

 

Croquet Inclusive Open Day

We have partnered with Croquet New Zealand to provide an Inclusive Open Day at Heretaunga Croquet Club. This is open to anyone with a disability and wanting to give croquet a go. Croquet is a low impact sport that is designed to be played on a flat even surface, great at improving hand eye coordination, and lots of fun! We will also have our NZ under 21 Rep coming along for a swing. Register your interest below and come along on.

Where: Heretaunga Croquet Club, 341 Napier Road, Havelock North
Date and time: Sunday 12 November 11.00am-1.00pm
Who can go: Open to everyone – all abilities including those with a disability.

Invercargill

Here in Southland, we are so excited for Play Week and reminding our community that they can play everywhere. All we need is some imagination and the rest is up to us. We want to know how our community is playing and can't wait to chat with them.

Play Space at Invercargill Central

The Active Southland Play Team is taking over the Play Space at Invercargill Central to add even more play into the space. Come and join the fun and tell us how you like to play.

Where: Invercargill Central Mall, 39 Esk Street, Invercargill 9810
Who can go: Everyone is welcome
Monday, 6 November 12.00-2.00pm: Creative Play
Tuesday, 7 November 3.00-5.00pm: Big Fun and Games
Wednesday, 8 November 3.30-5.00pm: FunAS Rangatahi
Friday, 10 November 10.00am-12.00pm and 3.00-4.00pm: Playdough, crafts and play

 

Rainworks and Chalk Activations secret stencils throughout the city.

Where:  Secret locations around Invercargill – keep your eyes peeled!
Date and time: Play Week6-12 November
Who can go: Fun for the whole whānau   

Keep an eye on our Facebook page. 

 

World Kindness Day

Join in for a big range of fun activities for the whole family – including yoga for all ages, The Pantry BBQ, bucket gardening, live music, Karaoke, chalk fun, large games, the Play Container and more!

Where: South Alive, 262 Ness Street Invercargill
Date and time: Saturday, 11 November 11.00am-2.00pm
Who can go: Free fun for everyone!

Mt Maunganui

Tumble Time at Mercury Baypark Arena

Have fun with trampolines, moon hoppers, scooters, trikes, bikes, balls, balancing and gymnastic equipment, mega blocks, bouncy castle, colouring in, music, little tykes cars and much more.

Where: Mercury Baypark Arena, 81 Truman Lane, Mount Maunganui
Date and time: Tuesday, 7 November 9.30am-12.00pm
Who can go: Tumble Time is suitable for children up to 5 years of age. Children must be supervised by a parent or caregiver at all times. $5.50 per child.

Palmerston North

Palmy Play Festival - Taiopenga ā-Rēhia 2023

We know that play is a great way to bring people together! This will be a free community event that celebrates popular games from around the world. Playing is a great way for people to connect, learn and celebrate our city's cultural diversity.

Where: Te Awe Awe Quad, Te Marae o Hine, The Square.
Date and time: Saturday, 11 November 2.00-4:30pm
Who can go: FREE Community event, open to the public.


 

Play in the City!

Next time you're in town, take a walk around and look for the "Play in the City" Stickers in participating business windows. There you'll find some cool activities to make you next trip into our city centre that extra bit of FUN!

Where: Participating City Centre Businesses
Date and time: 6-12 November – Play Week 2023
Who can go: FREE, Look for the "Let's Play Palmy" Sticker in participating business windows

 

Let's Play Palmy Library Programme

We have a range of activities and board games for the whole whanau to celebrate Play Week 2023.

Where: Central Library and the Community libraries
Date and time: 6–12 November Play Week 2023
Who can go: FREE, open to all ages

Rolleston - Selwyn District Council

Highlighting the play opportunities we offer and showcasing some of the great play spaces available

We will have lots of play events for whānau to come along to and have fun, with play equipment from our play trailer available:

Play focus at Mini Gym, sensory time in the pool, and Little Dancing Feet enhancing and adding different activities
Get Your Skates On sessions
Giant Slip and Slide at the pool
Inflatables and paddleboats at the pool over the weekend
Extending play time at local library activities, including Lego, board games and VR
Play focus for libraries and Library van to rural communities

 

We'd love to chat with families, tamariki and rangatahi at these events to find out your thoughts on play in our district: what you already do (and how far you travel) in the district, barriers to play, and what play opportunities you would like to see.

Pickleball

Heard about Pickleball and want to check it out? This is the perfect opportunity to learn and have a go.

Equipment and coaching available.

Where: Darfield Recreation Centre
Date and time: Tuesday, 7 November 6.00pm-7.30pm
Who Can go: FREE. Suitable for 16yrs and up, no need to book

 

Skills at the Skate Parks

We are creating a vibrant safe space for all to enjoy the skating space. Join us to learn, perfect a new trick and meet new people.

Where: Rolleston Town Centre, Darfield, West Melton and Leeston Skate Parks
Date and time: Wednesday, 8 November 3.00-5.00pm
Who Can go: FREE. Open to the community – no need to book
Equipment: Skateboard, scooter, skates and helmet/protective wear
Additional Activities: Chalk, basketballs, play trailer

 

Explore Kakaha Park

Bring your bike and a picnic and have a go on our latest bike trails (learn to ride – grade 4)
Dogs on lead
A dog park with agility course behind the park

Where: Kakaha Park, Cnr Birches and Leadleys Rd, Prebbleton
Date and time: Friday, 10 November 5.30-7.30pm
Who Can go: FREE. The whole community – no need to book
Equipment: Bike or scooter and helmet
Additional Activities: Play trailer, skipping ropes, tug of war, chalk

 

Lu Uno Wall

Come and try the only Lu Uno Wall of its kind in NZ!

There are a range of interactive games available.

Where: Selwyn Sports Centre, 70 Broadlands Drive, Rolleston
Date and time: Saturday, 11 November 9.00-1.00pm (8 x 25min sessions)
Who Can go: FREE
Suitable for 5-12 year olds (Adult supervision for children under 10 years)
Booking: Bookings essential. One visit per child.
Additional Activities: Basketballs, skipping ropes, tug of war

 

Disc Golf

Want to try something new? Come along to Horndon St side of the Domain and learn about disc golf.
Longest drive and putting area.
Equipment and instruction available

 

Where: Darfield Domain, Horndon Street, Darfield
Date and time: Saturday, 11 November 1.00-3.00pm
Who Can go: FREE. Everyone welcome – no need to book
Booking: Drop In
Additional Activities: Play trailer

Wander the Willows

Keen to explore new walking/biking trails in Selwyn? Look no further than The Willows.
There's 4km of one-way, shared tracks (walking/biking).
Dogs on lead. There is a dog park with agility course situated by the car park

Where: Thompsons Road, off Old West Coast Road, West Melton
Date and time: Sunday, 12 November 1.00-3.00pm
Who Can go: FREE. The whole community – no need to book
Equipment: bike and helmet or walking shoes
Booking: Drop In
Additional Activities: Play trailer

 

Show us your Manu Skills

Come and make a splash!
Warm up your Manu skills for the summer.
The Manu platform will be operating for you to practice and perfect your bomb, manu, coffin or staple.

Where: Selwyn Aquatic Centre, 70 Broadlands Drive, Rolleston
Date and time: Sunday, 12 November 5.00-7.00pm
Who Can go: FREE. Suitable for 8yrs and up, competent swimmers
Booking: Drop In

Taranaki

Play Rocks!

Bring your family along to play together and have fun hunting for rocks scavenger-style in Pukekura Park, New Plymouth (hosted by Sport Taranaki) and King Edward Park, Hawera (co-hosted by Sport Taranaki and South Taranaki District Council). Search for hidden painted rocks – and be in to win vouchers and prizes too. There will be heaps of amazing rocks to find with local schools and youth groups getting involved and creating some cool designs. You can paint your own rocks too at the painting table. Bring some snacks or a picnic and make a day of it playing everywhere!

Where: King Edward Park, Hawera
Date and time: Saturday, 11 November 9.00am-12.00pm

Where: Pukekura Park, New Plymouth
Date and time: Saturday, 11 and Sunday, 12 November 9.00am-12.00pm

Who can go: Open to everybody, these are whole community events! While they will run from 9.00am-12.00pm, families can re-hide their rocks and hunt all day!

 

Play to Learn workshop

Why are more and more New Zealand schools implementing play in their school environments? Dr Sarah Aiono (Longworth Education) discusses the research behind play and how play impacts on learning. Find out more about the developmental stages of your students and how to plan for and enable play-rich environments, learning about functions of play that guide their learning. Celia Hogan from Little Kiwis Nature Play will provide skills, knowledge and ideas to support children's play in an outdoor environment. "Playing in nature and outdoor environments can build a positive mindset, courage, resilience and enable cooperation in tamariki." – Celia Hogan.

Where: Sport Taranaki, Yarrow Stadium, Maratahu St, New Plymouth
Date and time: 13 November, 12.00-3.00pm
Who can go: Aimed at educators in primary schools and ECE

 

Magic of Play workshop

Learn why play is incredibly important for unlocking children's potential. Come along to this unmissable event and be inspired by award winning and internationally acclaimed Play Expert Dr Sarah Aiono (Longworth Education) and Nature Play Education Specialist, Consultant and Parenting Coach, Celia Hogan.

Where: Sport Taranaki, Yarrow Stadium, Maratahu St, New Plymouth
Date and time: 13 November, 6.00-8.30pm
Who can go: Aimed at parents and educators

Tauranga

Tumble Time at Queen Elizabeth Youth Centre

Have fun with trampolines, a bouncy castle, moon hoppers, scooters, trikes, bikes, balls, balancing and gymnastic equipment, mega blocks, colouring in, music, little tykes cars and much more.

Where: Queen Elizabeth Youth Centre, Cnr Devonport Rd & 11th Ave, Tauranga
Date and time: Monday, 6 and Wednesday, 8 November 9.30am-12.00pm
Who can go: Tumble Time is suitable for children up to 5 years of age. Children must be supervised by a parent or caregiver at all times. $5.50 per child.

Southland

Here in Southland, we are so excited for Play Week and reminding our community that they can play everywhere. All we need is some imagination and the rest is up to us. We want to know how our community is playing and can't wait to chat with them.

Just for Fun in Southland

Heaps of ideas for Play and whānau-friendly activities in Southland – can you tick them all off? How long will it take?

Where: Southland Wide
Date and time: Anytime during Play week 6-12 November
Who can go: Open to everyone

Resource for our community with heaps of whānau-friendly things to do.

Whanganui

Our Play Week Places to Play – Play every day, anyway, EVERYWHERE

Kowhai Park – Creative Play

One of New Zealand's best playgrounds. This is a creative park situated alongside the Whanganui River that includes a water park, miniature train, and flying fox. Recently there has also been a sound garden added to promote tactile play.

Where: 140 Anzac Parade, Whanganui East, Whanganui
Date and Time: Anytime
Who can go: Anyone – Families and friends of all ages.

 

Play Trail – A Summer of Play

The Great Whanganui Play Trail will have a special activation each month over summer, starting in November with a draw to win a Riverland Holiday Park voucher when you pick up a Play Trail map from the Whanganui iSite on Taupō Quay.

Where: Whanganui - Central City
Date and Time: Anytime
Who can go: Anyone – Families and friends of all ages.

 

Potting Up Party! - Nature Play

Join The Learning Environment for a Potting up Party in their Native Plant Nursery. This will be a special PLAY WEEK edition! Come along to learn, try something new and have fun getting your hands in the soil.

Where: 673 Papaiti Road, Whanganui
Date and Time: Thursday, 9 November 10.30am-2.30pm
Who can go: Anyone – Families and friends of all ages.

 

Castlecliff Beach - Beach Play

Wanganui Surf Lifeguard Service is hosting a Beach Play session at Castlecliff Beach from 9.30am-11.30am on Saturday, 11 November. Families are invited to explore nature in a safe beach environment.

Where: Castlecliff Beach
Date and Time: Saturday, 11 November 9.30-11.30am
Who can go: Anyone – Families and friends of all ages

 

Bushy Park – Birds and Bugs

Visit Bushy Park and explore this diverse forest that provides an outstanding environment for many native birds, plants, and insects. Use the fantastic signs and online resources to help you explore and identify the many birds and bugs that call this beautiful natural environment their home. See our online resources to get a full bird and snail list.

Where: Bushy Park Tarapururuhi – 791 Rangitatau East Road, Kai Iwi
Date and Time: Every day during daylight hours
Who can go: Anyone – Families and friends of all ages.

 

Paint the Park – Bringing Community Together

This beautiful seaside park is one of the many wonderful places to play in Whanganui. The Paint Up the Park launch will be a celebration of how the community has come together to design and paint the parks basketball court to make it a more colourful and inviting place to play. There will be games and lots a time to connect and play as a community.

Where: Castlecliff Domain
Date and Time: Sunday, 12 November 11.00am
Who can go: Anyone – Families and friends of all ages

 

Virgina Lake

With easy walking tracks, beautiful sculptures, extraordinary birdlife, and endless opportunities to rest, picnic and play, Rotokawau is Whanganui's most popular lake.
Locals never tire of seeing the ever-changing scenery. Use the leaves to build boats to float on the lake, leapfrog the statues, perform on the stage, or simply play games and roll down the hill in the punch bowl.

Where: Virginia Lake – 110 Great North Road
Date and Time: Anytime
Who can go: Anyone – Families and friends of all ages.

 

Hill Slide – Play on the Way

Before you drop off those cardboard boxes at the recycling centre. Find a hill to slide down. One of the best grassy slopes in town can be found at Cooks Gardens. Used for the iconic slip and slide at the Tough Kid event each year, this hill is made for sliding.

Where: A grassy hill near you
Date and Time: Anytime
Who can go: Anyone – Families and friends of all ages

 

Our Libraries

Mini Maestros Music Time – This free music and movement session is for tamariki to play and have fun, sing, dance and play instruments.

Where: Davis Library – Pukenamu Drive, Pukenamu Queens Park
Date and Time: Fridays at 10.30am
Who can go: 0-5 years of age

 

Creation Station

Come along for a variety of arts, crafts, and science-based activities.

Where: Gonville Library – 44 Abbot Street, Gonville
Date and Time: Mondays at 3.30 pm
Who can go: Children to be accompanied by an adult

 

Storytime

Come and join us for Story Time. Listen to one of the Children's Librarians read a variety of theme-based picture books and sing a selection of songs. At the end of each session children are provided with a take home activity related to the theme of the week.

Where: Gonville Library – 44 Abbot Street, Gonville
Date and Time: Wednesdays 10.30am
Who can go: Children to be accompanied by an adult

Where: Davis Library – Pukenamu Drive, Pukenamu Queens Park
Date and Time: Tuesdays at 10.00am
Who can go: Children to be accompanied by an adult