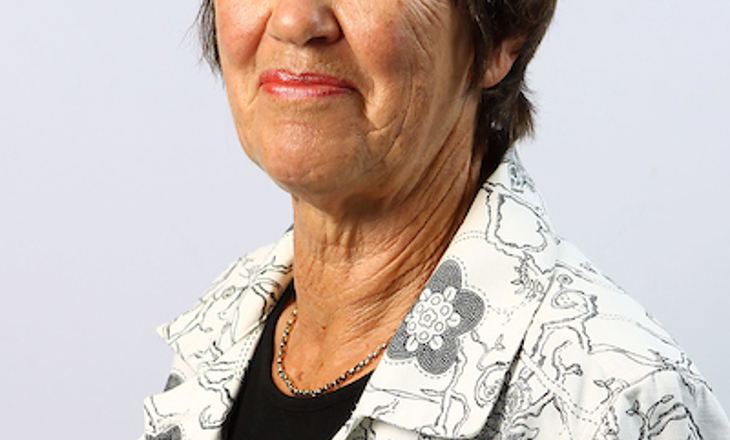 Sport NZ has announced the two winners of the leadership categories from its annual New Zealand Sport and Recreation Awards. Scheduled to be held in Hamilton in June, the awards were cancelled due to COVID-19, with the winners now being confirmed via announcements between now and mid-September.
In a special dedication, one of the awards, the Future Leaders' Scholarship, has been renamed in honour of the late Susie Simcock. Susie is remembered for her exemplary leadership qualities and her role in mentoring young leaders for many decades, right across the sector.
Susie, who passed away in May, held many prominent global sporting positions including being the first female president of World Squash, the first female council member of the General Assembly of International Sporting Federations and a Governor of the International Masters Games Association.
Here at home, some of her achievements and accolades include, being a Board member of the New Zealand Olympic Committee for 12 years as well as an instrumental figure in the amalgamation of Women's and Men's golf in 2005 – to form Golf New Zealand. Susie was also the first female to win the Sport New Zealand (SPARC) Leadership Award at the 2009 Halberg Awards. Throughout her esteemed career, Susie was a tireless champion and advocate for young leaders, particularly young women.
"Susie was a pioneer and trailblazer in sports administration. She broke new ground, particularly for women's leadership, and was an important mentor for many of our current leaders in sport today," says Sport NZ CEO Peter Miskimmin.
"It is wonderful to have both our leadership awards carry the names of two of New Zealand's finest sport leaders, Chris Doig and now Susie Simcock."
"Through the renaming of the Future Leaders' Scholarship, we hope to see Susie's legacy and influence continue for future generations to come."
The Susie Simcock Future Leaders' Scholarship celebrates, promotes and encourages the work of young emerging leaders in the sector. The 2020 recipient of this scholarship is Andrew Corkill, General Manager People and Communities at Sport Waikato.
Sport NZ has also announced today, the winner of the C.K. Doig Leadership Award, which recognises excellence in leadership. This has been awarded to Sport Canterbury Chief Executive, Julyan Falloon.
"It is extremely important, despite the challenges of this pandemic, that we pause to celebrate the achievements of those across our sector," says Peter Miskimmin.
"The recipients of our two 2020 leadership awards, reinforce the strength of leadership we have in our sector. The quality of that leadership has never been more important, as we work to ensure bodies at all levels of the sector, make it through these difficult times. Both Andrew and Julyan are fine examples of leaders who have been and will continue to serve their communities, through providing quality opportunities for people to be physically active."
Susie Simcock Future Leaders' Scholarship Winner
Andrew Corkill - Sport Waikato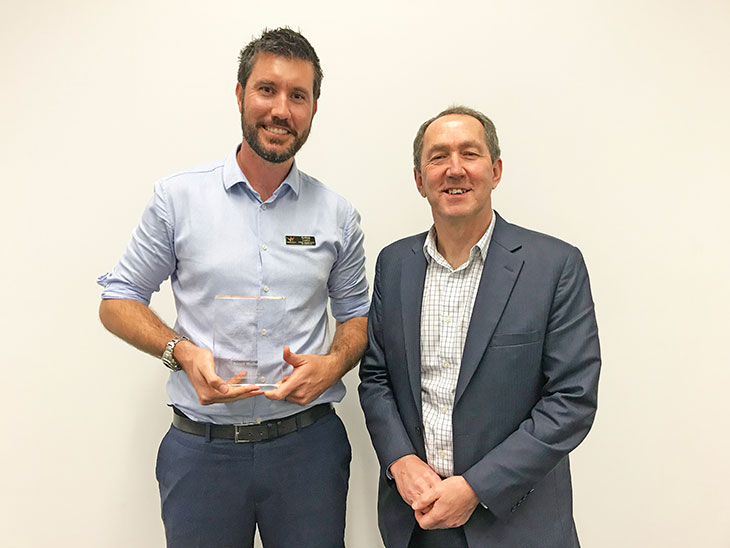 A proud Waikato 'product' growing up in Matamata, Andrew is extremely passionate about both the people in his region and the physical and intrinsic benefits that physical activity provides. Since arriving as the General Manager, People and Communities in 2017, Andrew quickly made a significant impact by challenging the status quo. He led his team through transformation amid a restructure upon his arrival and rejuvenated and inspired his team to join the 'northbound train' that is Sport Waikato's ten-year strategic plan - "Moving Waikato 2025". He has successfully led large teams toward common goals whilst instigating change across programmes to focus on the 'why' and 'how'.
Prior to joining Sport Waikato, Andrew forged an impressive territorial authority career that included stints with the Matamata Piako District Council, Hamilton City Council and Waikato District Council over a nine-year period. Outside of his direct work, he dedicates his time to the wider community in a voluntary capacity. He is an established board member of Te Ao Marama School in Hamilton as well as the Chair of the mental health organisation and not-for-profit Progress to Health.
C.K. Doig Leadership Award Winner
Julyan Falloon – Sport Canterbury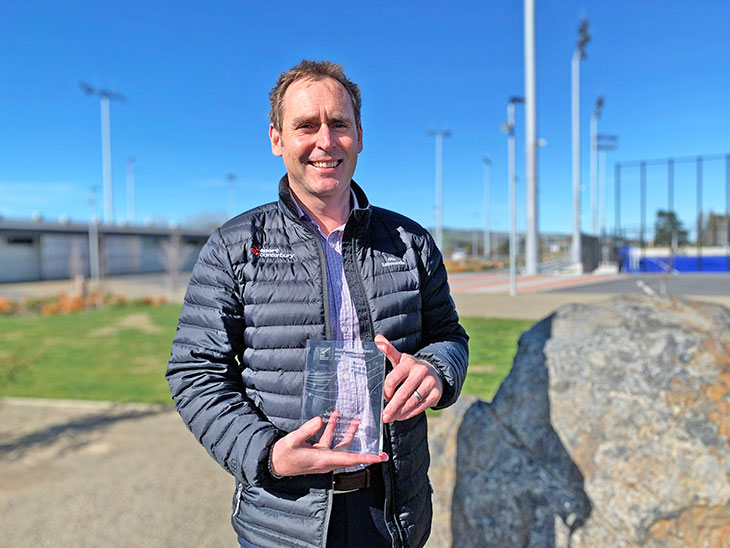 An active and passionate Cantabrian, Julyan has shown leadership in his region, community and organisation at a number of levels. His appointment as Chief Executive at Sport Canterbury followed seven years of experience as General Manager of the Regional Sport Trust. During his time as Chief Executive, Julyan has led his team and community through a number of crisis responses, including earthquake recovery and the events of March 15, 2019. His response showed his ability to be a mobile, innovative and resilient leader who advocates for his community.
Julyan was critical to the development and success of the Nga Puna Wai Sports Hub, a collaborative facility for the Christchurch community that is proving to be a major success. He has also been an important voice in other rebuild projects such as the Metro Sports Hub and a host of other community sports facilities. After the events of March 15, Julyan mobilised his organisation to provide support to the region and community, by offering counselling and resilience training for wellbeing. He has also been a key advocate for diversity and inclusion in sport and active recreation, with his work directly leading to a greater understanding of the need for a more inclusive approach amongst regional sporting organisations, as well as a suite of resources that allows better access to sport for the community.
Through his work he has championed and developed the need for greater cross agency approach to physical activity in Canterbury, especially for the benefit of children and young people.
Find the full list of finalists on the Sport NZ website here.
ENDS
Media contact  
Philip Clark
Group Media Manager, Sport NZ
M: 0278 385 710
E: philip.clark@sportnz.org.nz