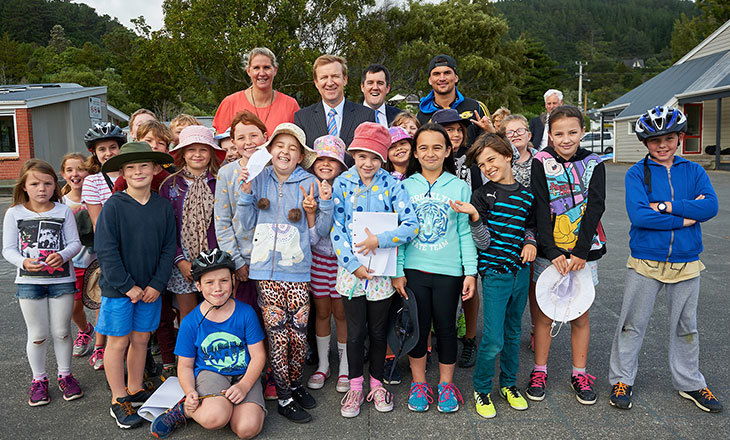 Sport New Zealand (Sport NZ) has today launched a new initiative aimed at ensuring young people are getting quality PE and sport at school so that they remain active and sporty for life.
Play.sport is a step-change in the way PE and sport is delivered in schools. The new initiative is underpinned by a 'physical literacy' approach focused on arming young people with not just the physical, but also the social and emotional skills they need to enjoy a life-long love of sport and physical activity.
Play.sport is currently available as a pilot in 44 schools in Upper Hutt and Waitakere. It was officially launched at Pinehaven School in Upper Hutt today by Sport and Recreation Minister Jonathan Coleman. Silver Ferns captain Casey Kopua attended the launch along with Hurricane and M?ori All Black Otere Black.
Play.sport is a multi-layered approach to the provision of PE and sport with hands-on, practical support and training for teachers, schools, parents and community organisations to improve the quality of the experience for young people.
Sport New Zealand Community Sport General Manager Geoff Barry says while young New Zealanders have traditionally participated in sport and recreation in high numbers, there is a global trend towards inactivity and New Zealand is not immune. That's why Play.sport is a key plank in the Government's Childhood Obesity campaign launched last year.
"We want Kiwi kids to stay sporty and active, and for good reason. Research shows their physical and mental development is enhanced by access to quality physical education and physical activity programmes. Through taking part in sport and recreation, young people develop new skills, take on a challenge, grow social connections and adopt a healthy lifestyle," he said.
"The school setting is key for young people, so we want to support schools to provide the right quality and quantity of PE so kids have the confidence, competence and motivation to be involved in sport and recreation for life." said Barry.
The government is investing over $8 million in the programme over the next four years, primarily through Sport New Zealand, supported by the Ministry of Education and ACC.
ACC is proud to be supporting Play.sport says Emma Powell, Head of Injury Prevention, Partnerships and Delivery at ACC.
"We recognise the value of healthy, active New Zealanders, and want people to be physically competent in sport and daily life. Quality sport and PE experiences at the right stage in life are a crucial foundation to achieving this. By working with school children, we aim to establish the right knowledge, attitudes and behaviours early. We're delighted to partner with Sport NZ and the Ministry of Education on this exciting and innovative project."