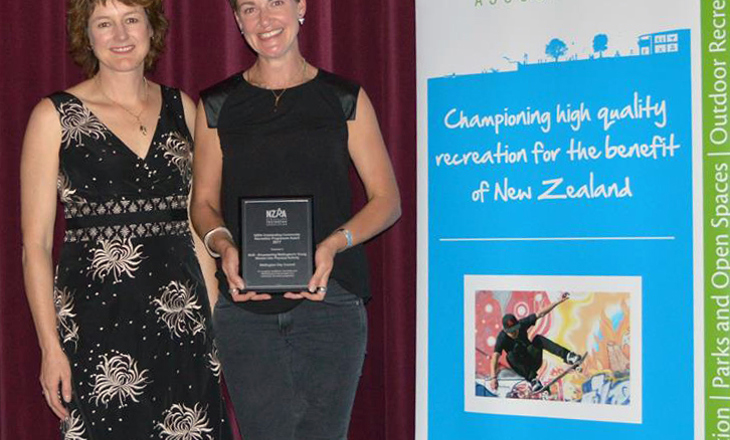 Award for 'shifterhood' empowering young women into physical activity
Sport New Zealand congratulates Wellington City Council for winning the 2017 Outstanding Recreation Programme Award for its SHIFT initiative at this year's New Zealand Recreation Industry Awards.
Launched in March 2016 with funding from Sport Wellington and the Ministry of Social Development, SHIFT has been empowering Wellington's young women into physical activity since March 2016. The programme is now being delivered across the region and has built over 70 partnerships with individuals and organisations who are passionate about young women's wellbeing.
Sport NZ Young People Lead Jo Colin says SHIFT is an inspiration in its approach of empowering teenage girls to develop and lead activities to increase physical activity and wellbeing among their peers and for themselves.
"They call it the shifterhood, and the reason they're having such an impact is that they use co-design, technology and social media in a networked, connected, bottom-up way of that young people relate to. That's the shift; and it's fun - the number of young women engaging with SHIFT and being more physically active is fantastic."
The annual awards are hosted by the New Zealand Recreation Association (NZRA). This year the Outstanding Recreation Programme Award was hotly contested and judges gave two merit awards this year. One went to YMCA Auckland for Jumpstart – a 10 week programme of exercise and coaching, targeting diabetic and pre-diabetic people. The other went to Aktive – Auckland Sport & Recreation for the Good Sports initiative, helping adults understand the likely impact that their actions and attitudes have on children in sport.
Good Sports is doing a great job raising awareness of what quality experiences look like for young people by providing workshops for club administrators, coaches, teachers and parents, Jo says.
"These workshops confront some of our underlying attitudes and beliefs about our roles in supporting young people in sport and it's exciting to see them being gradually extended to other regions across the country."
The range of awards presented at a dinner in Taranaki last Thursday night for parks, facilities, projects and events from around the country demonstrate that recreation across New Zealand is in good hands.