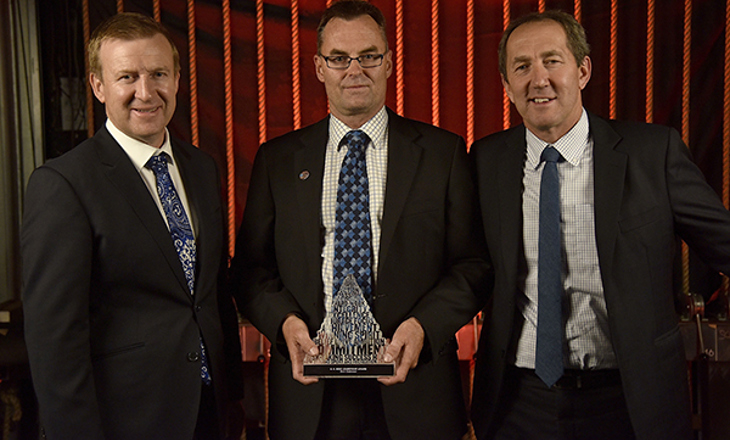 Excellence and outstanding achievement in sport and recreation was recognised this evening during the ninth annual New Zealand Sport and Recreation Awards in Wellington.
The Awards highlight the commitment and dedication of individuals, clubs, regional and national organisations to enriching New Zealanders' lives and inspiring the nation through sport.
Sport Northland's Chief Executive, Brent Eastwood, was presented with the prestigious CK Doig Leadership Award, which recognises outstanding leadership by an executive sport or recreation leader in relation to their organisation or the sector as a whole.
"Brent has been the driving force behind the redevelopment of a number of key community facilities, creating a remarkable legacy and helping to propel participation in sport in the Northland region," said Sport NZ Chief Executive Peter Miskimmin. "These include the Whangarei Aquatic Centre, ASB Leisure Centre, ASB Sports Arena, and more recently the Kauri Coast Sportsville project.
"Brent is a former rugby representative and now continues to represent Northland off the field. Everything he does is driven by the desire to get Northlanders more active, firmly believing that sport can enhance and enrich people and communities."
Lifetime Achievement Awards were presented to Kerry Clark OBE, Chief Executive of Bowls New Zealand and Chair of the World Bowls Law Committee, former New Zealand basketball coach and local Taranaki sports coaching legend, Steve McKean MNZM, and Katie Sadleir whose involvement in New Zealand sport as an athlete and leader has been substantial and included roles on the Board of both Sport New Zealand and High Performance Sport New Zealand.
"All our award recipients have given immeasurable amounts of time, energy and passion to sport throughout their incredible careers. This life-long service helps to create the backbone of our world-leading sport system in New Zealand," said Miskimmin.
Other winners at the ninth annual New Zealand Sport and Recreation Awards include:
Event Excellence Award - ICC Cricket World Cup 2015
The ICC Cricket World Cup 2015 was jointly hosted between New Zealand and Australia and was the second cricket world cup hosted by New Zealand and Australia, the last being 1992.
23 out of the 49 tournament matches, including a semi-final, were held in seven New Zealand cities. Christchurch and its newly redeveloped Hagley Oval hosted the opening match and opening ceremony of the tournament, a role often reserved for much larger venues.
The event was hailed as 'the most popular in history' attracting over 40,000 international visitors to New Zealand for the tournament and its ancillary events. The tournament was one of the largest broadcast sports events in history, with a global reach of well over 1.5 billion.
An unprecedented 36 million unique visitors were attracted to the event website which accumulated over 300 million page views. This represents a 10-fold increase on any previous ICC event. The official tournament app was downloaded more than 4.5 million times and has been the number-one sports app in no fewer than 48 countries.
As a result of ICC Cricket World Cup 2015, there were significant increases in cricket and cricket player awareness. Six of the 10 most mentioned sportspeople in New Zealand in 2015 were Blackcaps players, remarkable given 2015 was also a Rugby World Cup year. The tournament also provided a legacy for the country's young players, 1400 schools signed up to the new Cricket Smart schools programme and there were increased junior cricket registrations of upward of 15% in early sign-ups.
Communication Excellence Award - She Loves Golf
She Loves Golf was a bold, sassy promotional campaign run in November 2015 to inspire women nationwide to sign up to play golf. This was the first time New Zealand Golf had undertaken a national drive to promote the game. At the heart of its communication was a push to change people's perception of the sport and increase participation.
New Zealand Golf has a member database just short of 110,000 registered golfers, of which 80% are male and 20% female.
Using young influential female personalities such as Lydia Ko, Toni Street, Amber Peebles and teenage You Tube blogger Jamie Curry, the month-long campaign included events, promotions and offers in clubs and driving ranges throughout the country especially tailored for women. As a result of the She Loves Golf initiatives 10,000 females engaged with the game of golf in November.
Community Impact Award - Kaiti Hill Mt Everest Challenge
Encouraging over 870 people to walk, cycle or run Mount Everest is no mean feat, but Sean Shivnan and his wife Fiona have been doing it every year, between September and October, for over three years. For the last two, the event has had the support of Sport Gisborne Tairawhiti and grown from the 150 entrants in 2013.
The aim is to climb the 130m up Kaiti Hill in Gisborne 68 times, the equivalent of climbing the 8,840m high Mt Everest. The event is free, so removing the barrier of cost and inspiring families to get active and fit for summer.
As well as encouraging physical activity and active recreation within the general community utilising a local landmark and recreation area, the Kaiti Hill Mt Everest Challenge was successful in engaging with members of the community that did not participate in physical activity regularly. For seven weeks, Kaiti Hill became the social hub of Gisborne with groups of friends, families and workplaces taking on the challenge and creating a 'community' of participants.
Innovation Excellence Award - The Ultimate Waterman 2015
The Ultimate Waterman splashed down in New Zealand for the first time in 2015. In a global first and after four years of development led by Greg Townsend, the event brought together the world's finest watermen to compete in eight different surfing disciplines over nine days.
The invitation-only contest is weather dependent, adopting a spontaneous approach where the weather forecasters and other experts seek out the best location for the day's events, wherever they may be along some of the world's stunning coastline.
The Ultimate Waterman Event was designed from the outset to meet national tourism outcomes and pivotal to this was securing Red Bull international as a comprehensive broadcast and media partner.
Reaching over 50 million people across social media worldwide, the inaugural event tested the skill and endurance of some of the world's leading watermen, including Kai Lenny, and Connor Baxter from Hawaii, Manoa Drollet from Tahiti, Mark Visser from Australia, Danny Ching from the USA and the overall winner Kiwi Daniel Kereopa.
Commercial Partnership Award - Winter Games NZ and Audi NZ
Positioned as one of the top five winter sports events in the world, the Audi quattro Winter Games New Zealand features the world's elite snow sports athletes.
In 2013, Audi New Zealand entered a successful partnership with the games held biennially in Queenstown, Lake Wanaka and Naseby creating 'The Audi quattro Winter Games NZ'.
Following the 2013 event, Audi NZ and Winter Games NZ jointly approached Audi Germany to become the naming sponsor for 2015 and 2017. The resultant sponsorship was a major coup in terms of taking a local sponsorship to a global level, based on a sound case developed to prove the benefit to Audi and the capability of Winter Games NZ to deliver a quality, high profile eve
Audi's core values of sportiness, sophistication and progressiveness, combined with their vehicles' quattro capabilities and their customers love of winter sports, ensure a brand fit with the games on paper and on the road.
The partnership works well largely due to a mutual understanding of the desired outcomes, a strong relationship which includes regular meetings in person, and great opportunities to leverage off the sponsorship.
High Performance Campaign Award - All Blacks 2015 Rugby World Cup Campaign
There was only one outcome for New Zealand Rugby and the All Blacks and that was to win Rugby World Cup 2015. The high performance campaign focused on 'going where no team had gone before' and included becoming the first All Blacks team to win the Rugby World Cup away from home, the first team to win back-to-back Rugby World Cups, to be ranked number one in the world since the end of 2009 and equal the world record of consecutive test wins.
Four critical success factors were agreed on by members of the All Black management team. Alignment was seen as a critical factor in the success of any team, so one of the four factors was to build a single team made up of the players, the All Blacks management team, the families of the players and management, New Zealand Rugby's Board, New Zealand Rugby's Executive Team, New Zealand Rugby's Business Teams (High Performance, Player Services, Commercial and Public Affairs), Super Rugby Teams, Sponsors and Sky.
The high performance campaign was deemed a huge success as a result of the plan delivering a vision that captured each member of the team, an environment that was clutter-free and an environment which delivered a smart, resilient and aligned team.
2016 Lotto Sport Maker of the Year - Patrick Rimene
Volunteers are the life blood of sport and without them, so much grassroots sport in this country simply couldn't happen.
The Lotto Sport Maker award recognises and rewards volunteers, or Sport Makers as we call them, to encourage them to keep doing what they're doing and to inspire others to get involved too.
Patrick is a coach and organiser at the Wairarapa Waka Ama Canoe club and coaches both kids and adult crews five days a week, fitting around his own waka ama training and his full-time job. Patrick is respected as a coach and leader at the club and is always going the extra mile for the kids he coaches and the community.
He is a very active member of the Waka Ama community, having been involved with the club for over five years, and has been selected in the NZ men's team for the 2016 World Waka Ama Championships. He received a Wairarapa Maori Sports Award in 2009 for the team category as a member of the Wairarapa Nui Tonu OC2 waka ama team.
View a full gallery of photos here (Facebook)