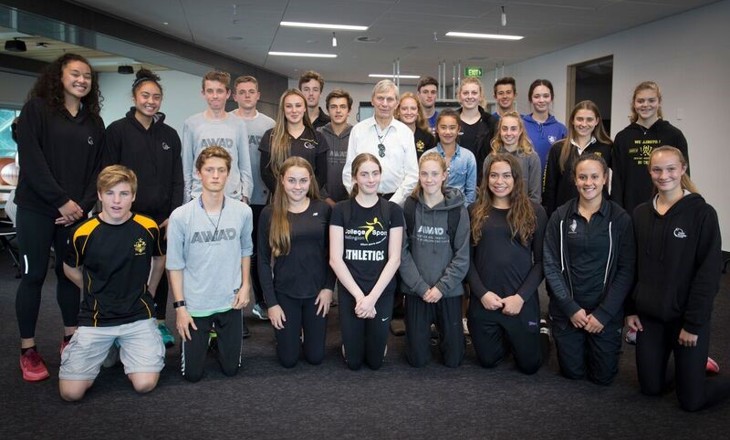 Group of Wellington Athletes from the Sport Wellington Performance Hub who attended the presentation
If you ask Sir Peter Snell what he thinks influenced his sporting success the most, he'll tell you that trying his hand at a number of sports growing up was the key.
25 young Wellington athletes were fortunate to hear Peter share some of his stories and life-lessons during his visit to Te Papa Museum for the unveiling of his personal Olympic memorabilia.
"Try a number of sports when you are young" was Snell's advice for the group. In his last year of school, Peter was playing 1st XV Rugby, 1st XI Cricket, hockey, golf, as well as being nationally ranked in tennis. It was not until he was 19 that he specialised in athletics under the eye of his coach Arthur Lydiard.
When asked why he chose athletics over all his other sports, Snell responded; "It was for the glory". He mentioned that Lydiard's faith in him was also a major driver. Lydiard spotted his talent one day during his teenage years. "He told me I could be the best runner in New Zealand" recalls Snell.
Snell was encouraged to hear about the Wellington talent, particularly local runner James Preston who has recorded the same 800m time that Snell once ran to qualify for the 1960 Olympics. Snell still holds the New Zealand 800m record of 1.44.3 which he set in 55 years ago in 1962.
While he still treasures this record, he hopes that one day soon a young athlete will break what is New Zealand's longest standing athletics record.
Izzy Hegan, another local 800m runner, asked how he managed his injuries with such a punishing schedule. "The key is to build up the miles over time" says Snell, "run off road and take up cross country in the winter months".  
Sport had given Snell a great deal of self-worth, but he advises budding athletes not to make it the only thing in their lives. He recalls struggling to find himself after sport, but a chance trip to the USA while working for a tobacco company exposed him to the field of exercise science. This trip sparked his interest so much that he moved to the USA in order to study exercise science further.
Snell recently represented the USA at the World Masters Games in Auckland where he picked up a silver medal in the over 75 years men's doubles table tennis.
The athletes attending were part of the Sport Wellington Performance Hub.  A key objective of the Performance Hub is to nurture the development of successful people through sport by supporting them to realise their potential. For more information on the Performance Hub visit our website here.
Article contributed by
Sport Wellington.