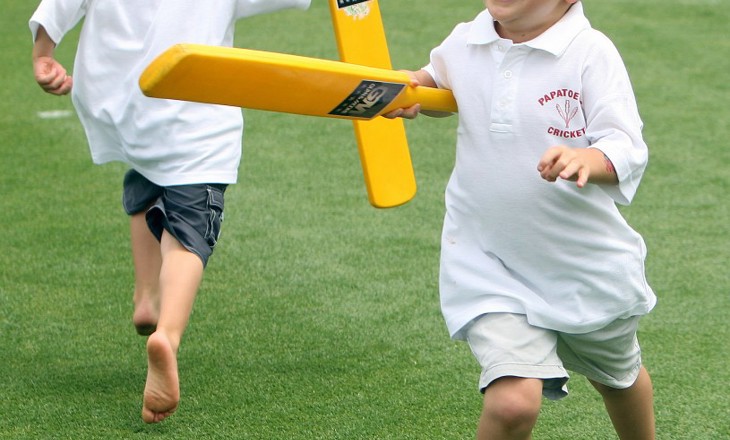 Playing, sharing; making friends and having fun. That's the underlying philosophy for New Zealand Cricket (NZC)'s Biggest Sporting Showcase, to be staged on tomorrow's third day of the Day-Night Test at Eden Park, Auckland.
The initiative will operate on the venue's Outer Oval, offering children the chance to sample a host of different sports, including rugby, netball, lacrosse, golf, hockey, AFL, tennis, baseball, and cricket - and has already drawn support from Sport NZ.
NZC chief executive David White said the concept was based on studies which showed children who play several sports were more likely to develop a broad range of skill development; have more fun and enjoy richer experiences than those encouraged to specialise.
He said the "Biggest Sporting Showcase" was designed to provide kids with the chance to sample several different sports in a supportive and safe environment, with tips and advice supplied by experts in the field.
"There is a lot of good evidence which suggests children will have more fun, learn more, and start recognising interchangeable skills and strategies - if they have the chance to play several different games," said Mr White.
"And the more kids who play sport; any type of sport; the greater their exposure to social interaction and alternative norms, and the healthier our communities."
United Nations studies show the benefits of playing sport include prolonging a sense of independence in later life, promoting psychological wellbeing through building self-esteem, and in reducing conditions such as anxiety, loneliness, and depression.
"Kids just want to have fun," said Mr White. "We need to let them play on their own terms, in less structured environments. And the more sporting options there are for them, the more likely they'll find one they like."
Sport NZ have thrown their weight behind the showcase and are fully supportive of the philosophy of fun-first priorities.
"The importance of fun is the key theme in Sport NZ's Young People Plan," said Sport NZ chief executive Peter Miskimmin. "We've been delighted to work with NZC on bringing this day together."
 The Biggest Sporting Showcase also dovetails neatly with findings from a new Sport NZ study which explores the value of sport to New Zealanders, their communities, and our country.
"There's no question sport is at the heart of our national identity," Sport and Recreation Minister Grant Robertson said in a press release last week.
"What this study tells us is that being physically active also creates happier, healthier people, and better-connected communities."
One child (under 14) per paying adult will gain free entry to the Test on Saturday.
As well as the Biggest Sporting Showcase, the "Family Fun Time" day will include a special guest attempting to complete the world's highest recorded catch – with a drone dropping the ball from a height of more than 60m.