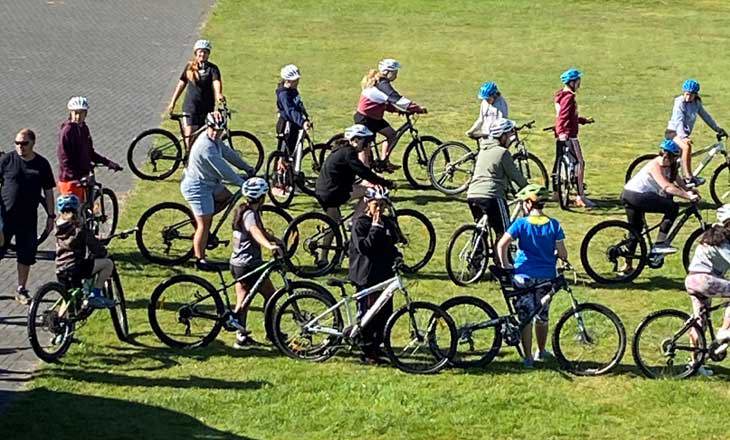 Exposure to a range of sports has given intermediate student Maddisyn Sara both the confidence and encouragement to try new activities. 
The 11-year-old is one the girls who took part in an Auckland Boost Programme run under the Tania Dalton Foundation umbrella. 
Thanks to Tū Manawa Active Aotearoa funding managed locally by Regional Sports Trusts, the foundation has offered nine Boost programmes in four regions this year. 
Designed to get more girls physically active, the free programme runs over three days during school holidays for year 7 and 8 girls and has involved 404 girls from 51 schools, since it began in 2020. 
Understanding that not all girls want to play sport, Boost includes activities such as dance, CrossFit, boxing, spin classes, Zumba, bike riding and, whenever possible, a Paralympic sport such as wheelchair rugby, all to show girls there are many ways to be physically active. 
That goal has given girls like Maddisyn an opportunity to try new and different activities which has, in turn, ignited an interest in basketball, boxing and badminton. 
"I had only done dance and ripper rugby before, but after I did Boost, I got into more sports and I actually loved it," she says. 
"Boxing was so fun. I did that with one of my friends which was kinda cool, and it was more comfortable doing it with girls rather than boys, as I'd say it's more of a boys' sport. I've definitely got way more confident in sports than before." 
Maddisyn now practices her moves on a boxing bag in her garage and she and her Mum are planning to sign up for a boxfit class together. Maddisyn also wants to put together a girls' school touch and basketball team too. 
Boost Programme manager Ant Hyde says most girls find something they enjoy. The foundation then helps them into their chosen sport or recreational activity, with girls going on to join volleyball teams, CrossFit clubs, and dance studios. 
"Without Tū Manawa we couldn't run programmes like this, so it's great we can offer them for free and that so many girls benefit," says Ant. 
"We are lucky enough to get Tū Manawa funding again from Aktive and Sport Northland for programmes next year, plus one more in Taupo through Sport Waikato." 
"Being only for girls they get so much more out of it because there's a different dynamic.  They gain self confidence trying different sports in a non-judgmental setting outside of clubs and schools, and physical activity helps with mental health and wellbeing." 
As Sport NZ Tamariki lead Karen Laurie says, Tū Manawa is all about facilitating projects that use physical activity as a vehicle to support wider wellbeing outcomes and that provide opportunities based on the interests of the young people involved. 
"The benefits from participation extend way beyond the chance to active - by taking the time to understand the girls involved, the programme is able to respond in a much more holistic way," she says. 
"This is evident in how it has developed confidence, social connections and leadership opportunities that have transferred to other situations."