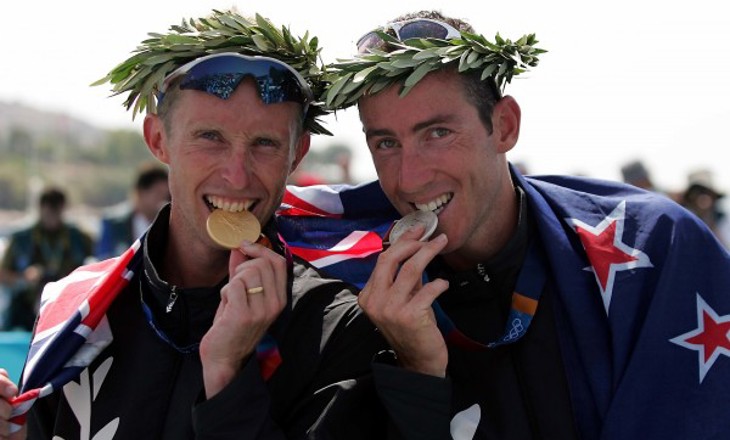 Olympic gold medalist and ITU World Cup Champion Hamish Carter has been included in the list of inductees into the ITU Hall of Fame, with the official induction to occur at the upcoming ITU World Triathlon Grand Final in Chicago.
Carter is one of just 7 to be added to the Hall of Fame and will attend the ceremony in Chicago where he will be officially welcomed into a very exclusive club of former athletes.
"It is pretty cool, I knew a couple of days ago", said a typically laid back Carter. "It is a funny thing, these things never drive you to do the sport, but equally when you have had ten years away from the sport it is nice to be recognized and although a Hall of Fame sounds a bit odd – whether it is famous people or not, it is recognition from the sport I focused on and loved.
"It is a real honour and you think about the others who will be inducted, I raced against them week in week out and I have huge respect for them as well, it is nice to be included amongst them.
"It feels like another lifetime ago when I was an athlete, for me though the sport was going through huge change, right through my career. I started in a non-drafting sport and finished in a drafting mode and then it became an Olympic sport and also was at the Commonwealth Games. I think across that period you had to adapt and change to the styles and elements of racing so thinking of my career the success I had came down to my ability to adapt and change with the sport – and to consistently perform and respond well in the tough times – Sydney to Athens was a defining time in my career."
Carter was quick to point to others who should share in his news.
"I had amazing people to work with, I would like to dedicate this news today to the late Jack Ralston who developed me as an athlete for 15 years before the Sydney Olympics, he was a huge part of my career. It is sad he can't be here but he was an amazing guy who shaped so many athletes, it is nice to remember him at this time as well.
"There are a ton of other people behind my success like Chris Pilone, Mark Bone and the role that my wife Marisa and training partners all played. Success is never achieved on your own, I had a huge team behind me, people like Roger Mortimer who had a massive part to play. So many people but at times like this I need to try and remember them all."
"I am delighted for Hamish," said Triathlon New Zealand CEO Craig Waugh. "We are blessed in this country with a number of athletes and coaches who have played a huge role in the development of the sport through its formative years. Hamish is an athlete who crossed those generations as the sport grew rapidly from small beginnings into an Olympic sport, one that is recognised today everywhere in the world.
"His success in Athens along with Bevan is indelibly set in our sporting history as one of our greatest ever days in the Olympic arena. That gold/silver double will forever be remembered by anyone who saw it live or has seen the coverage since and there can be no doubt that the quality of the racing that day played a huge part in securing the future of the sport at the Olympic level and in the minds of people watching around the world, let alone here in New Zealand."
Carter has since his racing days played a continued role in the development of the sport in New Zealand, acting in various roles from mentor to advisor to commentator, inspiring those looking to reach the top level of the sport.
Aside from his obvious role of icon in the sport and inspiration to young athletes, he continues to work closely with the Triathlon New Zealand High Performance Programme, including his role working with the younger generation of triathletes as an Ambassador to the National Talent Programme.
Today Carter is still involved in the development of New Zealand's elite athletes across many sports in his role at High Performance Sport New Zealand. As a Performance Planning Manager Carter works with coaches and athletes helping to map out their pathway to the podium in Rio 2016 and beyond, using his own vast experience and knowledge gained throughout a long and decorated career to good effect with another generation of potential medalists for New Zealand.
"Having spent ten years away from sport the chance to work back in sport has been brilliant. It has been nice to have different experiences in my life but to now help others to win races in different sports is fantastic."
More information on Hamish Carter
Hamish Carter became a full-time professional athlete in 1993. During his career, he won a bronze medal at the 2002 Commonwealth Games, finished on the podium at three world championships, and won the gold medal in triathlon at the Athens Olympic Games in 2004.
That year he was named Halberg Sportsman of the Year and in 2005 he was made an Officer of the New Zealand Order of Merit.
In 2007, he established SportConnect, a business enabling professional athletes to gain sponsorship opportunities through Sky Television.
He spent three years on the Board of High Performance Sport New Zealand, and has also been on the Board of the Spirit of Adventure Trust.
For further information visit www.triathlon.kiwi and www.triathlon.org