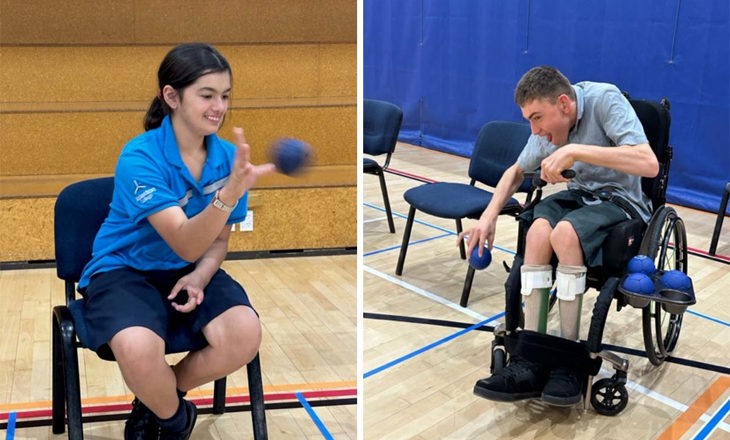 Collaborative approach to providing inclusive sport opportunities for disabled rangatahi proves a win-win
Canterbury secondary schools and sports organisations have joined together to provide regular opportunities for more than 100 disabled rangatahi to experience new sports.
For the past six weeks, students from six schools across Ōtautahi have come together every Wednesday to participate in School Sport Canterbury's term four sport competition. For the 110 students who participate every Wednesday, the competition is a way to have fun, socialise and learn new skills
The sports played include pétanque, bowls and, for the first time, boccia — a Paralympic sport designed specifically for participants with a disability affecting their locomotor function (movement and coordination).
Similar to pétanque and bowls, boccia is a precision ball sport where participants throw, kick or use a ramp to propel a ball onto court, aiming to get close to a target ball called a jack.
Running the weekly programme has taken a joint effort from staff and volunteers at Bowls Canterbury, Papanui Club, Christchurch Pétanque, Special Olympics, the Halberg Foundation, Boccia NZ and School Sport Canterbury.
"The term four programme is a great example of a collaborative and inclusive opportunity enhancing participation of disabled rangatahi," says School Sport Canterbury's Angelina King.
"Coming on board to organise and help run these sessions has been a real team effort – we're all here for the same reason, we want to see these students have an opportunity which they generally don't get.".
School Sport Canterbury runs a sports programme each term for disabled students. The long-standing term four pétanque sessions were reinstated last year after a hiatus following the Christchurch earthquakes. Both bowls and boccia were added to the programme this term, with the final session of the year taking place last Wednesday at the Bishopdale YMCA.
Feedback has been overwhelming positive so far from schools, organisations, volunteers and students alike.
"The School Sport Canterbury programme has provided us with the opportunity to deliver and promote this sport to a group we have not previously engaged with and to demonstrate boccia as a truly inclusive sport in which anyone can enjoy regardless of gender, impairment and ability," says Boccia NZ's Scott Martin.
Hamish, 17, from Burnside High School, loves to play against students from other schools.
"I began playing boccia when I was eight years old and participate and compete as part of the ParaFed Canterbury Boccia Club, so it's nice to come as part of Wednesday sport to play socially against others of my age."
For Rolleston College's Hayley, aged 14, Wednesday is now her favourite day.
Hayley says she loves the sessions because she gets to improve her throwing and aiming skills and play alongside her friends.
"Boccia is a new sport for me and I would like to continue playing as it makes me happy and excited."
School Sport Canterbury says the programme's success will see it return as a regular fixture on their calendar.
"Our volunteers have found it to be an awesome experience and students have said it's been the best day of their lives," says Angelina.
"The students have grown from this experience, they're keen to come back every week and the schools are happy to bring them—it's a win-win."