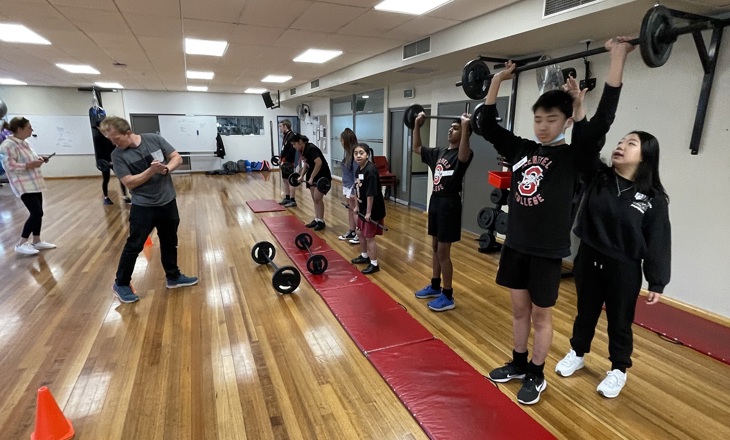 A group of young people in Tāmaki Makaurau Auckland have seen huge gains from a new programme organised with the help of Tū Manawa funding. Functional Adaptive Movement™ Ltd (FAM™) has been running classes for a group of Wairau Special School students based at Glenfield College. 
FAM™ is open to people of all abilities to live more independent lives through specifically designed strength and conditioning programmes. The Auckland-based organisation has more than 400 participants attending sessions each week, ranging from six to 72 years. 
The funding has covered the participants and coaches' fees for the Wairau Special School students. 
"We've found over the years that costs to attend is a barrier to participation, so we are super grateful that this class of 15 young people have been able to attend each week," says FAM™ Chief Executive Michael Hynard. 
"The funding support has helped to give these disabled young people the opportunity to improve their health and wellbeing, with the hope they will become more confident and independent." 
For example, Katie, aged 16 and living with cerebral palsy, is now able to ride a stationary bike for the first time.  
"Her confidence has grown exponentially over the few months she's been attending – it took some convincing to get her on the bike but she is going so well, including getting on and off the bike," says Michael. 
Then there's Chloe, aged 13 and living with autism.  
"When she first came along she did not want to participate, but after two weeks she was actively involved and now regularly helps tidy up post-session, we've seen huge progress in her social interaction and wellbeing," says Michael. 
In fact he's seen huge gains in all of the rangatahi who have taken part in a short space of time. 
"Gains in balance, confidence and sense of belonging and many have shown a willingness to try something that normally they would not get the opportunity to do and experience," says Michael.  
"The group of Wairau students have improved in balance and co-ordination, resulting in fewer falls and trips outside of the gym, all from within a judgment-free environment." 
As Michael says, anyone living with a disability has the right to experience movement in a way that is meaningful to them. Being part of this programme is showing significant impact on the participants' mental and physical wellbeing, with cases where some young people have lost weight and got off certain medications. 
Tū Manawa Administrator at Harbour Sport Mel Sykes says it has been fantastic to support FAM™ through the Tū Manawa fund. 
"FAM™ has such a well-engaged and organised programme for  disabled young people – watching these young people engage in such a fun way highlights the great impact that Tū Manawa can have on our community."