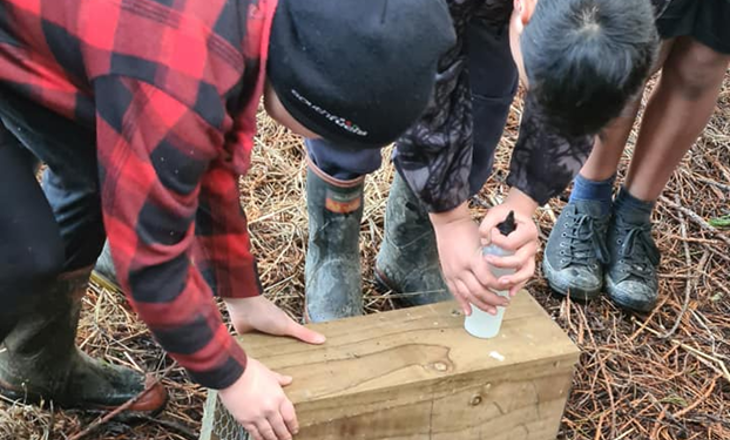 In 2021, Dolamore Park set in the Hokonui Hills and featuring 95 hectares of native forest was the classroom for year 3 to 6 ākonga (students) at West Gore School on Fridays, as ākonga took part in a new environment initiative.
West Gore School is one of 800 Healthy Active Learning schools and kura across New Zealand being supported to create healthy and active learning environments and better connections to local communities.
"The philosophy behind the Dolamore Park initiative is to get kids into their local environment, to understand and use their local environment, experience it and bring that excitement back into the classroom", says Sue Short, teacher at West Gore School.
The Healthy Active Learning Team at Active Southland helped plan and design this initiative, which supports community connections, the Health and Physical Education (HPE) curriculum, and cross-curriculum links. Ākonga are now working on a large number of curriculum outcomes in authentic contexts.
This non-traditional classroom sees ākonga becoming guardians of Dolamore Park. After two weeks of taster sessions, ākonga were able to choose a learning area and join a group – drama, river studies, bees, navigation, or trapping/pest control.
"The children are playing in their environment, which drives their own learning through their experiences. They might leap into an idea, and we will help develop that idea with them in the environment. We are not giving them the learning – they are coming up with the questions out there. We coach them along their journey to learn about the aspect they have chosen," says Sue.
The drama group learnt about different Māori pūrākau and pakiwaitara (stories and legends). A student explained, "We chose one myth, Mata Mata and the Hokonui Hills, and we made a big drama about it and performed it."
The river studies group learnt about the benefits of having native plants near the creek and the Park Manager impressed with the student's enthusiasm, let them plant and design their own West Gore School Garden.
The bee group experienced a real beehive and made and tasted honey with a local apiarist. And the trapping/pest control group who worked with EJ now have responsibility for checking the traps in the park and reporting results.
As kaitiakitanga of the park, ākonga are making a positive impact on their environment through building traps and trapping pests, making bird feeders to attract native species, and planting native plants to support water ways. 
Community connections are a key part to the success of the initiative and the school now has a network of local experts to learn from. This includes the local Lions Club, Southern Institute of Technology (SIT), Envirosouth, Community Police Officer Richard Lindsay, Gore District Council, and environmental expert, Lloyd Esler.
West Gore School is now working hard to improve the learning outcomes connected to the outdoor classroom and better communicate the value of this approach to its community and whānau through the school's newsletter and Facebook page.
The learning is flowing into the home and being shared with whānau. "My son comes home on Fridays and continues doing the things he was doing at the park. Last week, he was so excited to come home and build a possum trap that he'd learnt how to make," says a parent volunteer.
"It makes sense doesn't it, if they are excited and happy about it, they will learn," says another parent.
Active Southland's Healthy Active Learning Team is further supporting the growth of the initiative through providing professional learning and development to all staff at West Gore School on the HPE curriculum linked to the learning at Dolamore Park.
To hear more about what ākonga at West Gore School are learning, check out this video: