In its 11th year, the 2018 New Zealand Sport and Recreation Awards will be held in Wellington on Monday 28 May.
The first award category we are profiling is Commercial Partnership – an opportunity to identify, celebrate, promote and encourage exceptional partnering with a commercial entity in the sport and recreation sector. The winner of the Commercial Partnership Award will be recognised for their outstanding partnership based on:
key results against the partnership's original objectives
innovation and creativity in the nature of the relationship
barriers to the partnership and how they were overcome
best practice partner relationship management.
We'd like to congratulate our finalists:
Badminton New Zealand and Massey University
A desire from both parties to cater to a rapidly growing market has been the foundation of the commercial partnership between Massey University and Badminton New Zealand.
Badminton is experiencing rapid growth in New Zealand, particularly amongst the increasing Asian demographic. This popularity has created a connection between Badminton NZ and Massey University which has enabled both organisations to reach future students and players, while enhancing the performance pathway within the sport. As a key sponsor, Massey University has enjoyed significant international media exposure with the Barfoot & Thompson NZ Badminton Open being broadcast to 100 million households, promoting the University as an athlete-friendly tertiary provider with an outstanding reputation for excellence and innovation.
On campus, the partnership has allowed Badminton NZ to access the expertise, resources and infrastructure of the University, enhancing the delivery of the Badminton NZ Performance Programme. Massey is now the "home" of the Badminton NZ Performance Programme, hosting development camps, coaching clinics, and providing workspace at both its Albany and Palmerston North facilities. Critically, performance players now have an opportunity to complete their tertiary study while excelling at their sport.
BP and Surf Life Saving New Zealand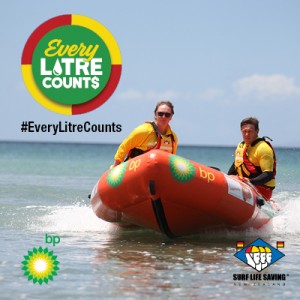 2018 marks the fiftieth anniversary of what is believed to be New Zealand's longest unbroken commercial partnership - between BP and Surf Life Saving New Zealand. The partnership provides significant support for the national charity as well as programmes to support Surf Life Saving Clubs and members. This includes the celebration of surf lifesaving excellence through monthly and annual awards, the BP Leaders for Life leadership development programme and every year BP donates a new Inflatable Rescue Boat to one lucky club (worth $25,000). These grassroots programmes alone provide more than $150,000 of support to clubs and members annually.
The fifty-year milestone was celebrated with the "Every Litre Counts" campaign which raised $459,000 for Surf Life Saving New Zealand in a four week period. BP used extensive Surf Life Saving imagery and water safety messaging in its retail stores, on billboards, bus backs and across radio, online and in national media.
BP staff and the Surf Life Saving community are highly engaged in the partnership which has improved awareness and positive brand association for both organisations.
Black Sticks and Vantage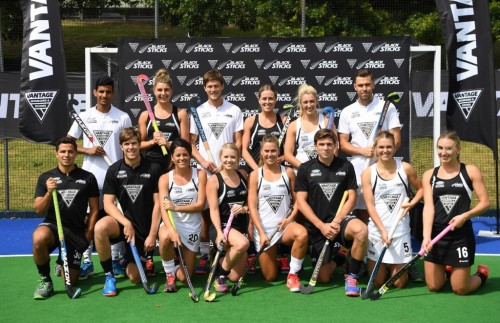 Vantage Windows and Doors is the Principal Partner of Hockey New Zealand and the naming rights sponsor of the Vantage Black Sticks Men and Women. The partnership is founded on the shared values of family, a culture of excellence and quality, and a shared target audience.
A thoughtful and deliberate alignment of commercial strategies between the two partners has enabled them to maximise the potential of their partnership. Hockey's test match attendance has grown by 175% in two years, and they have enjoyed a 50% increase in social media following.
Vantage has supported Hockey NZ through financial investment and by funding and developing leverage plans to elevate the match day experience for fans. They have run events such as Small Sticks skills sessions hosted by Black Sticks players. Meanwhile, the Vantage Black Sticks teams have brought their personality, high performance credibility, and community connection to represent the Vantage brand at events such as the NZ Home show.
Barfoot & Thompson and World Masters Games 2017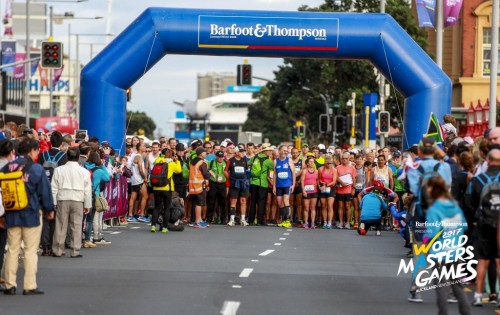 Barfoot & Thompson signed up as 'Presenting Partner' for the World Masters Games in 2013. Putting aside the traditional success metrics of sponsorship, the partners instead focused on making the best event possible for staff, event partners, participants and all Aucklanders.
Barfoot & Thompson and the Local Organising Committee shared a genuine passion for sport and for Auckland's local communities, and this alignment of vision resulted in an incredibly successful and enjoyable partnership. Financial support was one component, however of equal value was a slew of promotion, activation and leverage activities, all of which added significant value to the event.
Barfoot & Thompson ran an extensive media campaign across outdoor, digital and print media. They developed 60,000 WMG2017 collateral packs for primary school students, ran a Cheer Squad competition which garnered over 1,600 entries from WMG participants, and produced over 20,000 Barfoot & Thompson winners caps which were awarded to participants at the medal ceremonies.