More than 100 sport and recreation leaders have gathered in Auckland today to discuss the future of sport in our biggest city and for the launch of new research that will help shape that future.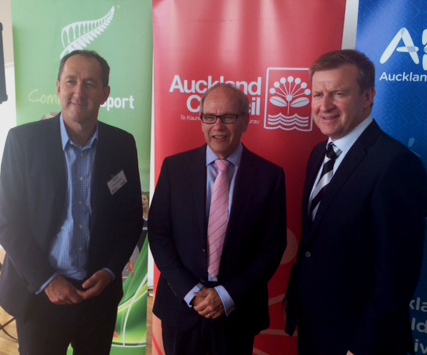 The Minister for Sport and Recreation Dr Jonathan Coleman and Auckland Mayor Len Brown addressed the audience, and three reports were launched: Sport and Active Recreation in the Lives of Auckland Adults;the Economic Value of Sport and Recreation to the Auckland Region; and Auckland Sport and Recreation Strategic Action Plan - Annual Report 2015.
The research includes adult participation figures from Sport NZ's latest Active NZ Survey. These show that 78% of Auckland adults take part in sport and recreation in any given week, higher than the national figure which is 74%. The research also shows that sport and recreation make a significant contribution to the Auckland economy - $1.7 billion per annum, or 2.2%, to the regional GDP.
Sport NZ Chief Executive Peter Miskimmin says these show that sport and recreation are important to Auckland and Aucklanders.
"Sport provides many, many benefits to both individuals and communities. Certainly health and fitness are part of that, but it also provides opportunities for community engagement and development, and helps build resilient young people. This research tells us that Aucklanders lead active, sporty lives, but we know there are challenges on the horizon, including a global trend towards inactivity. This makes it even more important that we work together to understand and then meet the needs of participants, so that sport continues to enrich the lives of future generations of Aucklanders. "
Miskimmin says Sport NZ's new Community Sport Strategy has a strong focus on Auckland, including a $1.2m investment in a partnership with Aktive to target low participation communities, particularly young girls and Pacifica and Asian communities.
Auckland Mayor Len Brown says "the sport and recreation sector is important to Auckland and to Aucklanders. The report released today shows that more of us are taking part in sports activities than the national average. In some ways this reflects our strong sporting pedigree but a lot of this will be because of our facilities and opportunities for taking part. We have a fantastic network or sport and recreation clubs and groups across Auckland and many people are choosing to take part on their own, as casual members or socially with friends. Sport and recreation has enormous benefits for the Auckland economy. It's clear to me that the sector is working well together. We are working in partnership and delivering on agreed, shared goals."
While encouraged by the participation statistics, Aktive - Auckland Sport & Recreation CEO, Dr Sarah Sandley says we also need to recognise that New Zealand ranks 3rd in all OECD countries for obesity which pushes strongly against the activity data. "There is a pressing need for the sector to collaborate even more strongly with local and central government agencies so that opportunities are made widely available for Aucklanders to be more physically active. This has real implications for facility planning, sports organisations, and how agencies like Aktive and local Regional Sports Trusts operate."
Download the 'Economic Value of Sport and Recreation to the Auckland Region Report - Key facts' here (PDF 427KB)