While cricket, softball and touch rugby are some of the more popular summer sports played across New Zealand, we caught up with Wellington Gaelic Football & Hurling Association Vice President Davey Rynne to find out how the Irish sport is catching on across the country this summer.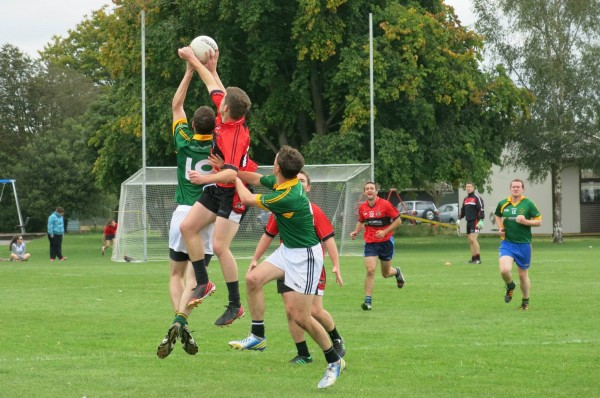 Fresh from hosting the 2015 Australasian Gaelic Football and Hurling Championships in Wellington, Davey told us about the abbreviated version of Gaelic Football being played during summer, his vision for the game in New Zealand and much more.
Can you describe Gaelic Football to someone who has never seen it before? It is a mix between Aussie Rules and soccer in that a traditional game is 15 players per side and played with a round ball. The purpose of the game is to put the ball into goals that are similar to rugby posts but with a net underneath.
If you put the ball into the net it is worth three points, if you put it over the net and in between the posts it is worth one point. Every player can have a run with the ball and there's no restriction on where you can kick the ball - it's a very open and free-flowing game.
What would you say to someone who is looking for a summer sport and considering Gaelic Football? I would say get involved - it's something a little bit different. With the likes of Ultimate Frisbee and other sports like that getting popular, this is another one of those. There's a great social scene with it, we have barbeques after games and multiple opportunities to meet new people. It's a great chance to try a new sport. We pride ourselves on being a very welcoming game.
Tell us about the social Gaelic Football 9s to be played over summer. We have actually tailored the social 9s to try and get Kiwis into it. We made it easy to play and fast-paced. It doesn't take up much time and everyone gets a turn with the ball. We play mixed 9s in Wellington at Ian Galloway Park on Wednesday nights. There is an introductory night on Wednesday 21st then the first round begins on Wednesday 28 October. But new players are welcome to join and give it a go at any point.
Tell us about the Australasian Gaelic Football and Hurling Championships which were recently hosted in Wellington? It was a mammoth event. We had teams from as far away as Perth, Sydney, Adelaide, Melbourne and Queensland coming over to compete. It is the pinnacle Gaelic Football and Hurling tournament of the year for Australia and New Zealand. It was the first time since 1997 that Wellington had hosted the tournament and we were lucky the weather came to the party for us. The anecdotal evidence from visiting teams is that it was one of the best tournaments that they have been to.
What were the highlights of the tournament? It was the first time Canterbury had teams in the competition and the first time that the Wellington and Hutt Valley women's team got a victory in the tournament (it was their second year taking part). We had the presentation ball/awards at the Westpac Stadium. When a Kapa Haka group from Waiwhetu Marae performed all the visiting teams were absolutely amazed by it. The cameras were out in full force while they were performing.
What is your vision for Gaelic Football in New Zealand in five or 10 years? We would love to send age grade representative teams to compete at the Australasian Championships and have the majority of our senior teams made up of Kiwis. We want the social side to take a life of its own too. Last year for the first time, an all-Kiwi team won the social 9s final.
If you would like to play Gaelic Football, visit the following website for more information:
Wellington: http://www.wellingtongaa.com/