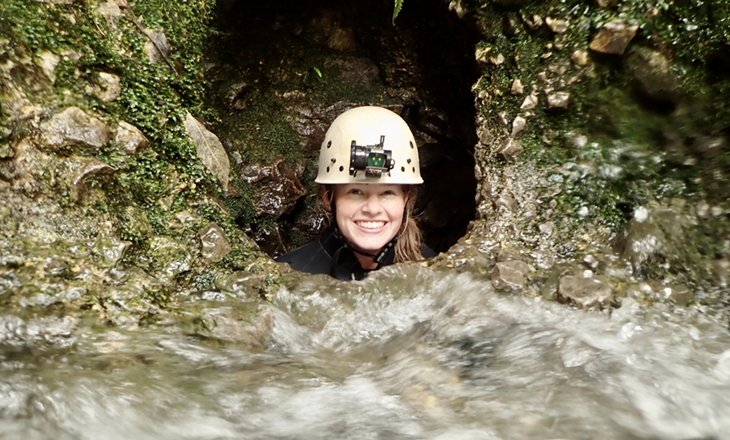 When Sam Lange is caving as part of her outdoor adventures, it's her time to reset and then emerge feeling refreshed. 
The 19 year-old has uncovered a passion for outdoor adventure and now has her sights firmly set on making the outdoors accessible to all. 
Sam was recently named a winner of the New Zealand Outdoor Instructors Association (NZOIA) Tertiary Award for her leadership and commitment to providing excellence in the sector.  
Sam will complete her diploma in Outdoor Adventure Education this year, after two years of study. Next year she will begin a new role as outdoor technician at Raglan Area School. 
Within the next five years Sam wants to open an outdoor education programme in low decile schools. Her driver is empowering tamariki and rangatahi through outdoor adventure education.  
"When I think back to where I was two years ago, and when I speak to my teachers, I realise just how far I've come," says Sam. 
"I was very much a lead from the back and now I am an autocratic leader, leading from the front." 
Sam says she has gained confidence in all areas of her life after uncovering her passion and finding a solid support network in the outdoor and active recreation community.  
"I'm much more willing to go out and try new things on my own and do things by myself." 
For Sam, getting outdoors – on regular bush walks or through her studies – has a profoundly positive impact on her mental health and wellbeing. Enjoying active recreation is what she does whenever she feels overwhelmed.  
"I've always struggled with anxiety and ADHD. Being outdoors is a way to sustain my mental health. When I am caving, it's just me and that area. I then come up feeling refreshed." 
"The outdoors is forever rejuvenating itself. I urge people to think about how we can do that for ourselves."   
This Get Outdoors Week, which runs from 12-20 November, Sam says getting outdoors does not need to be a huge undertaking and can be as simple as sitting under a tree or going for a walk and listening to birds more.  
"It can be finding the peace in real small things," she says.