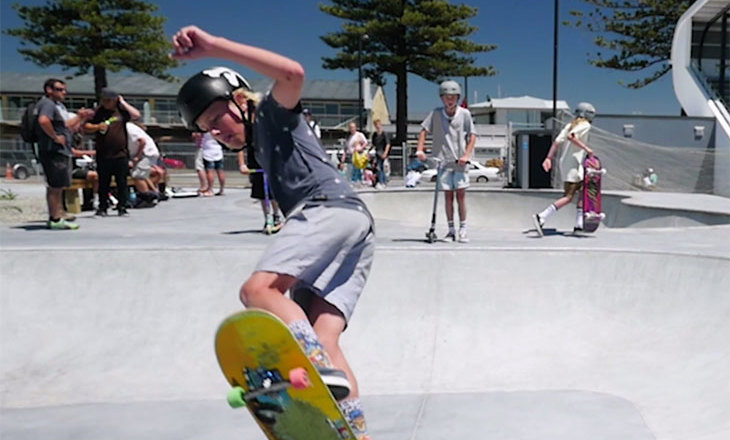 Napier City Council listened to the local community to design its two-stage Marine Parade redevelopment project, and has championed locally-led delivery and multi-use facility approaches along the way.
The project saw the Council engage in the widest consultation process it had ever undertaken, inviting submissions from a range of stakeholders and user groups. While engagement was largely with a young audience of likely users, it also included opportunities for others in the community to have their say: the disabled, iwi, Hawke's Bay Tourism, Napier Inner City Marketing, plus the wider regional skating community. 
A survey of 419 people showed 77% support for a new skate park to replace Sk8 Zone, a facility that was catering for only a small section of Hawke's Bay's growing skate culture. The design was also updated throughout stage one to reflect ideas and input from the community, including ensuring the ramp area would be flexible enough to meet changing user needs over time.
A year ago, stage one was completed with the opening of Bay Skate, a pay-to-play multi-use venue for all ages offering special programmes, such as Learn to Skate classes for all ages, Little Rippers free scooter lessons, and free skateboarding lessons.
Existing groups such as Napier Sharks Inline Hockey now use the facility for training several times a week, and Hastings Skating Club runs learn to skate sessions for a gold coin donation, which Bay Skate supports by providing free entry and safety equipment, as well as discounts on rental skates.   All of these programmes are growing a pipeline of new skaters who can progress into artistic skating, inline or roller hockey, roller derby or aggressive skating disciplines.
"Bay Skate offers users a safe environment in which skaters can push themselves and become better riders. We are all about seeing the different roller sports grow down here and it has been so great to see so many users getting better at their chosen disciplines and more people getting moving!" says Bay Skate Manager Will Hanson.
The project has been supported by the Eastern & Central Community Trust and the Lotteries Grants Board, and has partnered with Zeal Hawke's Bay to support youth development. The community continues to be involved in Bay Skate's design process and future development, and it's not just a service provider - the paid supervisors are involved in coaching and play an important role as positive role models in various skating disciplines.
Monthly visitation numbers from the former facility compared to Bay Skate saw a 71% increase in the number of active visits for the first six months of 2017, likely to increase further as the ramps section and infrastructure for the hockey rink are completed.
Then in August this year, stage two's completion saw the Reef Garden open - a free, all ages, multi-purpose space combining water features and opportunities for passive and active recreation, accessible by all. With a focus on inclusivity, users of all ages and walks of life now share a common space to be active. This innovative approach is a great example of locally-led delivery, with local stakeholders working together to better address the specific needs of their communities.
"Youth often feel left out when it comes to city planning - not so with Bay Skate. The interesting thing about Bay Skate since it opened, and the Reef Garden next door, is just how many people of all ages have embraced what we've done. It just goes to show that listening to what your community wants really does pay off," says Napier City Council Chief Executive Wayne Jack.