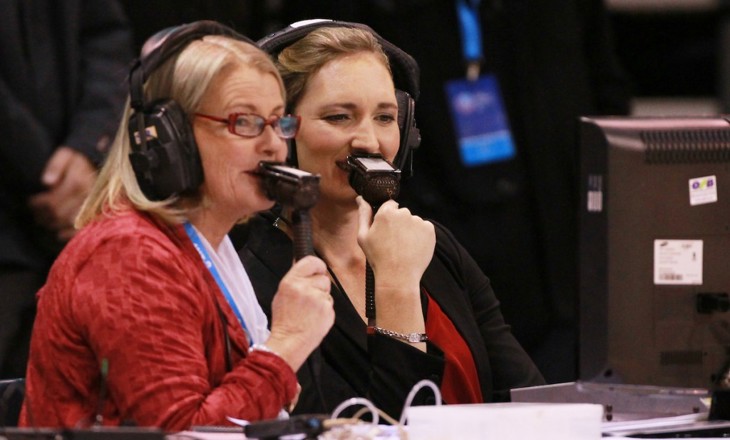 Sport NZ was delighted to honour well-known Christchurch sportswoman and commentator Lesley Murdoch at last night's NZ Sports Journalists Association "TP" Awards in Auckland.
Sport NZ chief executive Peter Miskimmin presented Lesley with the Sport NZ Lifetime Award for Outstanding Contribution to Sport through Journalism.
Noting it was the first time a woman had received the award, Peter said Murdoch's honour was particularly appropriate in light of women's contribution to sport and sports journalism.
Lesley Murdoch has represented New Zealand in both cricket and hockey – at the 1984 Olympics where Peter was also playing hockey. Since then she has continued to contribute to sport as an administrator, selector and, for three decades as a broadcaster and commentator.
For the past nine years she has anchored the Saturday morning all-sports breakfast on NewstalkZB in Christchurch, and has been their sideline eye rugby commentator.  Lesley has also commentated both hockey and netball for Sky Sport and TVNZ, from club level through to internationals, and has commentated at Olympic and Commonwealth Games, as well as netball world championships.
Locally Lesley led the post-earthquake drive to ensure the needs of Christchurch sports organisations were being met, so they could continue to deliver for locals. She also continues to coach.
Lesley was honoured with the NZ Order of Merit earlier this year, is a recipient of the IOC's Women in Sport Achievement Diploma and has been inducted into the Legends of Canterbury Sport.