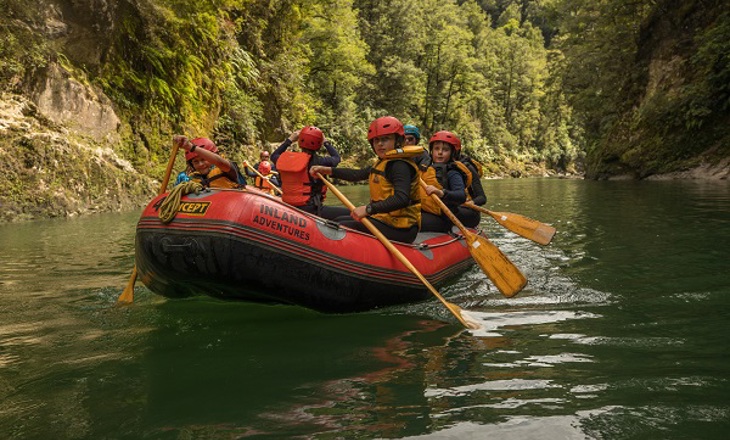 A white-water rafting trip has instilled a passion for the outdoors and taught a group of West Coast young people that the sky is the limit.
Twenty disabled rangatahi and tamariki from a collection of small rural schools in the Tasman district (ToSI Kahui Ako), took part in two-day rafting trip down the Arnold and Grey Rivers.
It proved to be a life-changing experience they wouldn't have usually contemplated taking part in, says learning support co-ordinator Barny Young.
"We wanted to remove barriers by providing an inclusive environment, giving students the opportunity to meet others with different abilities, realise they are not alone and experience a potentially life-changing trip that would otherwise not be possible."
Backed by Tū Manawa funding through Sport Tasman, the trip was led by role model and mentor Jezza Williams, who is himself a tetraplegic and runs a charitable trust called MakingTrax Foundation.
Having had a life-changing accident in 2010 and now a C5 tetraplegic, he says, "You should never be defined by your ability."
"If I can do something, anybody can do it – this trip was about teaching these students about living the best life they can with the challenges that they have and realising that having a different ability is actually quite empowering."
It was especially empowering for Jaxon, who has muscular dystrophy, uses a wheelchair and had a specialised harness with release strap designed by Jezza to enable individuals like him to get out on rivers.
Twenty-year-old Pixie also had a blast.
"Pixie was very reluctant to go on the trip at first, but she was completely buzzing at the end of it – now she's asking when we are going next?" says Barny.
Being from a small rural school, the trip also gave Pixie the opportunity to make new like-minded friends from other schools who she is now in contact with.
"I have witnessed a huge positive change in Pixie's hauora, her positivity towards life has definitely increased."
While the trip was a one-off, Barny hopes the confidence students gained will mean they will look for similar opportunities in future and realise they are capable of anything if they have the right attitude and put their mind to it.
"They had an awesome role model and mentor in Jezza, who never lets his disability as a tetraplegic get in the way of living his life to the fullest, guide them and share his experience as someone who understands his potential.
"He made them realise that they had no excuse not to and showed them that with the right attitude anything is possible."
To be able to support this project has been extremely gratifying and humbling for Sport Tasman's Community Sport Advisor Chris Pugh.
"To take 20 disabled tamariki and rangatahi on a two-day white water rafting adventure in a safe and well-managed manner was a mammoth task, but they did it successfully. The photos and video of the kids and their reactions was priceless," said Chris.