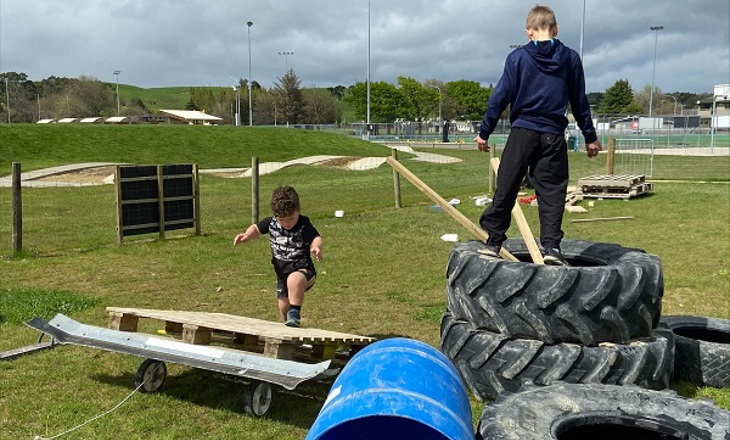 Tamariki in the rural community of Pahiatua have new play opportunities thanks to the development of a loose parts play park. Based at the Bush Multisport venue, the play park encourages tamariki to play, create, and build in unique and creative ways.
Bush Multiport Park facility manager Raylene Treder says, "Living in a rural community, the play park needed to be a place where kids could get to easily on their own. The sports hub attracts people to its courts, sports fields, and wheels park, so kids were already meeting up there. It was an obvious and perfect spot for the play park.
"The park includes a dirt mound where kids roll down in barrels or 'dig for gold'. They use random pieces of equipment in fun ways – using paint lids as frisbees. Everything they do is self-directed, imaginative play," says Raylene. "Even if it's raining, you'll see kids out there playing muddy tug-of- war!"
"Play is so important to the wellbeing of tamariki," says Whitney Le Comte, Sport Manawatu Tamariki Adviser. "And it's equally important that it is accessible for everyone – there's no wrong way to play and it can happen anytime, anywhere!
"Loose parts play allows tamariki to be led by their imaginations in how they use the equipment. It opens up possibilities for rich play where children not only have fun but can learn about themselves and their world in a free and open-ended way.
"Bush Multisport has been amazing at taking up the challenge. It's about providing the time, space and permission for our kids to be able to play. We think the park is one of the first few of its type in a community setting in New Zealand," says Whitney.
The whole community got involved with the development of the play park with local businesses donating loose parts and volunteers sourcing new and exciting pieces. Two part-time caretakers helped create the park, fences were built by local farmers, and a local teenager has been employed to help set up the play parts each day.
"Open from 9:00am to 6:00pm, seven days a week, the park is never empty. There are families here every evening," says Raylene. "They're able to have fun, create and make magic happen."
With the backing of Tararua District Mayor, Tracey Collis, and the space to make it possible, the community has experienced first-hand how much fun can be had. Mayor Collis believes that by being prepared to try something different, they have managed to create a safe and inviting space for families to enjoy together.
"Play allows children and tamariki to explore the world," says Mayor Collis. "It's creative, innovative, and fun. Play is how we learn, and anytime we are playing, we're inspiring the mind, the body, and the soul."
 "We need one in every town! I really hope that other councils take the lead and try something like this in their communities. You don't need a big space to do this, you can do it anywhere."