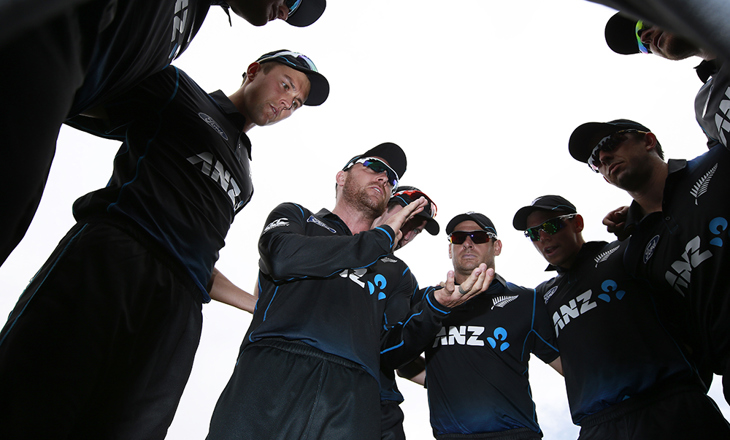 Brendon McCullum has been honoured at the 53rd Halberg Awards with the Sport New Zealand Leadership Award in recognition of his outstanding achievements as an influential sports leader.
Sport New Zealand Chief Executive Peter Miskimmin says McCullum has excelled as an inspirational sports leader, evidenced by his actions and deeds both on and off the field.
"Brendon has proved a visionary leader whose infectious enthusiasm has been inspirational for all those around him," says Miskimmin.
"His goodwill, compassion and sportsmanship have earned high praise internationally and he has marshalled his team, through his outstanding leadership qualities, in some challenging times and led them to consistent success."
"Over the years Brendon has displayed all the virtues of sportsmanship that New Zealanders hold dear. He has led by example, often displaying courage under fire. He has been humble in victory and gracious in defeat. "
In an outstanding career for the Black Caps, McCullum, who is due to play his 101st and final Test Match in Christchurch later this week, has excelled in all three formats of the game.
During a 14-year international career McCullum has scored 11 Test hundreds - including an historic first New Zealand Test triple century - and has accrued a world record total for international T20 runs scored.
Last year he memorably skippered New Zealand to their first ever World Cup Final and boasts the finest captaincy record in terms of his win/loss ratio in Black Caps history.
In 2015 he was appointed an Officer of the New Zealand Order of Merit for services to cricket in the Queen's Birthday Honours.
53rd Halberg Award winners
The full list of winners and finalists for the 53rd Halberg Awards:
Halberg Award winner: All Blacks (Rugby)
Microsoft Surface Team of the Year winner: All Blacks (Rugby)
High Performance Sport New Zealand Sportsman of the Year winner: Kane Williamson (Cricket)
High Performance Sport New Zealand Sportswoman of the Year winner: Lydia Ko (Golf)
Halberg Disability Sport Foundation Disabled Sportsperson of the Year winner: Sophie Pascoe (Para-Swimming)
SKY NEXT Emerging Talent winner: Eliza McCartney (Athletics).
Coach of the Year winner: Steve Hansen (Rugby)
Radio Sport Sporting Moment of the year winner: Grant Elliott (Cricket)
Sport New Zealand Leadership Award: Brendon McCullum (Cricket)
New Zealand Sports Hall of Fame induction: Lance O'Sullivan (Horseracing), Sir Don Rowlands (Rowing), Lesley Rumball (Netball) and Mark Sorenson (Softball).
Lifetime Achievement Award: Ashley Taylor (Athletics)