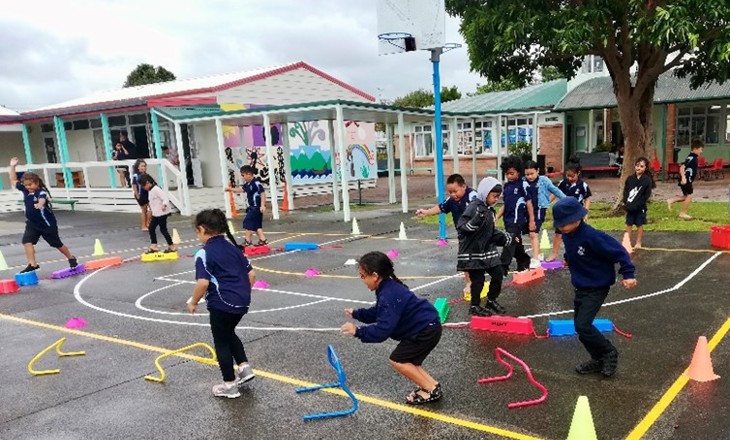 Children at Favona School in Mangere have new ways to be active, develop skills and have fun through play thanks to a new Tū Manawa Active Aotearoa project funded through CLM Community Sport.
The school's traditional play equipment, such as the sandpit, basketball hoops and tyres were well used and needed upgrading, and staff saw the need for students to be more physically active. Purchasing new play gear along with a fresh approach to play has encouraged and supported students of all ages to get creative with being active.
The new play equipment is not sport specific and allows students to let their imaginations lead them in how they can use it. Included are two Magic Play Boxes, a Sport Waitakere initiative to encourage unstructured and child-driven play, which are filled with upcycled loose materials such as rope, wood, tubing and containers.
"Our aim is to engage as many students, in a variety of active play, during their breaks. The Tū Manawa funding has meant we can provide a wide variety of play equipment for our students to explore, which we wouldn't have otherwise purchased.  
"Having the new play equipment is helping students learn that play and being active is not limited to using traditional sports equipment like a soccer ball. Our students are enjoying the new equipment and beginning to explore the possible uses in their play," says Jane Thomas, Favona School.
Bernie Tovio, General Manager CLM Counties Manukau, says it has been fantastic to be able to support the school through Tu Manawa funding.
"It has been great to help them create the environment they desired for their tamariki to be creative and innovative in using their imagination through play. Not only have we been able to assist with Tū Manawa funding, but also through the ongoing support of our Healthy Active Learning workforce."
The CLM Community Sport Healthy Active Learning team is also providing teachers with professional development about how to create ideal play environments for students.
With the new opportunities for play and physical activity, the school expects to see a range of other benefits for students, including improved connections, resilience, independence, leadership, and decision making, and self-directed creativity and innovation.