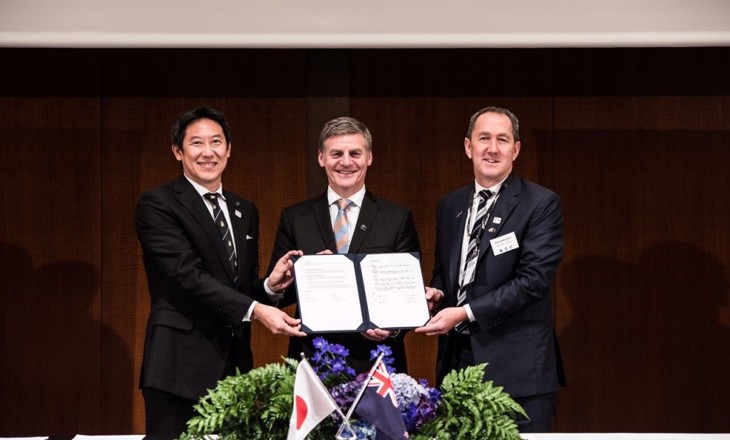 JSA Commissioner Daichi Suzuki, PM Bill English and Sport NZ CE Peter Miskimmin
New Zealand and Japan today signed a Memorandum of Cooperation (MOC) between Sport NZ and the Japanese Ministry of Education, Culture, Sport Science and Technology.
The MOC is a high-level memorandum from which both countries anticipate leveraging significant existing sporting linkages to develop high performance and community sport outcomes through Sport NZ and the Japan Sports Agency (JSA).
"As well as our mutual aims to develop community and high performance sport, Japan will host the 2019 Rugby World Cup, 2020 Olympic and Paralympic Games and 2021 World Masters Games. We have major event experience as previous World Cup hosts, and have just wrapped up the hugely successful 2017 World Masters Games in Auckland. We have many shared strategic, policy and operational interests," Sport NZ Chief Executive Peter Miskimmin said.  
"In return, Sport NZ hopes to build a lasting relationship with the JSA to deliver training and accommodation support for New Zealand's elite athletes in the run up to the 2020 Olympics. The MOC also encourages exchange programmes, knowledge and approaches to increasing participation in sport and active recreation, a high priority for both our countries."
"We have a shared interest in further developing the strong relationships and friendly ties between our countries, and this memorandum sets the scene for increased and valuable collaboration," said Mr Miskimmin.
JSA Commissioner Daichi Suzuki and Mr Miskimmin signed the MOC at an event in Tokyo. Accompanying the Prime Minister on this trade-focused trip, Miskimmin is attending bilateral meetings with key figures in the Japanese sports administration to help identify possible work programmes to be progressed under the MOC.