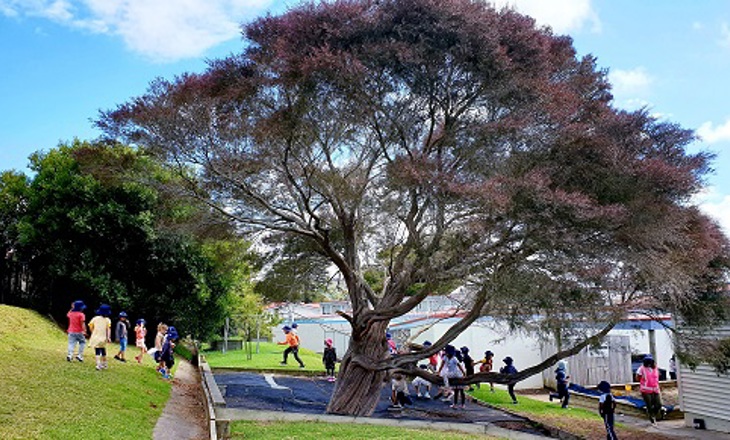 Students playing at Marshall Laing Primary School
A cluster of Auckland schools are embracing a new play initiative that is the first of its kind in New Zealand.  
The Puketāpapa Play Project is a collaboration between Sport Auckland, Auckland University of Technology (AUT) and the Roskill Schools Cluster that involves 11 primary schools.
Some have introduced new equipment and activated under-used spaces, while others have developed play policies before implementing adventurous and risky play opportunities.  
It's a project that aims to increase students' activity through unstructured free play during break times, and one that has the schools and students really excited, says Matt Johnson, Healthy Active Learning Community Connector at Sport Auckland.  
"By providing students with more play opportunities during break times we hope it will lead to an increase in student wellbeing, which we will be able to measure through data collection and interviews," says Matt.  
The project came about after Sport Auckland saw the chance to tap into expert knowledge and development opportunities to maximise benefits for tamariki. 
Reaching out to AUT for guidance, and after a co-design process, the cluster agreed to redirect its Kiwisport direct funds and Puketāpapa Play Project was born.  
It has three main components:   
Workshops to upskill teachers around play

 

 

Introducing more adventurous play and equipment alongside play policies and risk benefit assessments.

 

 

Data collection (pre and post) to measure students' current physical activity levels plus staff and student interviews 
Students playing at Marshall Laing Primary School
Along the way, student voices have played a part, Monte Cecilia Catholic School principal Sarah McAlpine saying her students have had a say in how and what they needed to engage fully in play.  
"They have helped to create guidelines about using upgraded spaces in our environment and they have really taken a lead role in using our spaces creatively."  
Monte Cecilia's new play equipment includes everything from mud kitchens, balance beams, giant games, rakau sticks and bamboo channels.  
"We've developed under-used areas of gardens into usable play spaces which have been game-changing," says Sarah.  
"The children love being free, wild and out in the elements. Teachers have noticed that prioritising outdoor time has helped the students to be more focused in class time."  
The project's cluster-wide approach has also brought changes in mindsets around creating more playful environments with elements of risk that lead to vital learning.   
Marshall Laing Primary School, which is also part of the project, is yet to introduce new equipment, but principal David White says philosophies and attitudes to play have already shifted. 
"We now look at play activities through a prism of risk versus benefit. Activities that didn't used to take place or areas that weren't open for children are now open and used extensively at play times."  
An area at the back of the school down a bank that was previously out-of-bounds is now open and a hive of free play, construction and creativity.  
"On any given day we would have 80 to 100 children building huts or bases, climbing trees, digging, making and exchanging items," says David.   
"The benefits far outweigh any risks, and the area has gone from a no-go area to one of the most popular places in the school."  
AUT principal investigator Charlotte Jelleyman hopes collecting data and recording outcomes of introducing adventurous play will help other schools see the benefits and pave the way for free play nationwide.
"It is an exciting initiative that will have huge benefits - all it takes is for us to go into one of our cluster schools, close our eyes and listen," says Sport Auckland's Play lead Taylor Kamuhemu.