Kia ora koutou, 

This is our final Sector Update of 2021, and as is usual in the build-up to Christmas, I have been reflecting on the year that was. While 2021 has had its share of challenges, we mustn't forget to celebrate the many extraordinary moments and achievements. 

For me these include working with our partners and seeing our joint efforts come to life in the following ways. The Tokyo Olympics and Paralympic games successes, the excellent Connections Conference, the launch of the first Disability Inclusion Fund, Play Week, the Women + Girls Summit, year two of Tū Manawa Active Aotearoa funding and of course, meeting so many of you in the sector in my first year as Chief Executive as we all work to see Every Body Active in Aotearoa.  

There have been obvious bumps along the road, generally thrown up by COVID-19, and I wish to thank you all again for the effort and commitment that has been shown in difficult times to continue the good work of the sport and recreation sector. We really don't know what lies ahead but we do know our priority is to continue advocating for physical activity as a fundamental building block of wellbeing in our country. 
 
Thank you to each and every one of you who has played a part in this important mahi. I hope you enjoy a well-earned rest and Christmas cheer in whatever form that means for you. Before you go, below are a few important updates and our 2021 Christmas Card. Thanks to the special guests who were prepared to help us out by taking on a bit of fun - our Twelve Days of Christmas workout. 

Kia manahau o hararei – happy holidays from all of us at Sport NZ Ihi Aotearoa. Have a safe and active holiday season with your whānau and friends and I look forward to seeing you in 2022. 

Meri kirihimete, 
Raelene 
Governance and Structural Review of Sport NZ and HPSNZ 
Sport NZ has received a final report from the Advisory Group and EY, informed by comprehensive stakeholder engagement and analysis into comparable international models. Thank you to all who have contributed into this process in various ways. 

The report and inherent recommendations were discussed at a joint session with the Sport NZ and HPSNZ Board members on Thursday 9 December and a recommendation was approved by the Sport NZ Board on Friday 10 December. 

A briefing with recommendations has now been shared with the Minister of Sport and Recreation who will then make a final decision and share with his Cabinet Colleagues in early February. 

The timeframes for discussion with Cabinet mean that any announcement on final outcomes and next steps will not be made until mid-February 2022. 

MIQ individual allocations and pre-verification update 
Sport NZ has been allocated 20 MIQ spots per month for individuals who meet the criteria and have been unable to secure an MIQ booking through the MIAS virtual lobby. Seven MIQ places were allocated for December, and four for January. Some people who initially requested MIQ from the allocation for Sport NZ were subsequently successful in confirming MIQ vouchers for their preferred date via the MIQ lobby.   

Requests for MIQ allocations for February are due by Wednesday 12 January, using the form available here. You may add requests for March, but please note that these are unlikely to be considered until February. 

Sport NZ strongly recommends travellers complete their MIQ profile, keep an eye out for announcements about MIQ releases, and keep trying via the lobby. One of the criteria for the allocation via Sport NZ is that applicants have previously tried to get MIQ through the lobby. 

Please note that you are now required to complete a pre-verification step before you will be given access to the MIQ lobby. This is done via a new button on the MIQ profile. Detailed information is available on the MIQ website here. 

Please make sure that all your travellers know to go and update their MIQ profiles now, so their profile is ready before the next MIQ lobby opens.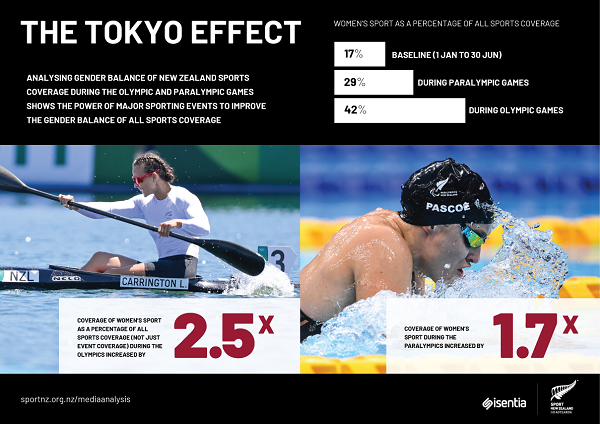 Olympic & Paralympic Media Analysis  
The latest release from the Sport NZ–Isentia study of media and gender shows the power of Olympic and Paralympic media coverage to impact the gender balance of all sports coverage. This case study also compares media coverage of the NZ Olympic and Paralympic teams while competing in Tokyo, including athlete portrayal and the amount of coverage achieved by medalists and across each games. Check here to read the full report. 

Two years into the study we now have sport-specific analysis available. If you'd like to learn more please contact philip.clark@sport.nz.org.nz.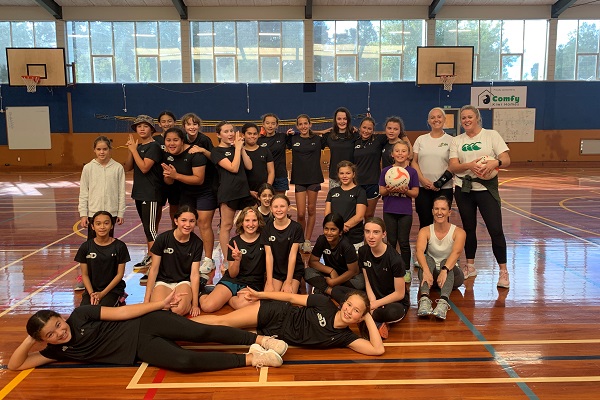 Boost Programme ignites girls' interest in new sports and activities 
Exposure to a range of sports has given year 7 and 8 girls both the confidence and encouragement to try new activities. Thanks to Tū Manawa funding managed locally by Regional Sports Trusts, the Tania Dalton Foundation has offered nine free Boost programmes in four regions this year. 

Understanding that not all girls want to play sport, Boost includes activities such as dance, CrossFit, boxing, spin classes, Zumba, bike riding and, whenever possible, a Paralympic sport such as wheelchair rugby, all to show girls there are many ways to be physically active. Boost Programme manager Ant Hyde says most girls find something they enjoy. The foundation then helps them into their chosen sport or recreational activity, with girls going on to join volleyball teams, CrossFit clubs, and dance studios. Find out more about the benefits of this fantastic programme. 

Inclusive play and practice with Sport Waitākere  
From strategy through to delivery, inclusiveness is a key concept that underpins Sport Waitākere's mahi as they support their Healthy Active Learning schools to promote and provide inclusive play opportunities for tamariki. 

The Sport Waitākere team hosted a HALO-day (Healthy Active Learning opportunities) for their schools where the theme was 'Inclusive for all - Participate, Engage and Inspire'. Thirty teachers from 11 schools with a diverse range of priorities came together to learn and take new ideas back to the classroom. 

Futures – New COVID-19 environmental scan 
This latest scan highlights some of the dimensions associated with the ongoing COVID-19 outbreak, considering some of the intermediate and longer-term implications for the sector. This follows the pandemic scan we carried out in May 2020.  

The report looks at many potential implications, including the new Omicron variant, the opportunity we have to build 'a new normal' as well as the impact on the global sport model with restrictions on travel worldwide. You can read the full report on the Futures website here.  

Thriving under fire: e-learning module 
Are you wanting to support your staff or volunteers who are on the frontline in communicating the COVID-19 Protection Framework guidance to your community? The Thriving Under Fire e-learning module is available to anyone on Sport Tutor and will help to develop the skills and confidence to be able to navigate challenging conversations. While the examples in this course may not be COVID-19 related, the techniques are transferable. To access Sport Tutor you just need to create a free account, which anyone can do. Please share this with your clubs or other regions who may benefit from accessing this learning module. 

Release of new Class 4 Grant distribution reports  
DIA has just released reports for high level distribution of Class 4 funding for the 2020 calendar year and the first 6 months of 2021. These reports are a continuation of the reporting that Sport NZ and the Gaming Machine Association of NZ initiated three years ago. DIA has agreed to pick up responsibility for providing this reporting, with the intent of doing so every six months.