Kia ora tatou,  

I hope you're all well and enjoyed following the FIFA Women's World Cup - it's hard to believe it's already over! It really was an amazing celebration of women's sport, and some of the numbers show just how incredible this tournament was. 

More than 708,000 fans attended the matches in New Zealand, while 2.2 million people here tuned in to watch via Prime and Sky Sport. The attendance record for a football match on New Zealand soil was broken multiple times during the tournament. Many of you have played a role in the success of the tournament and we should all be proud of the way the sector came together to ensure this Women's World Cup was one of the most successful yet. 

Just when you thought World Cup season was drawing to a close, we now have the Rugby World Cup kicking off in just over a week, with the All Blacks playing hosts France in what should be a hugely entertaining opening match. The team will know they have the support of a nation behind them, and here's hoping they can bring the Cup back home at the end of October. 

There's also been plenty happening outside of the major events area, with Healthy Active Learning and Tapuwaekura recently being nominated as a finalist in the Public Service Commission's Spirit of Service Awards, in the Better Outcomes category. It's fantastic to see these initiatives being recognised for the difference they are making across the motu, and they continue to serve as a great example of collaboration happening within each region.

I wanted to finish off by acknowledging a huge milestone for our sector, with the recent passing of the Integrity Sport and Recreation Bill in parliament. This means the Integrity Sport and Recreation Commission will open its doors by mid-2024. The Commission will be the independent body focussed on strengthening and protecting the integrity of our sport and recreation system, with wellbeing and fairness at the core. This is a massive step in shaping the future landscape of our sector and I want to acknowledge the important work Drug Free Sport NZ has done to date, and I look forward to seeing them continue their mahi in their new capacity as part of the Commission. 

That's all for now. Thank you for your continued mahi, and go the All Blacks! 

Nga mihi, 
Raelene Castle   
---
LATEST NEWS
Participation of Asian Populations: Research report and webinar 
While New Zealand's Asian population is growing rapidly, research shows that people of Asian ethnicities are generally less active than those of non-Asian ethnicities. To address this challenge, sports organisations and active recreation providers need to better understand and respond to the specific needs of the diverse and fast-changing Asian community. 

Join us for this webinar where we will share the findings of a recently completed research report, "Participation of Asian Population Groups". This report explores the experiences of the Asian population when participating in physical activities in New Zealand and the perceptions, barriers and motivations related to their participation. 

The presentation of the findings will be followed by a panel discussion with three individuals who facilitate physical activity programmes and initiatives with a focus on engaging Asian communities. 

Register for the webinar.
---
New standalone integrity entity formally established 
With the passing of the Integrity Sport and Recreation Bill in parliament on 16 August 2023, a new standalone integrity entity – the Integrity Sport and Recreation Commission – was established.  

In his speech, Minister for Sport and Recreation, Grant Robertson acknowledged the excellent work that Drug Free Sport NZ (DFSNZ) does, and how this will transfer to the new Commission. The establishment of the new entity had broad support from across the political parties. The Bill is now the Integrity Sport and Recreation Act 2023, and this legislation sets out how the new Commission will operate and confirms it must be operational by July 2024.  

The Integrity Transition Programme will continue its work with DFSNZ towards meeting this deadline. In particular, work continues on seeking public input for the Code of Integrity for Sport and Recreation. The Code will form the cornerstone of the sector's integrity system. Many thanks to those of you who completed the public survey about the Code. There was also a great response to the invitation to join focus groups, which will begin meeting in September to provide feedback on the next step in developing the Code.  

You can read the Minister's press release about the passing of the Bill and the role of the Commission here: New standalone integrity entity for sport formally established. 

Sport NZ and DFSNZ continue to support and address immediate integrity needs and requirements of the sport and recreation sector, until the Integrity Sport and Recreation Commission begins operating in 2024. Please refer any integrity-related concerns to the Sport and Recreation Complaints and Mediation Service (SRCMS). This is a free complaints and mediation service for sport and recreation across Aotearoa New Zealand. Information about other support services is available here. 
---
Young Women's Activation Fund: Insights and Impacts Report 

The Young Women's Activation fund delivered $2m of funding to support nine projects designed to get more young women aged 12 to 18 physically active and develop leadership opportunities through play, active recreation, and sport. The fund enabled organisations to fast-track their women and girls' initiatives, expand their offerings, test new approaches, and gather useful insights that helped them to better meet the needs of young women and embed initiatives as strategic priorities.  

Find out what worked well when planning and delivering participation opportunities for young women in this new report.  
---
EVENTS & OPPORTUNITIES
Balance is Better webinar: Supporting Sporty Girls 
Are you a coach, parent, or someone with a role in supporting young women and girls in sport?  

Don't miss the latest Balance is Better webinar, Supporting Sporty Girls, tonight (Thursday 31 August) at 7.00pm. This free webinar will help you make the most of the Balanced Female Health resource and provide guidance on creating positive sporting experiences for girls. Youth sport experts Kelly Curr (Sport Development Consultant at Sport New Zealand) and Kylie Cox (physiotherapist and Director of The Healthy Athlete Project) will discuss the resource and how to use it, share their insights and practical tips, and answer any questions you might have.  

Register for the webinar here, and feel free to share the details of this webinar and the registration link with your networks.
---
National Sport Club Survey 
The 2023 National Sport Club Survey (NSCS) is now live. Since 2018, the survey has been providing an annual snapshot of the management and operation of New Zealand's 7,500 community sport clubs. It aims to support clubs in providing a fantastic environment for Kiwi from all walks of life to enjoy participation in sport.  

Disability, casualisation, integrity, and the club/schools intersection are focus areas this year. Insights will be shared widely in the coming months through community workshops, webinars, reports, infographics, and on social media, so please keep an eye out for these. 

This is the sixth year for the survey led by Dr Mel Johnston and Dr Michael Naylor from AUT's Sport Performance Research Institute New Zealand (SPRINZ). The project team also engages with NSOs, RSOs, RSTs, and others on how to use insights from the survey. For more information, please contact Mel at melody.johnston@aut.ac.nz 
 
---
Hub Collective 
The Hub Collective has recently been established to connect sport and recreation hub operators, and provide learning opportunities via online and face-to-face events and workshops. The collective aims to strengthen sport and recreation hubs across Aotearoa New Zealand and to raise their strategic and operational levels of knowledge.   

The collective meets online each month to discuss a range of topics. 

If you wish to join the Hub Collective, please email Daniel Evans from Recreation Aotearoa at daniel@nzrecreation.org.nz. Recreation Aotearoa is a partner of Sport NZ and is facilitating the hub's communication and activities. 
 
---
Asia-Pacific Society for Physical Activity (ASPA) and Sport & Exercise Science New Zealand (SESNZ) Conference 
Te Hau Kori is hosting a joint conference for the Asia-Pacific Society for Physical Activity (ASPA) and Sport & Exercise Science New Zealand (SESNZ) on 27-29 November at Te Herenga Waka – Victoria University Wellington. This is the premier conference in the Asia-Pacific region and brings together leading practitioners, policy makers, and researchers to share their knowledge and insights. The conference theme for 2023 is Mahi Tahi – Working Together. The partnership between ASPA and SESNZ provides an extensive programme including multiple parallel sessions, cross-cutting keynotes, and plenty of networking opportunities. More information is available on the websites for ASPA and SESNZ.
 
---
Pasifika Women in Leadership in Sport and Active Recreation Survey  

Pasifika Sisters in Sport (SiS) are inviting Pasifika women in leadership roles (whether paid or voluntary) within the sport and active recreation sector in Aotearoa to complete a survey. This survey presents a unique opportunity to share your insights and experiences, which will help pave the way for increased representation of, and leadership opportunities for, Pasifika women in the sport and active recreation space. All completed surveys will go into the draw to win a $150 voucher. 

You can take part in the survey here. 
---
COMMUNITY STORIES
Billie x ITSMYMOVE 

Billie (billienz.com) is an online news site for young women – and together with ITSMYMOVE (IMM) it's sharing the real stories of young women who have found their move. 

This new column series kicks off with a piece by Mai FM host Tegan Yorwarth, who shares her honest account of how her perspective of physical activity has shifted over the years, along with her realisation that starting out doesn't have to go hand-in-hand with 'being good' at something.  

Each month we'll hear from a new familiar face, each with their own take on all things physical activity. We encourage you to share these stories with the young people in your networks. To stay up to date, follow IMM on Instagram or Tik Tok.   

Read more here - Tegan Yorwarth wants you to make your move.
---
Healthy Active Learning unlocking new ways for tamariki to be active in West Auckland  

Healthy Active Learning, the national initiative aimed at improving tamariki and rangatahi wellbeing through physical activity and healthy food and drink, has been a gamechanger for Henderson North School. Ākonga (students) now have more opportunities to play their way and there's more collaboration happening between different year levels, and with the wider community, too. 
 
Read more about how the school has been supported by the team at Sport Waitākere to create an environment that promotes quality play, sport, and physical activity for all tamariki. 
---
NEW RESOURCES
Sport NZ Disruptor Scan: August 2023 Update 
Sport NZ's August 2023 Disruptor Scan is now available. The Scan is a quarterly monitor of possible disruptors to recreation and sport in Aotearoa within a two- to five-year timeframe. It aims to alert the sector to possible disruptors, and where the likelihood and/or strength of disruption is strengthening or weakening. It also explores the implications, provides an impact report, and raises issues for sector consideration. 

The five big issues for this quarter are: the ongoing cost of living crisis; the nature and scale of climate change-related impacts; implications of generative AI; potential changes to local government; and political positioning for the upcoming general election. 

These potential disruptors will continue to be actively monitored as part of Sport NZ's futures process, with each connected to a summary descriptor.  You can explore the Disruptor Scan and find out more on the Sport NZ futures webpage. 
 
---
The Flow on Effect - Menstruation and physical activity 

The FIFA Women's World Cup 2023™ provided a great opportunity to help break the stigma of ikura (periods) and empower rangatahi to be active when menstruating.  

The Flow on Effect is now LIVE - a new dedicated women and girls' webpage, featuring resources from across the sport and physical activity sector to help educate, upskill, and empower adults and rangatahi round health and hauora during menstruation.  

Alongside resources from the likes of Aktive, Sport Waikato, and the Ministry of Education, we share news of NZ Cricket's move away from whites, while our new Flow on Effect video series tackles various themes on menstruation. In this series, hear from former White Ferns cricketer Anna Peterson on what we as adults can do to create safe spaces for rangatahi during menstruation. You can also hear about ikura from a te ao Māori perspective from AWWA co-founder Michele Wilson, while Education Outdoors New Zealand's Sophie Watson shares her insights round being a 'menstrual ally'.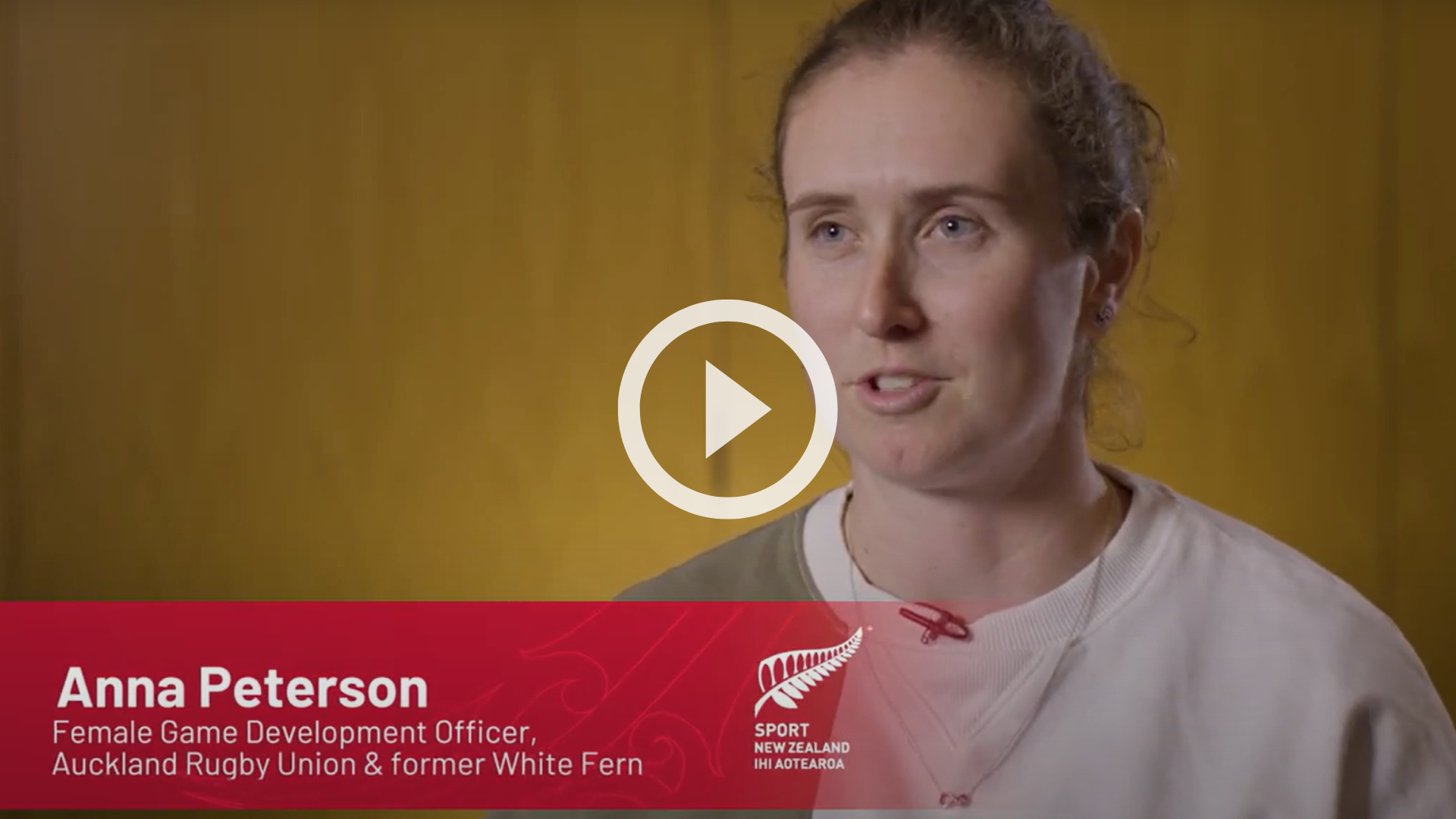 Thank you to those in the sector who have already helped share this series across your social channels. This webpage is an open book that will evolve over time. Please contact us if you have a resource you would like us to consider for this new webpage. 
---
The value of play, active recreation and sport for local government 

Local government plays a major role in our sector through facilities, funding, and support for people to be active in their communities. Council budgets are increasingly stretched and there is a growing need to be able to justify council expenditure across all areas.  

To support this, Sport NZ has developed a resource that summarises the evidence about the benefits that come from council investment in play, active recreation and sport. This resource specifically links evidence to the four aspects of wellbeing (social, economic, environmental, and cultural) that councils are expected to deliver on, and includes relevant case studies from around New Zealand. This evidence base is intended to support: 
submissions to local councils (from ourselves, Regional Sports Trusts, Regional Sports Organisations, local sport and recreation clubs, and more) as part of the local government long term and annual planning processes  

relevant local government staff (i.e. those engaged in the play, active recreation and sport areas) in their internal council discussions about council expenditure.  
The resource can be found here and is available for all to use. 
---
IN CASE YOU MISSED IT
Reflecting on ISAPA 2023 
In June, Aotearoa had the privilege of hosting the International Symposium on Adapted Physical Activity (ISAPA) 2023 for the first time in Ōtepoti Dunedin. It was great to see so many of our sector attend this international symposium to connect with people from all over the world and discuss new research, practices, and ideas for disabled young people to be active.   

Sport NZ was pleased to be able to offer 21 scholarships for people in the sector to attend. In this new video, hear some of their reflections on what they are taking away from the symposium and why it's important that we continue to collaborate to create inclusive opportunities and enable lasting change. 
 
---
Active NZ 2022 – more resources available   
As highlighted in the July Sector Update, the Changes in Participation report – one of two which come from the Active NZ survey – has been published. The report showed us that COVID-19 continues to have an impact on people's participation in physical activity, with varying trends for tamariki, rangatahi, and adults.   

The second Active NZ report, Updating the Participation Landscape, is now also available on the Sport NZ website. This report explores selected results from 2022 which continue to highlight inequities in play, active recreation, and sport by age, gender, ethnicity, deprivation, and disability.   

Additional resources for both the Changes and Landscape reports, including the technical report and all supporting data tables, will be published on the Sport NZ website as they become available. 
 
---
New coaching modules to support disabled athletes 

Earlier this month, Paralympics NZ launched LevelUp, a new series of online modules designed to help sports coaches gain the skills and confidence to coach disabled athletes.

Developed with coaches, the modules cover topics such as "What is Para sport?", terminology, classification, and coaching considerations for a wide range of impairments – from limb deficiencies to intellectual impairment. Designed to be absorbed in bite-size chunks, the modules are easy for coaches to access in their own time, at their own pace. You can access the modules on Sport Tutor. 

For more information, visit paralympics.org.nz/levelup/
---
GOVERNANCE
Incorporated Societies Act 2022 and Regulations 
Sport NZ is supporting play, active recreation, and sport organisations to update constitutions and re-register under the new Act.  

Now that the Integrity Sport and Recreation Act 2023 has also passed, confirming that the new Integrity Sport and Recreation Commission will issue a Code of Integrity (the Code) for the sector, organisations may need to consider the constitutional implications of both pieces of legislation.  

We anticipate knowing more about timelines for the Code later this year and will provide an update in December. We are recommending boards consider holding off re-registering until we can clarify what will be required under both pieces of legislation, avoiding the need to go to members via Annual (or Extraordinary) General Meetings twice. As the deadline for re-registering under the Incorporated Societies Act 2022 is not until April 2026, there is plenty of time to consider requirements concurrently. 

In the meantime, we will continue to support planning and preparation for these changes. We are in progress with a fourth pilot assessing NSO-RSO-Club constitutions, which will inform, among other things, our constitution templates, guidance notes, and checklists.  
 
---
Webinar – Navigating Changes in Legislation: Incorporated Societies Act 2022 for New Zealand National Play, Active Recreation and Sport Organisations 

Thursday 14 September 2023, 12.30pm -1.15pm  
This webinar is an opportunity for leaders of national play, active recreation and sport organisations to further learn about the implications of the Incorporated Societies Act 2022, which is designed to make incorporated societies more robust from a governance standpoint.  

At this session you will: 
Find out what we have uncovered from the pilot constitutional reviews 

Be provided with more information on resources and support that Sport NZ is developing to help the sector navigate the changes in a coordinated approach 

Hear how the future Integrity Code relates to this work 

The timeframe for making these changes 
To register, please enrol on Sport Tutor here. The webinar will also be recorded and accessible to those who register.