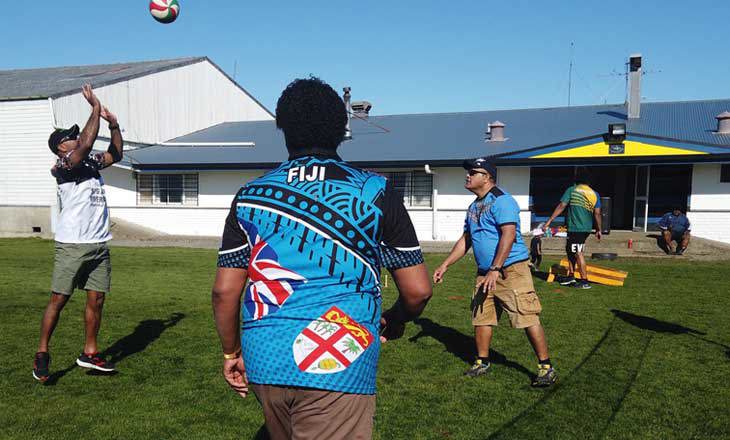 Tū Manawa Active Aotearoa funding and support from Active Southland has helped mark a special day on the calendar for the Southland Fijian community. 
10 October, Fijian Independence Day, is an important day for the Fijian community, and equipment bought through the Tū Manawa fund helped create an atmosphere where different generations could celebrate their culture together. 
Hosted at the Invercargill Blues Rugby Club, the event attracted more than 100 people of all ages from Southland's Fijian community. 
Many tried their hand at several outdoor activities on offer, including cricket, volleyball, cornhole and pani, a traditional Fijian game. 
"These activities highlighted the strength of the community by seeing people of all ages participating and being innovative by using the Fijian language to teach each other how to play, how to negotiate rules and how to develop and share knowledge among the group," says Southland Fijian committee president Filimoni Tagicakibau.  
Many of the Fijian elders familiar with pani brought along the necessary equipment to play the game, and slotted into the role of teacher and shared their knowledge with the youth. 
The elders said that using their own traditional games to teach and pass down knowledge created a more unique cultural experience for their children.  
Active Southland chief executive Brendon McDermott says events like Fijian Independence Day shows the wider value that being active could create in supporting belonging, identity and emotional connection. 
"Tū Manawa is designed to help create new opportunities and experiences for communities to get active. Having an easily accessible fund like Tū Manawa can make a real difference across the community." 
Support from Active Southland made applying for the Tū Manawa funding and organising the games easy, Filimoni said.  
"The community day itself provided an opportunity for different generations to play together and led on to the more formal part of the day that included celebrating through song, dance and a kava ceremony.  
"Community days like the Tū Manawa-backed one are invaluable in bringing families together to experience new things," said Filimoni.