In August 2022, Sport NZ Ihi Aotearoa welcomed Trevor Himona (Ngāti Tūkorehe, Raukawa ki te Tonga, Ngāti Kahungunu ki te Wairarapa) as our new Group Manager Kāhui Rautaki Māori.  
Trevor shares his first week at Sport NZ 'has been amazing' from the mihi whakatau to the Mana Ōrite agreement ceremonial signing with Te Huinga Tākaro o Aotearoa, a new National Māori Sport Authority comprising 12 Māori National Māori Sport Organisations.  
"I've also met some really great people as part of settling into the role," said Trevor.  
He shares the opportunities to improve Māori wellbeing through sport, active recreation and play are significant.  
"Improving Māori well-being through Te Pākē o Ihi Aotearoa and Te Aho o Ihi Aotearoa, and the recently signed Mana Ōrite Agreement are significant particularly in relation to embedding bicultural ways of working.  The Rautaki Māori team in Sport NZ are an important kaihoe on this journey, however, I like to think we all have a role to play."     
Trevor previously held the role of Director Te Pou Matihiko at Te Tari Taiwhenua Internal Affairs where he was part of the Digital Public Service branch leadership team who developed and maintained relationships with Treaty partners. Trevor also led the establishment of the Mana Ōrite Agreement with Data Iwi Leaders and developed Te Matihiko Reo, the transformation programme for Digital Public Service.   
Prior to his role with Internal Affairs, Trevor previously worked at Archives New Zealand where he worked with management on strengthening Māori-Crown relations and has also held other senior cultural leadership positions with Heritage New Zealand Pouhere Taonga and several other government agencies.  
Trevor also shares his expertise in various areas outside of his work roles, firstly as a convenor of a national community of practice comprising cultural institutions with an interest in protecting the provenance of mātauranga Māori on digital platforms. He is also the Chair of the Council of Australasian Archives and Records Authorities First Nations Working Group and participates in the International Conservation Working Group on Traditional Knowledge Ecosystems.  
He is passionate about his marae, hapū and iwi and has held various roles to support Raukawa iwi leaders. 
In a post-settlement landscape, Trevor emphasises strengthening Māori-Crown relations being important and critical to successful relationships with Te Tiriti partners. 
"In my time and mahi in Treaty settlement negotiations and post-settlement kaupapa working directly with iwi and negotiation leaders has been a privilege.  
"I have also held leadership roles with my own iwi as Marae Chairman, Deputy Chair of the Raukawa Māori District Council and a Raukawa delegate to the New Zealand Māori Council – I hope that this has allowed me to bring established relationships to Sport NZ Ihi Aotearoa that has a basis on trust and confidence." 
At this early stage at Sport NZ Ihi Aotearoa Trevor is looking forward to everything in his new mahi. 
"I'm looking forward to working with Raelene, Te Rautaki Māori team initially and then the wider Sport NZ Ihi Aotearoa and High-Performance Sport NZ teams."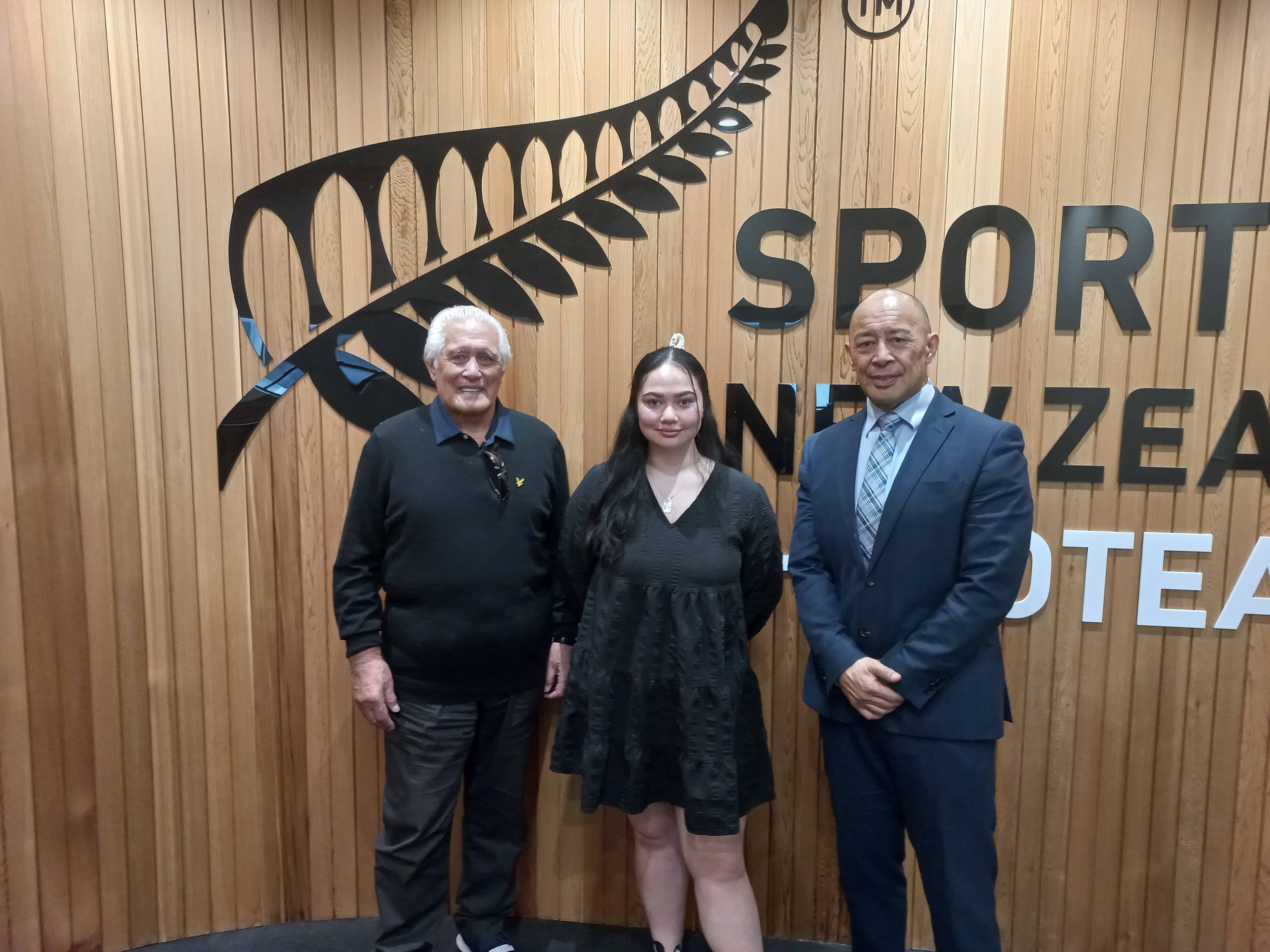 Far right: New GM Kāhui Rautaki Māori Trevor Himona pictured with whānau at his mihi whakatau, Sport NZ Ihi Aotearoa Head Office in Wellington.