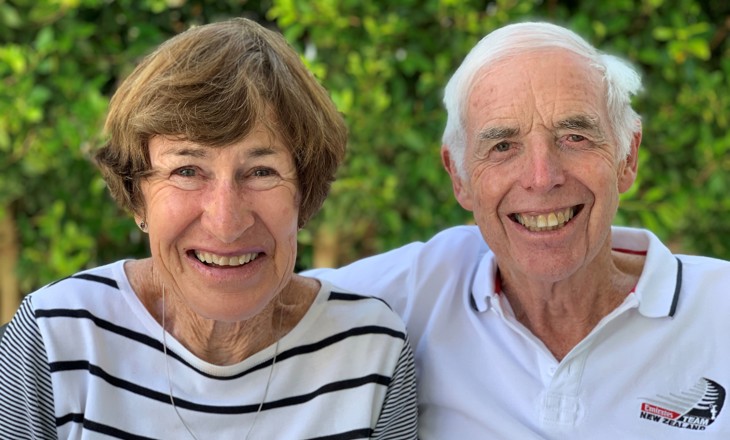 The Sport NZ Board hosted a special event in Queenstown today to acknowledge and celebrate Sir Eion and Lady Jan Edgar for their outstanding contribution to the play, active recreation and sport sector. The couple have made an immense contribution through their philanthropy over many decades spanning sport, education, youth, arts and health, adding to Sir Eion's achievements as a leading sports administrator.
Sir Eion, a Queenstown-based investor, has earned many awards and accolades for his philanthropy, including a knighthood, NBR New Zealander of the Year 2004, Senior New Zealander of the Year in 2010 and being inducted into the Business Hall of Fame.
But it is the couple's hard work and generosity in the sports sector that was the focus of today's event led by Sport NZ Chair Bill Moran with messages from the Governor-General, Deputy Prime Minster and Sir Ian Taylor.
"The scale, scope and duration of Sir Eion and Lady Jan's generosity is all-inclusive from business, education, health and environment to culture and the community. Their impact on in and across our sector has been immense and of benefit to current, and future, generations of New Zealanders," says Bill Moran.
Sir Eion has motivated and supported talented New Zealanders to shine in the fields of sport through his many roles and achievements, such as trustee of the Halberg Disability Foundation, President of the New Zealand Olympic Committee, and establishing and helping fund Forsyth Barr Stadium and the Edgar Sports Centre in Dunedin - the largest single-building indoor sports arena in the Southern Hemisphere.
Sir Eion is chairman of the Edgar Olympic Foundation and a former chairman of the Winter Games NZ Charitable Trust, an organisation he created and helps to fund. He is also the official Patron of the New Zealand Sports Hall of Fame and the New Zealand Football Foundation.
Sport NZ CEO Raelene Castle presented a gift of appreciation to the couple for their support to the sector and announced that the lifetime achievement award presented annually at the New Zealand Sport and Recreation Awards will be now named the Sir Eion and Lady Jan Edgar lifetime achievement award.