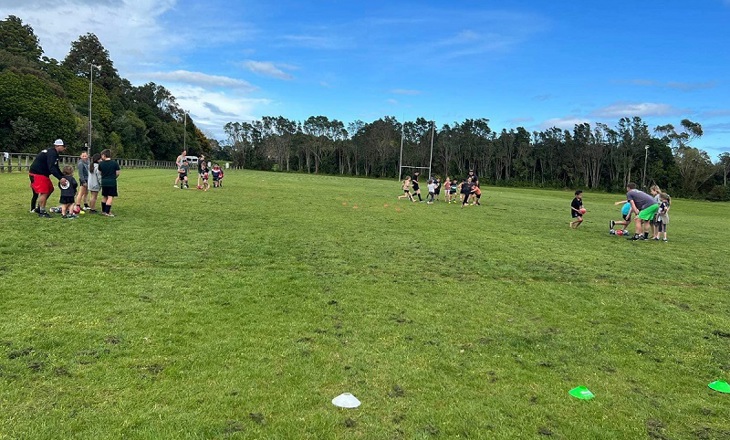 A new initiative that aims to ensure rural children and their families have access to sporting and social opportunities in New Plymouth's rural coastline communities is gaining momentum fast. 
Coastline Sports Club, based in Okato is a hub for sports codes, set up to bring the community together, develop players' skills and provide an inclusive environment while also helping to improve wellbeing. 
It's the vision of three parents keen to support the development of tamariki and rangatahi through sports and within their social environment. For these young people, home-schooling or attending smaller schools unable to provide teams were barriers to participating in sport and the opportunities this offered. 
Coastline Sports Club president Zoe Kensington says it's exciting and rewarding seeing children enjoying themselves and gaining life-long skills.  
"We had a few kids too shy to join in but by creating that opportunity for parents to join in and playing some non-touch related games these kids got involved and by the end were confident enough to give it a go by themselves. They have now signed up to play this year, which will only grow their confidence more." 
In just two months, thanks in part to Tū Manawa funding through Sport Taranaki, the club has already grown from three sports codes to six and more people on the committee, with a quickly rising membership. 
Tū Manawa has helped to buy equipment needed to deliver the club's junior touch programme and purchase multi-purpose tops for players representing the club in various sports. 
Already the club has run a fun introduction to touch day involving up to 40 children, youth and their parents. 
The six codes – cricket, basketball, netball, surfing, athletics and touch – all have lead co-ordinators and right now registrations are rolling in for summer sports. 
Adults, and some older coastal Taranaki students, play in a social senior touch league, while years 1-8 play in the Junior Opunake Touch League. Plans are underway to create a cricket team from the Okato-Opunake area.   
"There are currently no teams from our area, right there is why we are doing this – we want to take away the barriers to participation like transport, time, cost and accessibility." 
"Our junior and senior memberships are growing by the day, and we hope the community continues to get behind us. Collectively we will be stronger when we all come together to achieve the same goals, which is ultimately to get our kids active and living a good healthy lifestyle," says Zoe. 
For Zoe, being active growing up was a life-changer. 
"I know how much sports has helped me in my life, it taught me hard work, commitment, communication, time management, working as a team and individually, all-round good life skills, so to pass that on and give back to all the sports is a privilege., she says. 
Sport Taranaki community connector Janet Fleming says Coastline is a great example of how opportunities can be given to tamariki and rangatahi living rurally. 
"We love solutions that are tailored to the needs of particular communities – Zoe and her committee know the physical, social and mental benefits of children being active, and the long-term impact it will have on their wellbeing," says Janet.