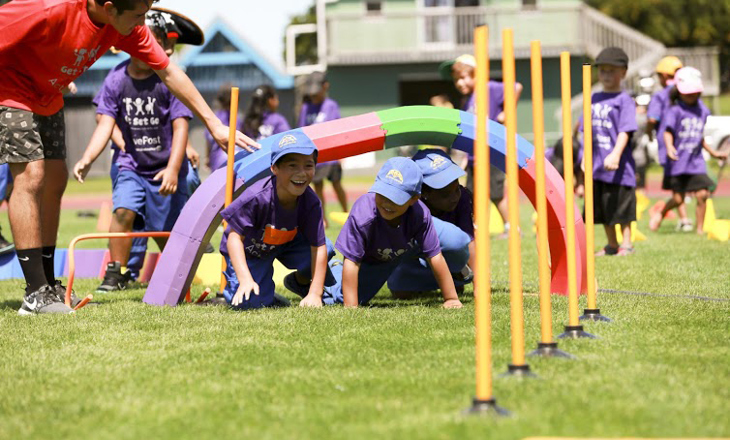 Athletics New Zealand's foundation programme Get Set Go
Athletics plays a key role in New Zealand's sporting history, and we now have a new generation of world stars such as Tom Walsh and Eliza McCartney.
Whether your kids dream of following in their footsteps or just love running, jumping and throwing, athletics could be the sport for them. There are 190 athletics clubs across the country, with the majority offering programmes for children as young as 3-years-old.
"For young kids the focus is on having fun and learning some basics skills while introducing them and their family to the club environment and athletics community," says Athletics NZ Club Development Manager Catherine O'Sullivan.
"Athletics is also a great way to develop fundamental skills used in all sports, like running, jumping and throwing, and these all play a key role in our junior programmes."
Most clubs offer traditional athletics for kids as young as 3-years-old (competitions typically start at age 7), but many clubs are now operating two new two age-appropriate programmes developed by Athletics NZ. Called Get Set Go (for kids 3 to 7-years) and Run Jump Throw (7 to 11), these focus on fun, enjoyment and skill development.
Get Set Go is all about having fun and helping children develop the agility, balance and coordination that will provide the foundations for later developing specific athletics skills. Activities include games such as tag, jungle jaunt (mimicking animal movements) and balancing games. Parents also play a key role in Get Set Go, which includes development component to help them feel more confident in playing a key role in helping their children learn about and enjoy sport.
From there kids progress to Run Jump Throw, where they start to learn the skills and movements that more the basis of athletics, but in modified activities which maintain a firm balance between developing skills and having fun. In this programme kids focus on things such as running obstacle courses, standing jumps and throwing a vortex.
Both programs are generally held on club nights (weekday evenings). Get Set Go session usually run for an hour and Run Jump Throw for 90 minutes.
They are also fully inclusive.  One of the key philosophies that underpin them is the Halberg Disability Trust STEP model to modify activity to suit the needs of all abilities. This means any club that runs the programmes should be able to offer opportunities for physically disabled children.    
Getting started
There are 190 athletics clubs around the country. Some have open days or let children have a go before they register.  
What you need
The great thing about athletics is that anyone can participate and there is very little cost to get started.   Other than a decent pair of sports shoes there is no specific equipment required to participate in   Get Set Go or and Run Jump Throw.
Club fees
Club fees are generally around $60 to $100 for the summer season (October to April).