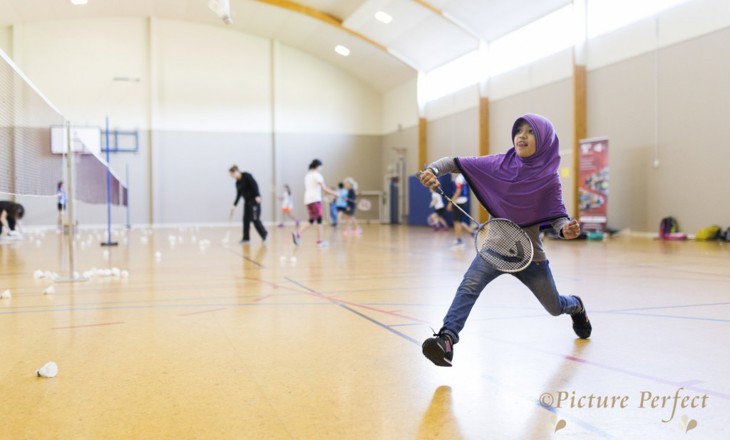 Sport NZ is taking a look at some of the winter sport options available for kids aged 5 to 8 years old. Badminton is one of New Zealand's fastest growing sports and has a great junior programme for kids five years and older.
Is your child keen to try a new sport? Why not give badminton a go?
It's a great sport to get the kids socialising, active and learning new skills.
Shuttle Time is Badminton New Zealand's junior programme for children from 5 to 15 years old and designed to introduce them to the sport in a safe, inclusive and enjoyable way.
"The programme aims to develop a range of skills like jumping and landing, catching and throwing and even decision making," says Programme Manager, Donna Trow.  "But mostly it's about having fun and finding a love for the game in the process."
Shuttle Time consists of 22 progressive lesson plans to take players from complete beginners to being competent in the basic skills and rules of the game.  Starting out, some lessons will play with balloons rather than shuttles as the slower speed allows kids to build hand-eye skills, while shortened racquets help with coordination.
Junior badminton clubs operate around the country through a network of 25 regional associations. These typically run weekly, for 1-2 hours, with a mix of skill development and fun games. A number of associations also run school holiday programmes, with a similar focus, but for 3 to 4 days consecutively.
The programme is also delivered in schools, meaning there is a consistent development pathway for kids, whether they learn in school, club or both.
But Shuttle Time is not just for the kids - there's also a strong emphasis in getting adults involved in the sport. For parents, caregivers and even teachers, Shuttle Time offers workshops and a path to become confident and capable coaches.
What You Need
Many clubs will have racquets available for beginners to use, or a basic racquet can be purchased for around $20-30. No other special equipment is required.
Club Fees
Expect to pay $5-10 per session; membership options around $50-60 per term.
More Information
To learn more, visit badminton.org.nz or bwfshuttletime.com