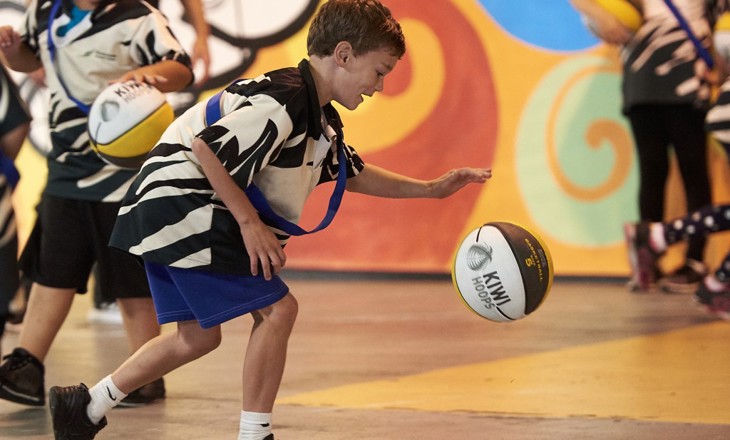 With the winter sport season fast approaching, Sport NZ is taking a look at some of the options available for kids aged 5 to 8 years.
Whether you're looking for a fun, inclusive first team sport for your child or they fancy themselves as the next Steven Adams, Basketball New Zealand's official junior programme is the perfect place to start.
The programme is called Kiwi Hoops. It's based on modified games and activities that provide fun and success for everyone. The programme has four stages aligned to school years from age five to 13, and is designed to be flexible to meet the needs of the kids involved.
"Basketball is an awesome sport for kids to play. With three to five players per team, everyone is active and involved," says Brad Edwards, Basketball New Zealand's General Manager Community Basketball.  
"It's a real team sport that's all about fun and development."
Movement and fun are the main focus for the participants five to nine years old, delivered through fun and inclusive modified games and activities.
Generally, programmes run for one term with one session per week of up to an hour. Sessions involve movement games, basic basketball skills and small-sided games. Kiwi Hoops is offered in schools and also by local basketball clubs and associations.
Kiwi Hoops continues through to intermediate age, offering a development pathway for young players while also encouraging new players to join in. As the kids progress, fundamental basketball skills and concepts are introduced and game formats develop. Also, local associations often offer leagues for young players to enjoy the thrill of playing other teams.
Kiwi Hoops is not just for the kids. The programme encourages parents and caregivers to get involved and coaching Kiwi Hoops is a great introduction to the game.
Designed for anyone involved with primary and intermediate school aged players, coaching is a great way to quickly learn the basics and get involved with your kids on the court. Courses are offered by local basketball associations and are usually two hours for the foundation stage.
Getting Started
Kids can get involved through their school or local associations. Some associations have clubs where in other areas all basketball is organised by the association.
What You Need
Basketball is an easy sport to play with very little equipment needed. Comfortable sports clothes and sneakers are the only essentials. Basketballs will be provided for participants but it's fun for kids to have their own to play and practice with. Size 5 basketballs are ideal for primary school ages.
Club Fees
Fees are set by the local provider but are generally affordable comparative to other sports. Many associations and schools offer subsidised opportunities. Check with your provider.
More Information
You can find out more about Kiwi Hoops on the Basketball New Zealand website. You can also follow Basketball New Zealand on Facebook.