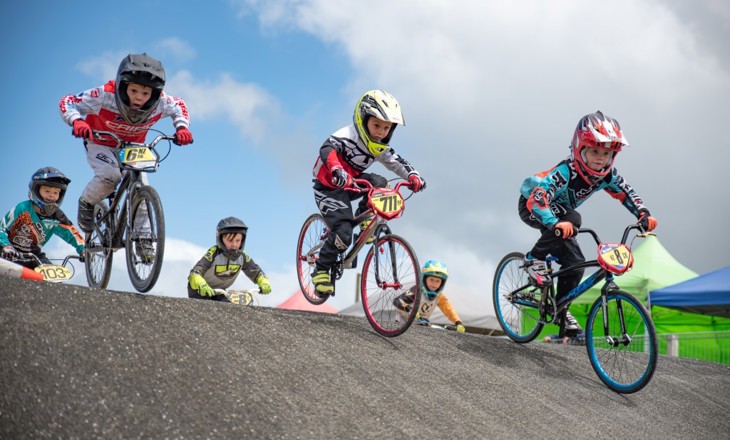 With the summer sport season fast approaching, Sport NZ is taking a look at some of the options available for kids aged 5 to 8 years.
What young kid doesn't love riding a bike? It's great to go fast, and heaps of fun to go down hills and over bumps and jumps. These are all part of BMX riding, and there are 34 clubs around New Zealand where kids as young as three can get involved.
If you can ride a bike, you can get into BMX.
BMX started in New Zealand in the late '70s and became really popular in the '80s. Membership dipped for a while as times changed and the sport went out of fashion, but BMX New Zealand Executive Officer Dion Earnest says it's now back on the rise.
"These are exciting times for BMX. We've seen established clubs upgraded and there are fantastic new tracks in Wellington and Cromwell."
"All around the country we have new members coming through, as those who were into BMX in the '80s look to introduce their own children to the sport," says Dion.
Becoming an Olympic sport in 2008 and the rise of stars like Sarah Walker have helped too, as has rolling out a national programme for young riders called Sprocket Rockets.
Sprocket Rockets is for riders under 8 years-old. They get to take part in races - and have their own number plate - but there are no placings and no points are scored. It's all about having fun and learning the skills of the sport.
"There is training at most clubs based on a national Sprocket Rockets Guidebook, and young riders receive certificates as they practise and perfect basic skills," says Dion.
"This builds a foundation for safe and fun racing."
Getting started
First you need to find a club. There are 34 scattered around the country from Whangarei to Southland. The best place to start looking is the BMX New Zealand website.
It's a good idea to then take your child along to a club race night to see what the sport is about and whether they like the look of the racing.
Tracks are generally available to the public outside of club nights, so you can also give them a chance to try it out without the pressures of racing.   If you've never been to the track before, it's best to start your child on the lower half of the start ramp until they gain the confidence to start higher up. This will also mean they won't be going too fast when they get to the first jump.
What you need
Kids don't need a BMX race bike to get started as a Sprocket Rocket. Any safe bike will do. Once they do settle into the sport, BMX race bikes for younger children are often available for $350 to $800 brand new, or for as little as $150 second-hand.
To ride at a club night your child will need a full-face helmet (which clubs will generally lend or hire when you're starting out), as well as gloves, long sleeve top and pants, and as much protective gear as you wish.
Elbow pads are the most essential, but there are also knee and shin guards. Some riders also wear shoulder and body protection suits.
Club fees
You'll need to have a racing licence to take part in ongoing Sprocket Rocket races. These are part of your membership fee to your local BMX Club and there are licences to cover all members of the family.
A full national licence means you can enter inter-club races anywhere in New Zealand. There are also more cost-effective licences if you only want to race at your local club. Talk to club officials about what will work best for you and your little racer.
More information
You can learn more about the sport and find your nearest club at the BMX New Zealand website.