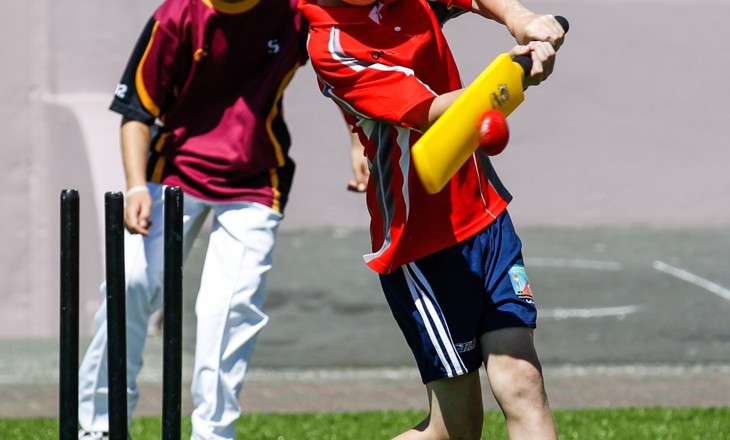 With the summer sport season fast approaching, Sport NZ is taking a look at some of the options available for kids aged 5 to 8 years.
For so many Kiwis, cricket is our summer game. It's also a sport on the move - T20, day-night tests and, for 5 to 9-year-olds starting out, Superstar Cricket.
Superstar Cricket is a quick, action-packed and inexpensive entry-level game that's been designed so young kids can learn the basics of cricket in an enjoyable and exciting environment.
"It's an inclusive, made-for-age game and its benefits extend far beyond the game of cricket," says Adrian Dale, NZ Cricket's GM of Community Cricket.
"It creates an action-packed, fun atmosphere in which each child feels fully involved. Superstar Cricket also provides children with opportunities to experience the value of teamwork and active cooperation in a supportive and non-competitive framework."
In Superstar Cricket, all children receive equal turns at batting and bowling, no matter what their level of sporting ability. They also rotate around a set of marked fielding positions, so that too is evenly shared.
Instead of sitting waiting to bat, children take part in a skills area where games and activities help them develop fundamental cricket skills. This also means everyone is engaged and having fun at all times.
Matches take around 90 minutes and are played on smaller fields, allowing parents to be close to the action. Parents also have an opportunity to get involved as an umpire or scorer.
The junior cricket season runs from early November to late March, with an extended break over Christmas and New Year (from mid-December to early February).
Getting Started
There are 309 cricket clubs around the country. The best way to find the one closest to you is on the NZ Cricket website. Clubs will typically have a junior grade coordinator who can tell you more about what's on offer and how to get involved.
What you need
For Superstar Cricket, your club will provide each team with plastic bats, stumps, soft 'incrediballs', batting tees and some marker cones for the boundary and fielding positions. At this age, there's absolutely no need for protective equipment or for kids to have their own bat, but some clubs will ask players to purchase a club shirt.
Fees
These vary around the country, averaging around $60 a season.
More Information
You can find out more on the NZ Cricket website - or speak to your local club.