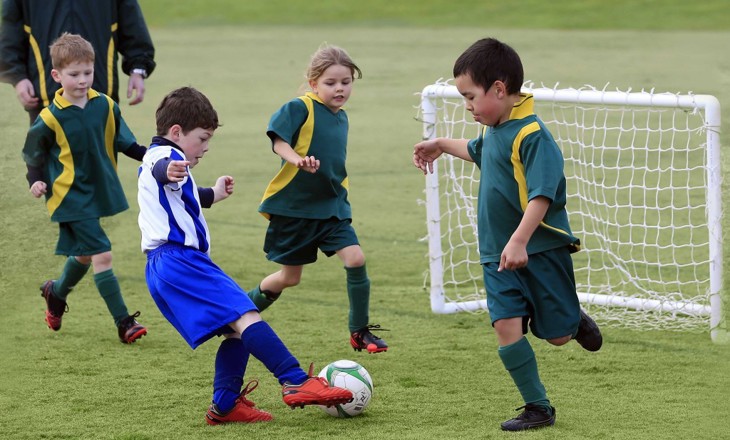 With the winter sport season fast approaching, Sport NZ is taking a look at some of the options available for kids aged 5 to 8 years old.
Dream of being a football legend? It all starts with McDonald's First Kicks.
McDonald's First Kicks is Football New Zealand's programme for kids aged 4-6 to get involved in football in a happy and rewarding environment.  
"For many kids, this will be their first experience playing football in a club environment, which may be a deciding factor for whether they fall in love with the sport or not," said Owain Prosser, NZ Football Junior Development Manager.  "It's all about allowing children to discover the game at their own pace and creating a positive football experience with an emphasis on fun and enjoyment."
On turning 7, kids move on to McDonald's Fun Football, where players take part in more football-specific activities offering excitement throughout the season as well as helping to develop new physical skills.   This next level sees kids playing fun football games with lots of time on the ball.
For junior football, clubs may offer a training session during the week as well as a game day at the weekend. Game days consist of fun games with everyone involved, followed by small sided matches against lots of different teams.
Over 270 clubs around the country offer the junior programmes, making it a great way to introduce kids and their families to a club environment and allowing children to interact with each other, both socially as well as on the field.
There are also plenty of opportunities for parents and carers to get involved, whether it's behind the scenes in club administration or being one of the 6,500 coaches that are on the sidelines of junior football each weekend, the sport offers many rewarding roles.
Most grassroots football clubs across New Zealand offer the junior programme with the season generally running from April to September.
From age 9 the young players move on to McDonald's Mini Football where there's a growing emphasis on football skills and the matches themselves.
Getting Started
Junior Football programmes by clubs throughout the country, the best way to get involved is to find a club in your neighbourhood.
What You Need
Kids will need suitable clothing for playing sports such as shorts and t-shirt. Trainers or football boots and shin pads are also required.
Club Fees
Fees vary from club to club, but often clubs will let kids give it a try for free or at minimal cost.
More Information
You can learn more about junior football or find a club via the NZ Football website.