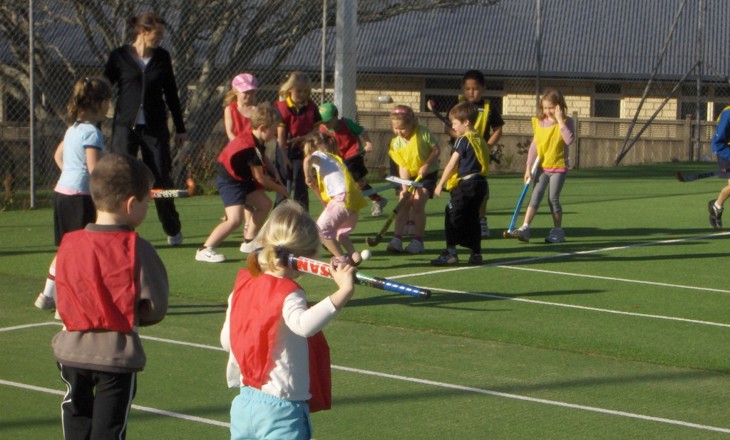 With the winter sport season fast approaching, Sport NZ is taking a look at some of the options available for kids aged 5 to 8 years old.
Whether it's about just having a go or having dreams of making it to the Olympics, hockey is a great way to get young kids running around and involved in sport. And there's no better way than Hockey New Zealand's junior programme called the Small Sticks.
The aim of Small Sticks is to attract children into hockey and foster a lifelong love of the sport. It's all about learning new skills in a fun and games-based environment.
Small Sticks is made up of four different modules all tailored to a child's age and ability, letting them play a modified game with a focus on being active and having a good time.
The first module is Fun Sticks and as the name suggests, it's all about introducing children to hockey in a safe and exciting way. Aimed at 5-6 year olds the focus is on developing basic skills such as throwing, catching, hitting and exercise.  
As children get older and their skills progress, they move on to different phases of the junior programme, learning basic hockey skills and being part of a team. Mini Sticks, aimed for 7 & 8 year olds sees the budding stars play 6-aside games on a quarter sized turf.  
By the time the kids reach 9, they're moving on to Kiwi Sticks, where they play six-a-side version of the game divided into a development and premier competitions.
"But the Small Sticks junior programme isn't just about getting the kids involved; hockey can easily become a family affair," says Community Hockey Manager, Jack Clayton.  "Parents, caregivers and even older siblings make great coaches, managers and umpires at this level. Associations will often provide training so talk to your school or club about getting involved."
Fun Sticks is a 12-week programme run through clubs and schools around the country, while Mini Sticks is normally run over 16 weeks in terms two and three.
Getting Started
The best way to get involved is to talk to your school or find a club in your neighbourhood.
What You Need
Starting out in Fun Sticks kids will need shin pads and a mouth guard.   As they progress they will also need a hockey stick.   Hockey sticks for this level can be purchased from places like The Warehouse or Rebel Sport.
Club Fees
Fees vary from club to club and depending on what module your children are taking part but as a starting point fees are likely to be around $20-$80.
More Information
To find a club or to learn more about Small Sticks, visit Hockey New Zealand website.