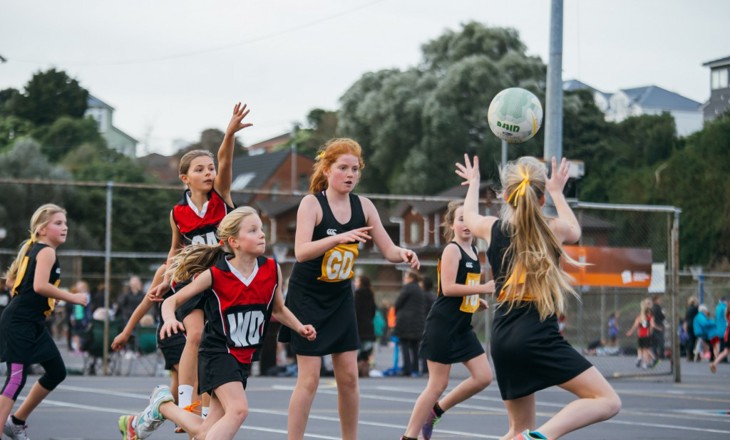 With the winter sport season fast approaching, Sport NZ is taking a look at some of the options available for kids aged 5 to 8 years old.
Do you like having fun with your friends while being active?
Then Mother Earth futureFERNS Netball is a great place to start.
The Mother Earth futureFERNS  is a junior Netball programme for kids aged 5-12, run by Netball New Zealand and designed specifically to develop a young player's love of the game.
The players get to pass, catch and shoot from their very first session, while learning to work in a team and understand different positions on the court.
The programme starts with children who are aged 5-6 with a focus on movement and ball skills, followed by a four-a-side game on a modified small court.  
As players get older and their skills develop, so does the game. The Mother Earth futureFERNS   programme works with junior Netballers up until Year 8 before they move into the secondary school space.  
"The Mother Earth futureFERNS programme provides players with the opportunity to grow as the game grows, have fun with their friends and enjoy playing Netball," says Alysha Jensen, Netball New Zealand's National Programmes Manager.
Mother Earth futureFERNS is all about fostering a life-long love for Netball, taking place in schools and clubs all over the country with the help of volunteers. There are plenty of opportunities for the whole family to get involved in junior Netball.  
One way for parents and caregivers to get involved is through coaching. For each age group, there is a coaching workshop which guides coaches through the programme with key activities and teachings. For those that attend, they will also receive access to an online portal with video resources and other explanatory details. If you would like to get involved, contact your local centre.
Getting Started
Talking to your school or centre is a good place to start as that's where most registrations take place or to find a Centre, visit   www.futureFERNS.co.nz
What You Need
Starting out kids just need trainers and active wear. From year three, there's usually have a uniform provided by their school or club.
Club Fees
Fees will vary, depending on if your kids are playing for a school or club.
More Information
You can learn more by visiting  www.futureFERNS.co.nz