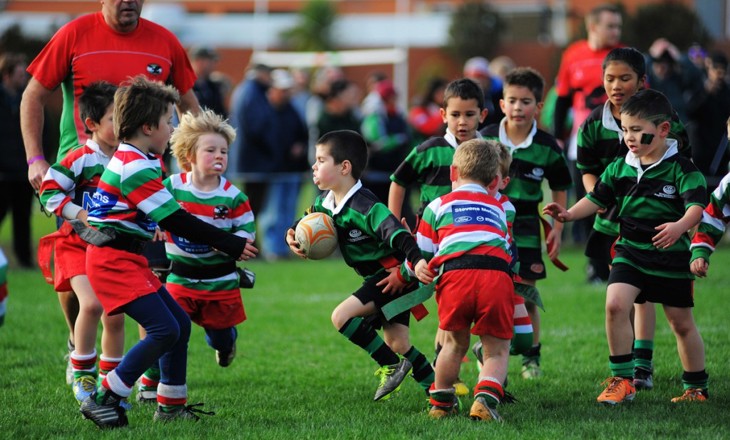 With the winter sport season fast approaching, Sport NZ is taking a look at some of the options available for kids aged 5 to 8 years old.
Whether your child dreams of wearing the black jersey or you're looking for a fun and safe way to get them involved in our national game, Small Blacks rugby is the place to start.
"Small Blacks rugby is our largest format of the game and is all about fun, friends and young children experiencing the enjoyment sport can provide," says New Zealand Rugby Head of Community Rugby Brent Anderson.
Small Blacks rugby has been designed to help players develop their rugby skills as their physical ability grows, making the game as simple and safe as possible for all Kiwi kids, regardless of their age, shape or size.
For boys and girls aged 5-6 years old, Rippa Rugby is a safe and non-contact and focuses on ball handling and running skills as well as the fun of being in a team.
As kids get older, Small Blacks rugby offers modified ways to play the game depending on age and development. This means contact rugby but with fewer players and a smaller field and ball.
"There are around 85,000 Small Blacks players, which is 3000 games of rugby every week during the season and it's great to see these young rugby players developing their skills in a safe and fun environment," says Brent.
Small Blacks rugby is played in clubs around the country, while Rippa Rugby is also offered in primary schools. And with so many kids taking part, there are always opportunities for parents and caregivers to get involved. Clubs and schools are always on the lookout for coaches, managers, helpers and supporters cheering from the sidelines.
Getting Started
A good place to find a club in your local area is by visiting the All Blacks website.  
What You Need
Kids will need a jersey, shorts, socks and trainers or boots.
Club Fees
Fees vary from club to club but fees start from around $20.
More Information
You can learn more about Small Blacks rugby by visiting  www.smallblacks.com