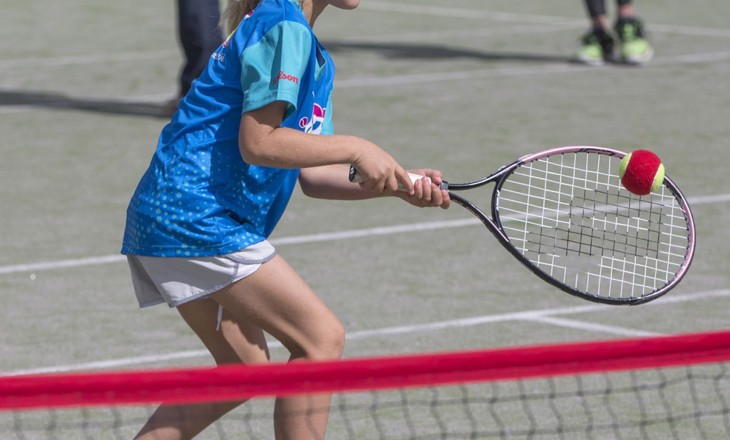 With the summer sport season fast approaching, Sport NZ is taking a look at some of the options available for kids aged 5 to 8 years.
A good way to try Tennis Hot Shots for the first time is by joining in a Community Play session
Some parents might think tennis is too tricky for children this young, but that couldn't be further from the truth thanks to a nationwide starter programme called Tennis Hot Shots.
Introduced here in 2013 after five successful years in Australia, Tennis Hot Shots is all about making the hard things easy. Smaller courts, shorter racquets and softer balls mean that kids can play a proper game of tennis from the moment they step on court.  
All of these things combine to help ensure kids have heaps of fun while they learn the basic skills.
"Fun is key to children's sport, particularly in these early years, and Tennis Hot Shots makes serving, rallying and scoring easy through the use of modified equipment," says Tennis New Zealand Participation Programmes Manager Gayle Vaughan.
"At the same time, it's about more than just the game. Sessions are made up of tactical, technical, fun and social elements."
Often Tennis Hot Shots coaching is user-pay, and children learn in small  groups with others of a similar level. Kids move through stages that suit their stage of development, more so than their age. As they improve, the balls get a bit bouncier, the racquets a bit longer and the court a bit bigger.    
The programme is made up of four stages:
Blue (typically 3 to 5 year-olds)
Red (5 to 8 year-olds)
Orange (8 to 10 year-old)
Green (9 to 12 year-olds).
The Blue stage is focused on foundation skills rather than playing the game. Children learn to make directional movements (sideways, backwards, forwards), move to a ball and catch it, throw overarm and underarm to various locations, and achieve a rolling rally with a partner.
Once in the Red stage, around 5 to 8 years old, they are learning to serve crosscourt, conduct a rally with forehands, backhands and volleys, and use tennis scoring. All of this, though, is on a court that's around a quarter the size of a full court and with a ball that's 75% softer and slower than a normal tennis ball.
The length of time also evolves with the stages, starting at 30 minutes for the Blue stage, up to 45 minutes for Red and progressing to around 90 minutes in the Green stage.
Getting started
First you need to find a venue - there are over 200 across the country. The best place to start looking is the Tennis Hot Shots website.
A good way to try Tennis Hot Shots for the first time is by joining in a Community Play session. Many clubs offer this 'have a go' play-based programme as an introduction to Tennis Hot Shots.   It's a good way to see if your child enjoys tennis, without having to commit to a term of coaching.  
However, if your child is super keen, or your nearest venue only offers Tennis Hot Shots Coaching, then you can jump straight into that without having to try Community Play first. Contact your nearest venue to see what's available and how you can get involved.   Many clubs and venues offer a free session for your first go so you can see if you like it.
What you need
All you need to get going is a t-shirt, shorts and trainers, plus a water bottle.   Most venues will have racquets that you can borrow.
Fees
Community Play will cost no more than $5 per session. Fees for the Tennis Hot Shots Coaching programme vary by venue, from $5 up to $20.
More information
Visit the Tennis Hot Shots website for information on all the programmes stages, plus an informative video and details on how to find a venue near you.