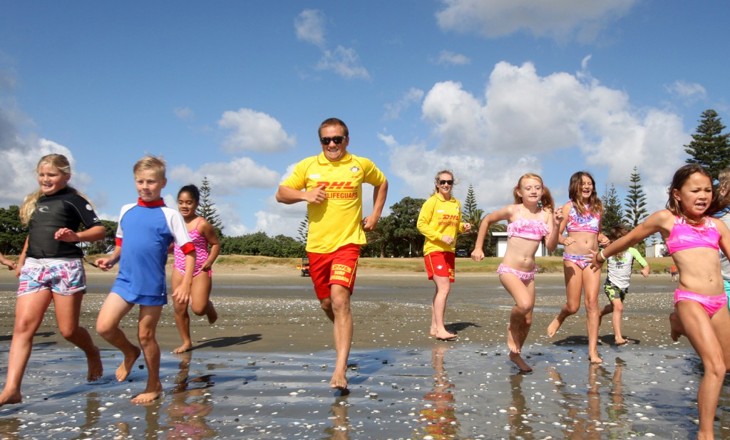 With the summer sport season fast approaching, Sport New Zealand is taking a look some of the options available for kids aged 5 to 8 years.
Surf Life Saving NZ Junior Surf Programme
The beach is summer fun. It's also sporting fun. From the age of 7, kids can join a Junior Surf Programme at any one of the country's 74 Surf Life Saving Clubs.
The Surf Life Saving New Zealand Junior Surf Programme is designed to enrich the lives of children through engaging activities and active participation, leading to a range of personal, lifesaving and competition skills, in a safe aquatic environment.
Each club runs its own Junior Surf programme from October to March, generally on a Sunday morning or afternoon.
It's for 7 to 13-year-old kids, after which keen young people can become a qualified lifeguard and/or continue to compete in the sport of surf lifesaving.
"We want juniors to have fun at the beach and make new friends while learning lifelong skills like how to save lives in the water," says Surf Life Saving New Zealand Sport Manager Mike Lord.
"The skills they develop, along with the opportunities to take part in Junior Surf carnivals are also a great introduction to the sport of surf lifesaving. These carnivals are great for kids' surf skills, confidence, and fitness."
The Junior Surf programme is made up of seven achievement levels which provide a managed development pathway for kids to gain confidence in the surf. For level one (7-year-olds), your child will be working towards:
Completing a 25-metre pool swim and 25-metre open water swim
Being able to survival float for 20 seconds
Wading and negotiating the waves in and out
Demonstrating being confident in the waves
Diving under a wave
Gliding onto a wave from standing position
Doing a 'Run Wade Run' of 25m x 50m x 25m
Catching a wave and paddling using a body board and leash
Answering six theory questions.
The challenges then increase with each achievement level. Level 2 (8-year-olds), for instance, will work towards swims of 50 metres and a survival float of 30 seconds.   At this age kids are also introduced to new skills like body surfing, treading water and paddling lying down.
Getting started
It's best to get in touch with your local Surf Life Saving Club to find out about session times and costs - and to sign up. You can find a club on the Surf Life Saving New Zealand club portal.
More information
Visit the Surf Life Saving New Zealand website for more information on the Junior Surf programme. You can read the Junior Surf Manual and see what's involved at each achievement level.