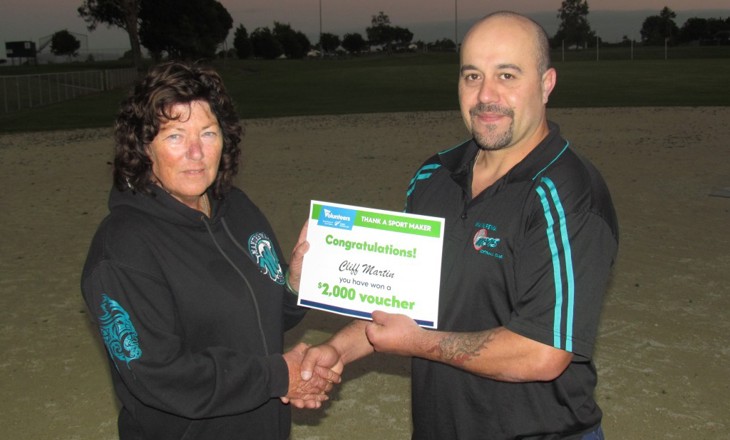 This week is National Volunteer Week, held to recognise and celebrate the invaluable contribution New Zealand's approximately 1.2 million volunteers make across many aspects of society.
Sport NZ acknowledges the vital contribution volunteers make in sport and recreation, and will profile some of those who contribute as coaches, administrators, officials, parent-helpers and in delivering major events.
Cliff Martin
When a work accident ended Cliff Martin's days welding and fabricating he didn't sit around feeling sorry for himself. Instead he used his time to build on a lifetime's involvement in softball and now not only umpires at his local club, but mentors others to do the same.
He and wife Terri made a conscious decision to focus their energy on softball, a game he'd played since primary school although rugby league had also been part of his life later on.   Their six children, aged seven to 15, all play softball and while Cliff and Terri signed them up, he says they have all developed their own love of the game. That extends to Terri who after ten years watching from the sidelines now pitches at premier level.
In the past Cliff has umpired regional games, and at the nationals, but now he's firmly focused on Manurewa Mets Softball, officiating at games from under-elevens to premier men's. "I'll bring one of the junior umpires I am mentoring along with me - if it's a big game I'll put them on base but for junior games I'll be on base and they can take the lead."
He helped five umpires get certified last year, he says, "There's not much point in having all the knowledge I've accumulated over the last 12-15 years, and not sharing it."
"My focus now is on passing on what I know and training the young ones to do things the right way - making sure they understand the whole game."
Cliff's involvement doesn't stop with umpiring - he's also helping younger players to take on coaching and currently has a 13-year-old coaching an under-elevens team.   Then there's the training camps, and the grounds maintenance.
He's at the club every Saturday, most Sundays "and then there's training camps and so on.
"You don't get back as much as you put in but the satisfaction comes in knowing that you are helping people learning the game the right way. I love it," he says.