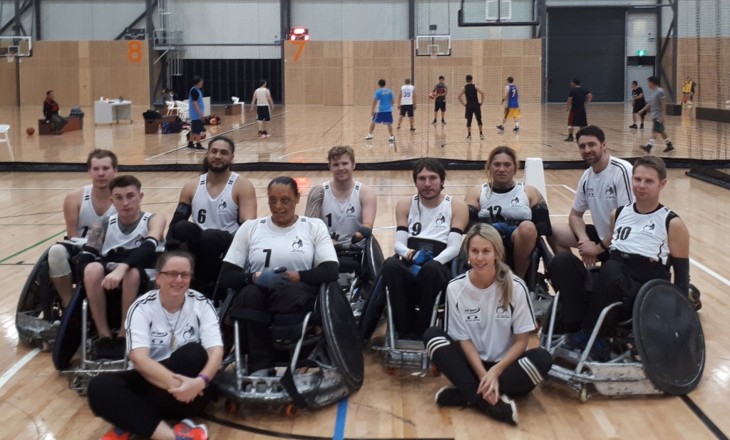 This week is National Volunteer Week, held to recognise and celebrate the invaluable contribution New Zealand's approximately 1.2 million volunteers make across many aspects of society.
Sport NZ acknowledges the vital contribution volunteers make in sport and recreation, and will profile some of those who contribute as coaches, administrators, officials, parent-helpers and in delivering major events.
Sacha Wright
Sacha Wright was flying out to the Gold Coast last week with the Wheel Blacks, a team comprising our top wheelchair rugby players. She's their (unpaid) programme manager, morphing into team manager when they're playing in a tournament.
Sacha is also committed to a high-performance culture in this para-sport, reflecting her day job with High Performance Sport New Zealand. That translates into working with the Wheel Blacks' coach and other specialists to help move them from their current ninth world ranking to, at or near the top. She's helped hook them up with a nutritionist, sports psychologist and co-ordinated a strengthening and conditioning coach.
The team is focused on the Asia-Oceania Zonal tournament in Auckland this August, then next year's World Wheelchair Rugby Championship in Sydney and beyond that Tokyo 2020.
Sacha has a longstanding commitment to volunteering, sparked initially while traveling overseas and being confronted constantly by reminders of how lucky we are as New Zealanders.
Fast forward a few years and she signed up with NZ Wheelchair Rugby - about which she freely confesses she knew nothing when she started.
"It's been a real eye-opener."
She says the challenges of organising any team are compounded in the case of the Wheel Blacks, citing as an example some transport operators' restrictions on the number of wheelchairs allowed on board.   She's distilling her learning into a series of templates and documenting processes to help others dealing with the same issues.
But it's all worth it, she says, for the sheer inspiration the team, and para-sport generally, provides.
"All our Olympians are inspirational but NZ's Paralympians particularly so.   I feel really lucky at how the Wheel Blacks have welcomed me in as part of the team. I absolutely love it."