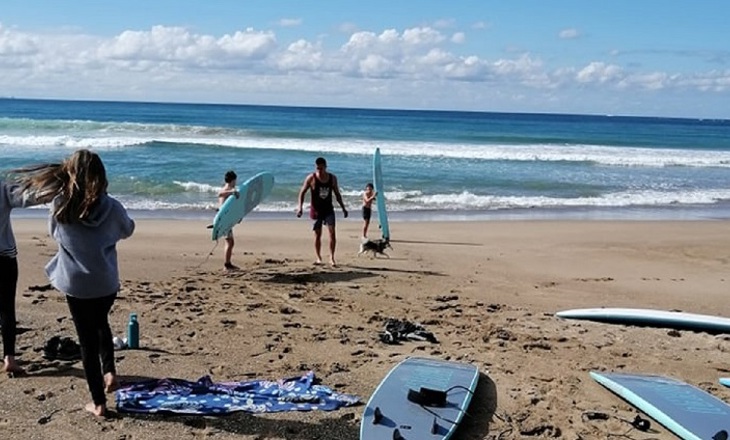 Teenager Liam has managed to face his fear of water thanks to a surf therapy programme in Northland. 
Liam has been involved in the Te Ara Awhi Rito, Te Tuhononga Papori programme run by Whangarei-based Tokotoko Solutions for Ministry of Social Development clients between 18 and 24 years old. 
Surf therapy has recently been integrated into that programme thanks to Tū Manawa Active Aotearoa funding received through Sport Northland. 
That funding has helped to buy surfboards leashes, wax and wetsuits so that youth like Liam have opportunities to learn new skills and build confidence through physical activity. 
It has also enabled Tokotoko to provide surf therapy as an activity for all its youth programmes that range from one-to-one mentoring to group sessions, an alternative education programme, holiday programmes and casual sessions. 
"Some of these youth have experienced some sort of significant trauma in their lives and come from backgrounds of hardship, and most of them have never surfed before," says Tokotoko communications manager Charlotte Tapelu. 
Before heading into the surf at nearby beaches, surf therapy involves pre-testing sessions for breath capacity and treading water, safety briefings including how to read waves and rips, yoga sessions, surf skills and how to take care of equipment. 
"It's not just about surfing and doing something physical - it nurtures overall wellbeing as it requires patience, mindfulness and helps connect students with nature." 
In Liam's case, mentor Beau says he was the most vocal in his group about his nervousness and fear of the water, especially deeper waters. 
"He was petrified at the start, even going to the pools and flat water in the river in the lead-up to going into the surf he was scared, but he was still keen to give it a go," says Beau. 
"Yet when we got to the beach, at every session he was the first one in the water and the last one out of the water, he totally excelled and had heaps of fun out there." 
Beau says the experience has taught Liam some life lessons. 
"It's taught him about resilience and to have more self confidence in his ability - he under-estimated himself and these sessions taught him that he could do more than what he thought he could.  
The stories are similar within all of Tokotoko's programmes that run surf therapy across age groups ranging from primary-aged children through to young adults. 
"It's amazing to see these kids who don't want to give things a go and try new things to get out in the water to have so much confidence and fun doing it, it's pretty incredible," says fellow mentor Kaitlyn Watson. 
"They become more willing to give other things a go because they know it will be okay." 
Sport Northland's play and active recreation lead Tamara Heremaia is rapt the programme is making a positive difference in the lives of young people. 
"It is Sport Northlands vision for 'all Northlanders leading better lives through involvement in play, active recreation and sport' and if this can be achieved through providing Tū Manawa Active Aotearoa Funding to organisations who provide this opportunity it is positive outcome for all," she says.