In looking to tackle the issue of obesity the Government is taking a broad approach with a focus on food, the environment and being active.
By 2016 high body mass index (BMI) is expected to overtake tobacco as the leading preventable risk to New Zealanders' health.
In looking to tackle the issue of obesity the Government is taking a broad approach with a focus on food, the environment and being active.
The broad approach will include targeted interventions for those who are obese, increased support for those at risk of becoming obese and practical solutions and education on making healthier choices for all New Zealanders.
The target interventions listed below are just the first step in a longer-term approach to managing and preventing obesity. There will be plenty more work to do over the next few years to ensure future generations of New Zealanders can enjoy a healthy lifestyle.
You can read the media release from Minister Johnathan Coleman announcing the package of initiatives here.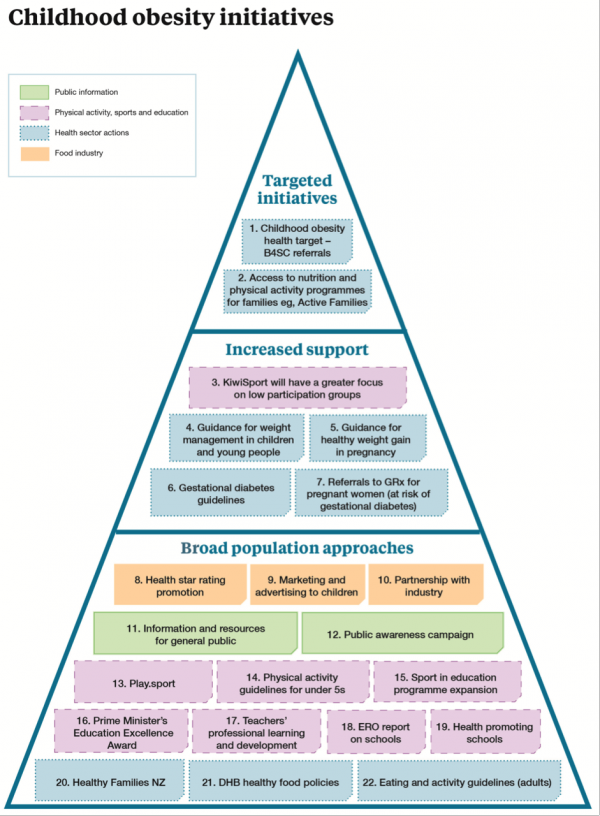 Of the 22 initiatives above, Sport New Zealand is leading in three areas, and you will find further details on each of those initiatives below.
Overall, Sport NZ is realigning and reprioritising investment of up to $9.7m per annum to support increasing the physical activity rates of children and young people.
Realignment of Kiwisport Regional Partnership Fund
Regional Sports Trusts are key providers of community sport in the regions, and we welcome their commitment to working with young people to encourage physical activity.
We invest in sport for young people through the Kiwisport Regional Partnership Fund ($8.4M pa). We are working with Regional Sport Trusts to realign some of this investment to specifically impact young people in communities where participation rates are low. We estimate that this realignment will see approx. $3m a year better targeted to young people in low participation communities.
In addition to the changes to KiwiSport investment we are also realigning some of our community sport investment in Regional Sport Trusts to ensure support is available for young people in communities where participation rates are low. Our new investment approach launched in May 2015 (to support Sport New Zealand's Community Sport Strategy 2015-2020)noted that addressing low participation and focusing on young people were key outcomes for Sport NZ. We estimate that up to $3M through realignment of community sport can be influenced to impact these young people.
Also, in partnership with Auckland Council and Aktive - Auckland Sport and Recreation, we are looking to target low participation communities in Auckland - such as Samoan and Indian communities. This initiative will see investment of $1.4M in projects to increase activity in these groups, particularly through families. There will be research to identify specific issues and demands in the communities and also an action plan for the development of volunteers who enable sport and physical activity opportunities.
Play.sport
Play.sport is a new community-based programme which aims to improve the quality and quantity of physical education, sport and physical activity in schools and communities.
The programme will kick off in February 2016 in time for the first term of the new school year and will initially be rolled out in two sites in the Hutt Valley and Auckland.
Teachers, principals, sport providers and wider communities will be supported to improve and increase PE and sport through professional development, workforce support, community alliances and the sharing of facilities. The aim of Play.sport is to increase the quality and quantity of physical activity young people receive, and in doing so, demonstrate how quality PE and quality sport can contribute to their health, wellbeing and achievement.
Play.sport is fully aligned with a recently released UNESCO model to address quality physical education*. They identified that PE is in decline across the world and that this is contributing to rising levels of physical inactivity that, along with the substantial associated disease risk, has been described as a pandemic by WHO**. UNESCO spent three years consulting on, and designing, a best practice model to address and deliver quality PE, drawing upon the results of the World Wide Survey of Physical Education, academic literature and verified by a group of international experts.
We are investing $2m per annum in Play.sport.
* Quality Physical Education (QPE) Guidelines for Policy-Makers (May 2015). This was the result of three years' work and involved a range of international bodies including the World Health Organisation. The European Commission, the International Council of Sport Science and Physical Education (ICSSPE), International Olympic Committee (IOC), UNDP, UNICEF, UNOSDP and the World Health Organisation (WHO)
** QPE pg. 6
Sport in Education expansion
For the past three years we have been driving an approach to changing teaching practices in secondary schools with at-risk young people. 'Sport in Education' schools use the context and concept of sport to make learning relevant for young people, not just in PE but in subjects that challenge at-risk learners such as English and Maths.
This has been a powerful tool to improve outcomes for disengaged learners, including academic achievement, student attendance and retention, behaviour, and engagement. The New Zealand Council for Education Research recently completed an evaluation report on SiE. In all participating schools the results have been consistently, and in some cases, dramatically, positive.
The approach is currently in place in eight schools and through the expansion a further 15 schools will adopt the approach next year, with an overall goal of 40 in the next three years.
For more information on Sport NZ's activities, please contact jo.colin@sportnz.org.nz
For further details on the initiatives in the childhood obesity package please visit the Ministry of Health website.