Please note this content has now been added to the Archives.
It is available for reference purposes but otherwise neither maintained nor updated.
If you require an accessible version please contact info@sportnz.org.nz.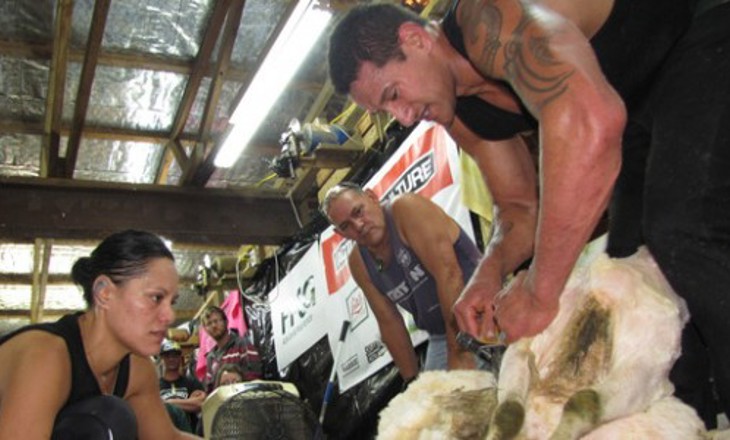 Think you've caught up on all the week's sports news from across New Zealand? Think again with our list of the 'top 10 sports stories you may have missed!'
With just one week left until Christmas, check out action from sheep shearing, powerlifting, touch rugby and more.
World shearing record under threat
A world shearing record could fall at Mangarata Farm on January 5 when Stacey Te Huia makes his third attempt on the premier solo strongwool record of 721 ewes in nine hours.
Karate fighter leaves Huntly's stamp on Japan
Huntly's top karate fighter has left an impression on Japan after making it to the third day of the world Kyokushin karate tournament.
53rd Halberg Awards nominations announced
Over 60 nominations have been received for six categories at the 53rd Halberg Awards - the pre-eminent event to celebrate sporting achievements by New Zealand teams and athletes in 2015.
Golden Canadian trip for Hawkes Bay powerlifter
Ethan Foote has powered his way to four gold medals at the Commonwealth Powerlifting Championship in Vancouver.
Tennis star ready for academy stint in Australia
After winning the under-18 Hawkes Bay title, 15-year-old Albert Rocard is looking to elevate his game by undertaking a two-year academy stint in Brisbane.
Triathlon: Multi-event duo dreaming large
Two multi-sport athletes who grew up in Papamoa may compete in different forms of triathlon but their desire to make it to the top is exactly the same.
Currie takes out Taupo Ironman and eyes Olympics
Kiwi multisport athlete Braden Currie has claimed another big title on New Zealand soil, winning the Kellogg's Nutri-Grain Ironman 70.3 Taupo.
Southland family features strongly at South Island touch tournament
The South Island junior touch championship in Christchurch is a family affair for Southland's Talamahina family.
Rugby League set to return to Timaru
Organiser Steve McKeown is hoping the new Timaru Rugby League Club will be able to enter the Dunedin competition, starting with a nines competition in March next year.
NBL veteran hangs up singletCanterbury Ram star and former Tall Black Jeremy Kench has retired from top-level basketball after 12 years in the National Basketball League.
Follow Sport NZ on Twitter and Facebook to checkout grassroots sporting action from the weekend!