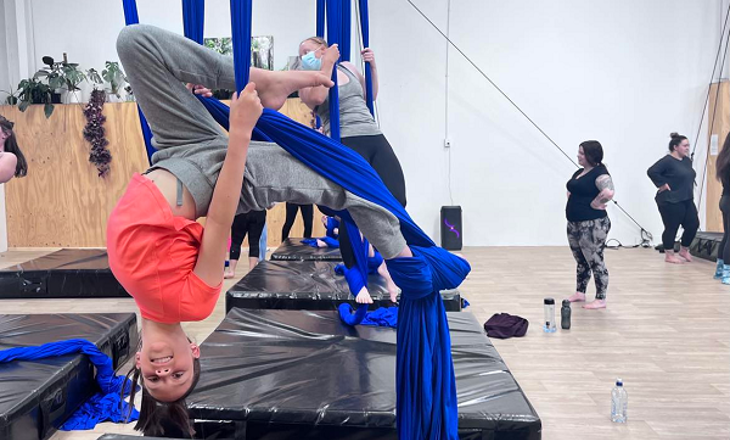 A new initiative in Ōtautahi Christchurch is growing in popularity as young wāhine take a break from their studies to make connections and get active.
Wāhine Tū, Wāhine Ora began three years ago at Ara Te Pūkenga (the merged institute of technology and polytechnics) to help encourage and empower its wāhine to try new endeavours and bond with like-minded individuals through active recreation. 
Through Tū Manawa Active Aotearoa funding via Sport Canterbury, the programme has employed two co-ordinators, who are also students, to plan and run activities. 
Best of all, the events, which so far have included mountain biking, ice skating, bowling, waka on the Avon, matariki star gazing and yoga, are free. 
"We know finance and whānau are two huge barriers ākonga (learners) face when studying, along with their mental health and social opportunities for connection with others," says Ara Te Pūkenga student life team lead Meg Nelis. 
The events attract young wāhine but also their friends and/or whānau, including mothers, aunts, sisters or tamariki.  
Meg says the activities enable wāhine to focus on something different, reboot the brain and escape from screens. 
In her last year of architectural technology, Greymouth 21-year-old Keely Gorrie joined the programme to meet new people and experience what Christchurch has to offer. 
With no student allowance and having worked fulltime for two years to fund her accommodation and food while studying, it's given her a chance to experience activities not normally within her budget. 
Meg says the positive wāhine connection has boosted her own mental wellbeing, increased her confidence and has done amazing things for study success, progression, and retention of ākonga, a true win-win. 
Taryn Trusler became a co-ordinator after first taking part in Wāhine Tū, Wāhine Ora. 
Taryn had previously found mountain biking and surfing intimidating but after having lessons she's bought a wetsuit and wants to buy a surfboard and bike one day. 
Now, Taryn and her fellow co-ordinator Priscilla Thoms, who she introduced to Wāhine Tū, Wāhine Ora, are empowering others.  
"Having something exciting to look forward to can be incredibly motivating for a student who may be faced with a long period during which many of these simple pleasures may not be feasible to do financially," says Taryn. 
Priscilla says taking part in new activities as a group reduces the fear associated with trying something new because everyone is in the same boat. 
"This programme is making a real difference in people's lives, and I'm grateful to be part of such an amazing initiative," says Priscilla. 
Looking ahead, an additional Tū Manawa funding boost will allow the programme to grow and reach and engage more wāhine. 
"With Ara's recent joining with Te Pūkenga, the ākonga network we care for in Ōtautahi is likely to grow as we welcome those at satellite campuses based here to our shared spaces, so it's super exciting," says Meg.