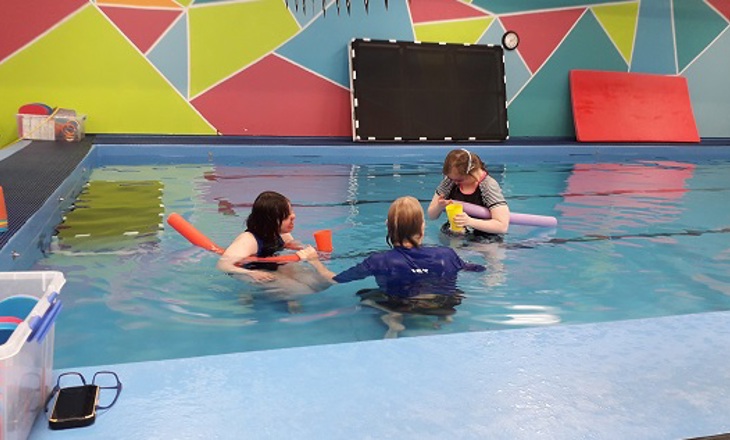 A Taranaki teenager with Down Syndrome feared the water so much she refused to even enter the pool. Just months later, her mother has a problem of a different kind. After 20 weeks of lessons, she has trouble getting Helaina out of the water.
It's the result of a programme run by New Plymouth's Fulton Swim School where young people with Down Syndrome were offered lessons thanks to Tū Manawa Active Aotearoa funding through Sport Taranaki.
The mother of 18-year-old Helaina still can't believe the change in her daughter towards water.
"She looks forward to coming and her reaction says it all, she is so happy. There aren't a lot of options for Down Syndrome kids to be active, so this is special, and the fact there is no cost to her is nice," she says.
The programme, which included a water safety component, was set up to provide a cost-free, safe, inclusive environment for young people like Helaina with Down Syndrome to engage in a physical activity.
Lessons in the swim school's private facility were tailored according to ability in and around water, one group being for beginners and the other for more confident swimmers.
"It's good to recognise that some people need more one-on-one attention to be able to learn, or a quieter space because they're on the spectrum or they have Down Syndrome, so to be able to provide that environment and opportunities to young people who wouldn't have otherwise had lessons is really, really cool," says Christina Davis, the swim school's manager at the time.
 Christina saw Helaina's transformation first-hand.
"Helaina was super nervous, she didn't want to get in at first, she spent all her time standing on the stairs, stomping her feet, but eventually she got her feet in the water and then her knees. Helaina and another girl love singing, so we used songs to teach them water skills and get them comfortable in the water."
Sport Taranaki's Terry Long paid a visit to the pool to see the youngsters in action for himself.
"I have a soft spot when it comes to young people with challenges having an opportunity to express themselves without barriers," says Terry.
"This certainly delivered on kids having a quality experience while being active and learning new skills.
"Seeing these young people have the opportunity to experience being active in an environment that is tailored to their needs, with no judgement and with providers who get just as much enjoyment as the participants is pretty special.
"The benefits from the programme are not only limited to being physically active but the social connection with others can't be under estimated - the kids loved being in the water and their parents' smiles said it all."
Now the 20 weeks of lessons are over, Helaina is continuing with private swimming lessons with a friend she met through the Tū Manawa-funded programme.